Craig's Hut 16th March 2002
Participants:
| | |
| --- | --- |
| Adriana, Oiyee: | Honda CRV |
| Fot, Marisol, Jacqui and Stephen: | Honda CRV |
| Beryl & Kurt: | Toyota Surf |
| Mark, Michelle, James, Liam, Glenda & Arthur: | Nissan Patrol |
We all met at my place in Eltham, did introductions and soon made our departure about 9:30. We drove out through Yarra Glen and up the Melba through Yea and stopped for a Morning Tea and biscuits at Bonnie Doon. We continued on towards Mt Buller, turning off at Mirimbah towards Telephone Box Junction. The road was getting pretty rough, so I stopped to let some air out of the tyres, which works wonders in creating a smooth ride on the rough roads.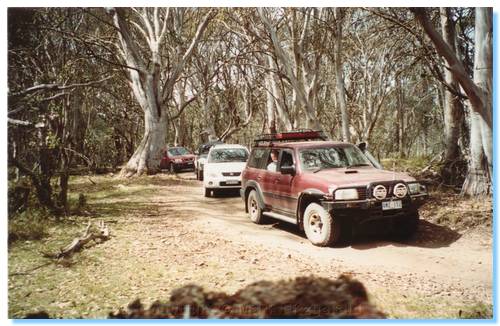 After a quick toilet stop at Telephone Box Junction, we made our way on towards Circuit Road. At some point along the road we found an extensive growth of Blackberries, so we all pulled over and had a feast. We were soon on our way again and headed up Clear Hills Track, which was in fine condition and posed no problems for the CRVs.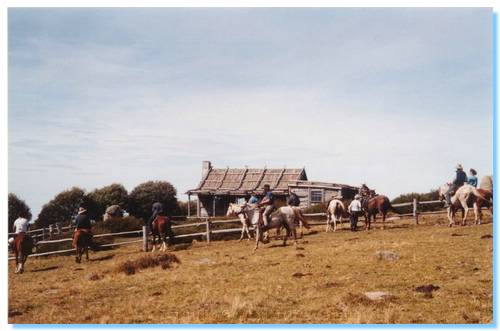 After exploring the hut and taking in the views, we sat beneath the tress near the car park for our picnic lunch. Whilst we were eating, a wedding arrived, complete with Bride & Groom on horseback and drizabones, and even a Scottish bag piper!
We planned to drive up to Mt Stirling, but the road soon became too rough for the CRVs, so it was back down the way we came and we then continued along Circuit Road. I drove down a side track to see if I could find King Hut, but I hadn't been there before, and I had no real indication how far we had to travel so I gave up and came back to the others who had waited at the turn off.
We were headed towards Bindaree, when Adriana had a blowout on her rear tyre. A group on horse back we were passing called it into us on the UHF. After much hunting around to find out where the jack was stored on these CRVs, we had the tyre changed and were on the move again.
The last part of the track was too rough for the CRVs, so we parked them and ferried everybody across the Howqua to Bindaree Hut in the Patrol and Surf.
It was starting to get fairly late at this stage, so after our explore of the hut, a warm cuppa, and a splash in the river for the kids we made our way back to Circuit Road and into Mansfield for Fish & Chips, and our long drive back home.