Mallee and Border Track 25th - 30th September 2004
Day 1 - 25th September 2004
We left quite late on the Saturday. James was feeling sick on the Friday, and was only a little better on Saturday morning, so we took it easy to wait it out. We left home about 1:30 after some final food shopping. We had to quickly duck back home because I forgot the casserole, but finally we were on the road. Basically we folllowed the Calder, stopping into Bendigo to refuel the car and grab some cash.
We stopped in Wycheproof just after 5 for a leg stretch, viewing the old steam train at the side of the road. This would be a good lunch time stop, with a nice park with bird aviaries with a cocky asking us "How Ya Goin'", historic displays and BBQs
We arrived on the shores of Lake Tyrrell near sunset at 6:15, and did a quick explore near Bailey's Road Lookout.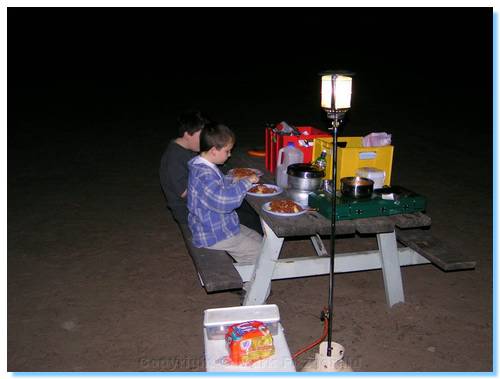 We arrived at Lake Hattah in the dark around 7:30 and setup camp, finally settling down to dinner at 8:50. James had faired well on the trip up, and had no problems getting stuck into his dinner. We had returned to this campsite specifically as not only is it a very nice and scenic campsite, but last year we were enthralled by the friendly and cheeky birdlife. I'd told James and Liam that we couldn't be sure if the birds would be here like last year, and so not to be too dissapointed. We would have to wait to morning to see...