Mallee and Border Track 25th - 30th September 2004
Day 6 - 30th September 2004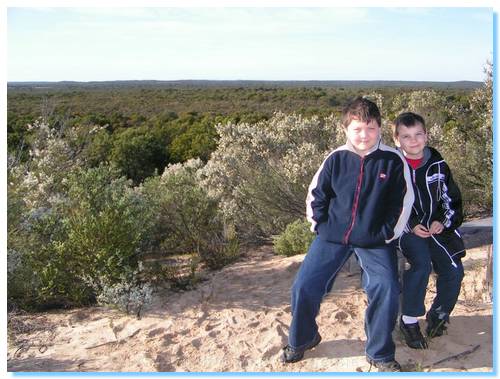 We had an early morning walk to The Lookout, which was an enjoyable walk through the desert. I spotted a large kangaroo on the way back to the campground and we also spotted some emu tracks in the sand.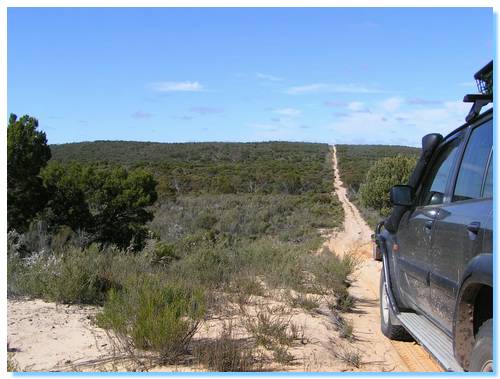 We had bacon and eggs again for breakfast, well at least I did, I think the kids had cereal. It was just before 10:00AM and we were packed up and heading off down Centre Track. We had changed our original plan to drive along Border Track based on the advice Peter had received. I was sure it was most likely OK, but I didn't fancy being stuck on my own in the sand if the worst happened, nor did I fancy my chances of being able to find a decent tree to be able to winch off. Even though we later found out the track would have been fine, I really enjoyed driving along Centre Track, which had great views as the track seemed to endless pass into the horizon as we climbed the top of each successive sand dune.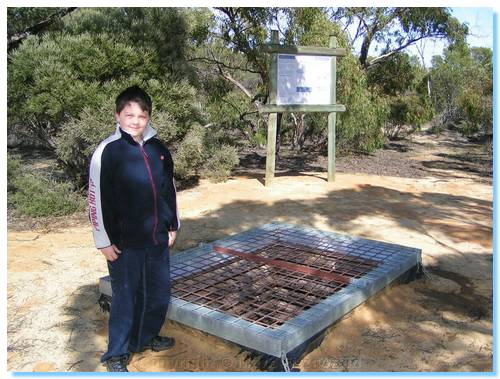 We stopped off at Nanam Well along the way, a 58 metre deep well which was used to water 61,000 sheep which were grazed here in the 1870's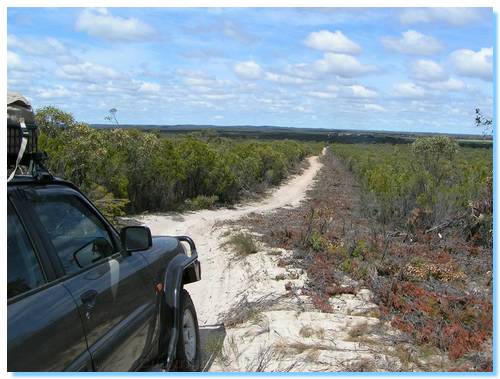 We joined back up with the Border Track, travelling up and down a number of dunes. I checked the roofrack a number of times as I could hear some noises, suspecting that something had come loose but found everything tied down securly. It was a few minutes later that I was to have the whole roofrack slip forward and come off, scratching and denting the top of the car, and causing nearly $4,000 worth of damage. It wasn't much fun removing everything and refitting the roofrack again in the heat and persistant flies either, but it wasn't able to put a damper on such a great trip.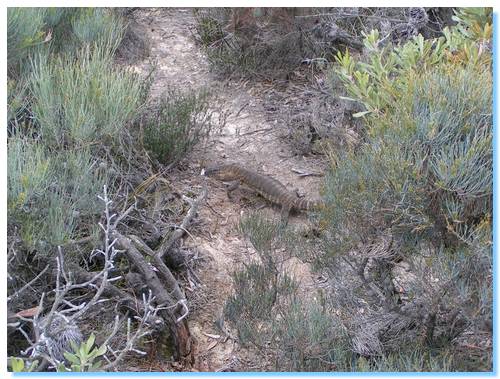 We spotted a goanna as we got back onto the track, and Peter and his daughter passed us as well, generously offering to help out and letting us know they met up with a convoy who had done the Border Track without any problems.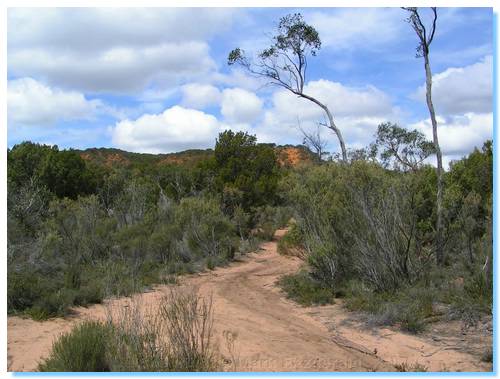 We stopped in at Red Bluff campground, intending to have lunch. We weren't really hungry at all, so we had a quick look at the Bluff, said our farewells to Peter and Melissa and started on our homeward journey. The last portion of the Border Track before Blue Hills Road was very rutted, with numerous BogHoles but we were always able to find a bypass track. I hopped out of the car to inspect the first rutted area to find a way through but gave up on the rutted track ahead, due to the soft sandy subsurface, which would very likely have resulted in the car slipping into the deep embankment, which a previous car had already done judging by the blue paint on the embankment wall!
We eventually left the Border Track, pumping up the tyres and heading into Nhill to refuel, only to find the Shell Service Station closed! So we continued to Dimboola to fill up on diesel as well as dinner before our long trip back down the Western Highway to home.