Deua NP - 27th September 2006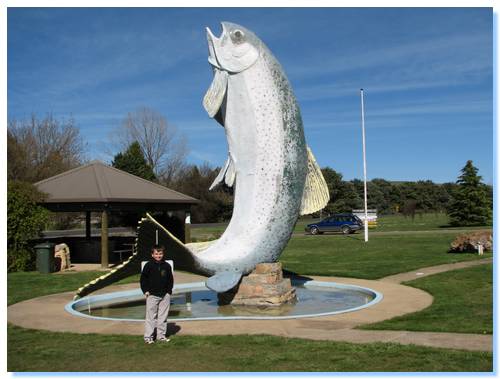 Time to start moving to our next camp site. This was some beautiful countryside through the Snowies, and we passed a number of spot which would be great to camp in, including Rocky Plain amongst others.
We stopped at Providence Portal, and picked up a geocache. Lake Eucumbene was looking very low.
Adaminaby with it's huge trout brought back memories of previous trips through here.
We had wanted to travel across to the snow, but it really was too far without changing our plans too much. So we drove towards Beridale so we could have morning tea with the snow covered mountains in the background.
We then headed into Cooma, where we picked up some supplies, as well as some books for Liam to read as he had left all of his books at home. Bunny Suicides was a classic.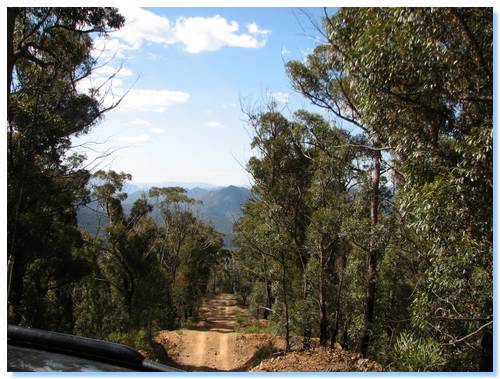 From Cooma, we headed off through Numeralla and Countegany, then turned off Snowball Rd into Deua National Park.
The road started climbing, and my car was making some nasty noises pulling the camper up some of the hills. I know now that the transfer case chain was slipping; fixing that is a whole other story.
In my planning of this trip, I was aware of a sharp switchback on the way down from Mt Dampier Trig. I wasn't sure if I would get the trailer through, or not at least without having to unhitch it, so I left the trailer at the trig and drove on to investigate.
The switchback was a long way further than I thought, resulting in a lot of backtracking, but I was able to get around the switchback at full lock, so as long as I timed my turn perfectly there would be no dramas. I raced back to collect the TVan and rehitched back up. Liam slept through the whole exercise.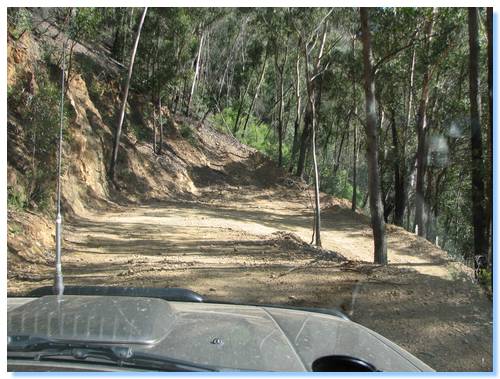 I made it around fine, though I did come quite close the edge, and the drop off was quite severe. The views along here are magnificent, and this place is highly recommended.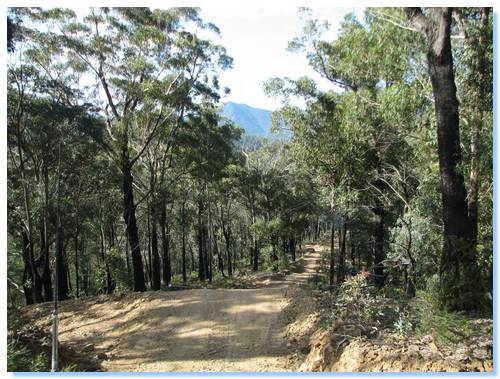 It was a very long descent down to the valley bottom, and we didn't pass another car anywhere along our journey,m which was just as well as some of the roads were not only steep, but quite windy and narrow.
Finally at the bottom there was more drama. A tree had fallen across the track blocking our progress into Deua. To make matters worse, I didn't have a chain saw.
A bit of exploring outside on foot, and I was able to pick a line through the bush around the fallen tree, and further along another fallen tree meant we were just barely able to get car and trailer past the tree on one side, and a termites mound on the other. Well, the trailer wheel actually had to mount the side of the termites mound, but we were through!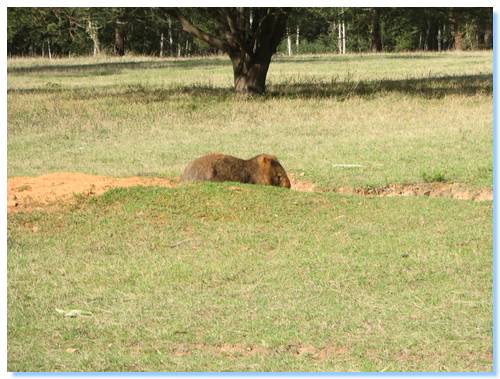 This place was teeming wildlife; kangaroos filled the grassy plains and we spotted a number of wombats too.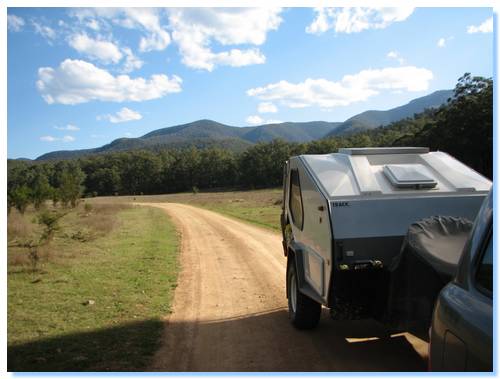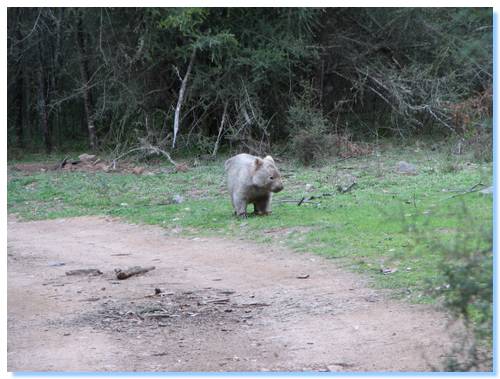 We found a beaut little campsite off the road right on the riverside, and set up and had a late lunch at about 3:30. This was a very nice spot, quite private away from the road and was at the confluence of Bendethera Creek.
But we went for a little drive to explore further, and found an even nicer camping spot further downstream on the Deua River, so we returned and packed up our gear and moved on.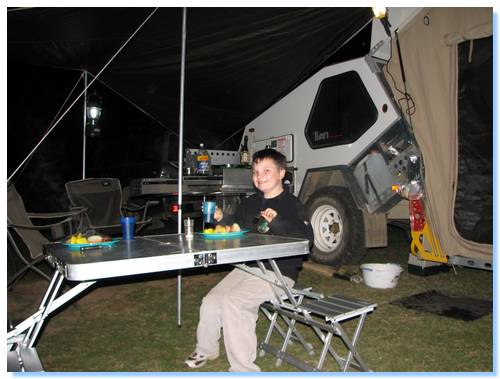 This spot was magic. The river was wide and great for swimming and paddling. There was wide grassy areas and shady spots, as well as a fire pit.
Liam relaxed reading his books while I cooked up Kangaroo Steaks and vegies.
A curious wombat watched from nearby.