Home to 3 Mile Dam - 25th September 2006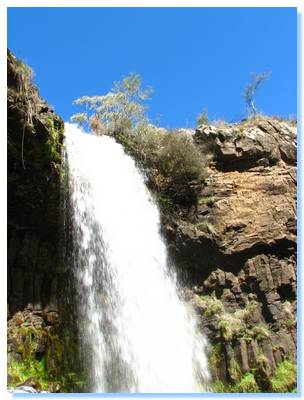 I was looking forward to this trip; it was an opportunity to see some new places I had heard about through research, as well as revisit some places I had been to long ago.
Liam and I headed up the Hume Freeway and turned off at Hollbrook across country. We spotted Wedgetailed Eagles soaring in the clear blue skies, and came across a monument to Seargent David Maginnity, who was shot and killed by Mad Dog Morgan, a notorius BushRanger. It was too early for lunch, so we continued through the state forests towards the Snowy Mountains.
I picked up a NSW fishing license in Tumbarumba, which is quite a big town and we then stopped at Paddy's River Falls, which was in good flow. Liam and I walked down to the base of the falls and enjoyed the cool mist on this hot day. It was still too early for lunch so we continued onwards.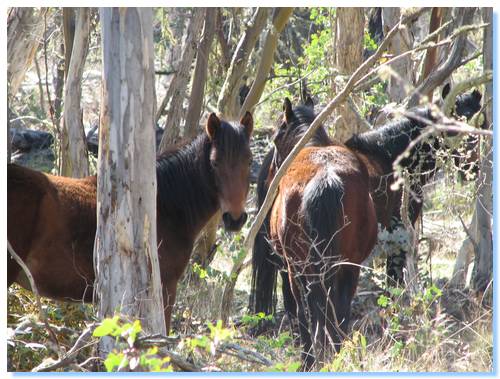 Heading up across the Bago Range, we spotted a number of Brumbies hiding amongst the trees.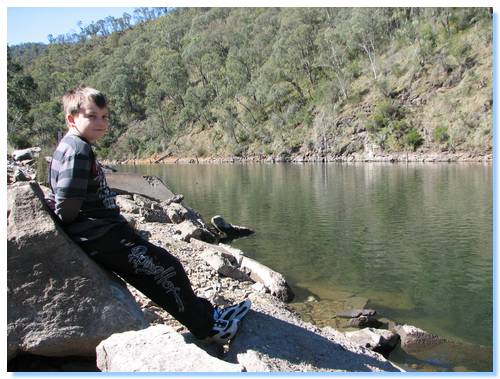 The road started winding steeply down to the Tumut River, and Liam and I had lunch on the Talbingo Reservoir. There were a number of people camped here, but the spot didn't hold much interest to us. It would be a good spot if you had a boat, I guess.
We stopped at Tumut 2 Power station, one of the underground powerr stations making up the Snowy Mountains Hydro Scheme. There were no tours today, but we could see the tunnell descending down into the the side of the cliff.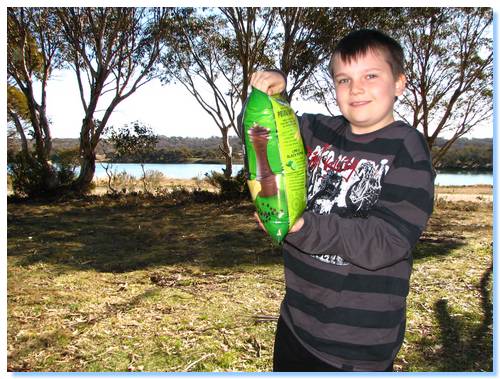 We arrived at 3 Mile Dam, and I was surprised to find that the campground was closed for winter. Pretty annoyed that I'd driven all day to find my campsite closed I luckily continued further along and found a track leading around to the otherside of the dam, with a number of campsites.
There was a fantastic spot right on the water's edge under some trees, but it was already occupied so we setup in a nice little clearing a short distance from the dam.
We were at an altitude above 1300 metres, so the chip packet was suffering altitude sickness.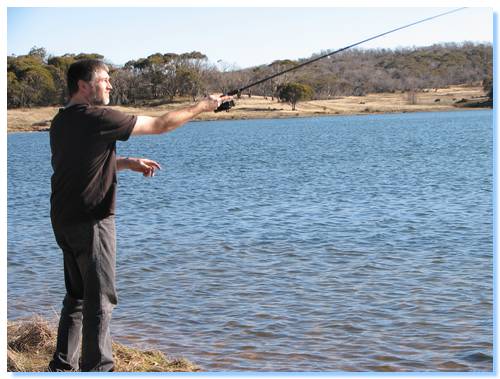 After setting up camp, I tried a spot of fishing, then Liam and I tried the dinghy out on the lake.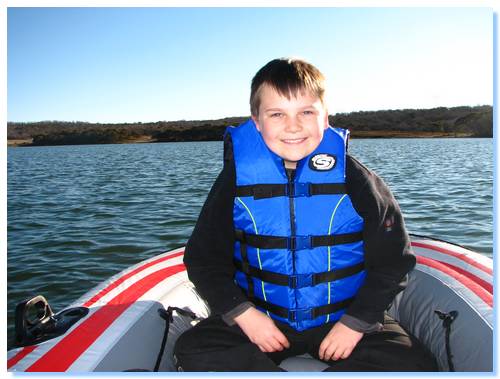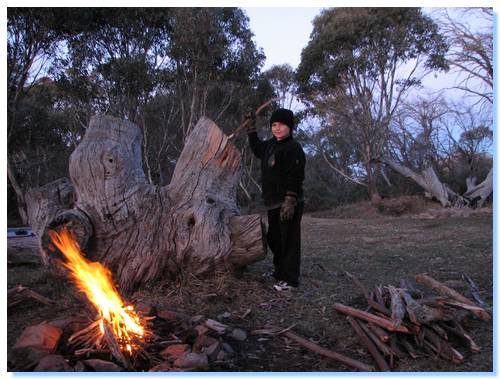 We settled in for the night, enjoying spag bols and Chinotto before heading off to bed.