Mitchell River and Snowy River - 27th December to 31st December 2004
Mitchell River National Park
Day 1 - 27th December 2004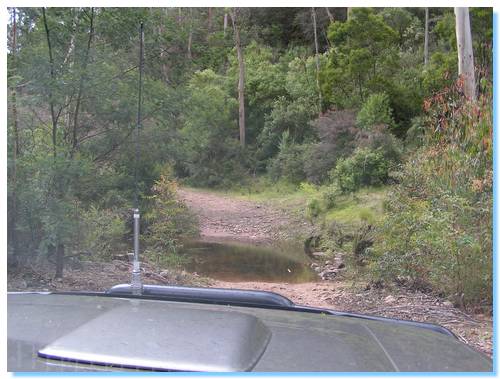 Christmas New Year break again! The perfect opportunity to jump in the car and get away for a few days. I thought this year I'd go for a bit of a theme, and follow the Snowy River up into the High Country in Far East Gippsland.
First stop was Mitchell River. We pulled up at the car park for the Den of Nargun, but decided to leave the walk for latter. We continued to Lookout Point, where we set up for lunch, with a slight drizzle coming down.
We drove along Mitchell River Track, an easy 4WD track which took us across Cobbannah Creek (a very shallow crossing).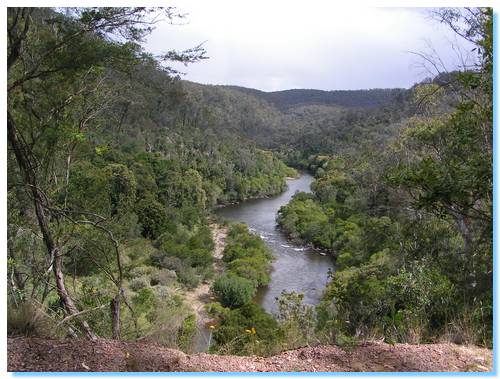 We caught some tantalising views of the cliffs along the Mitchell River through the trees as we continued towards a prospective campsite. The track also offered us some scenic vistas as it weaved closer to the river.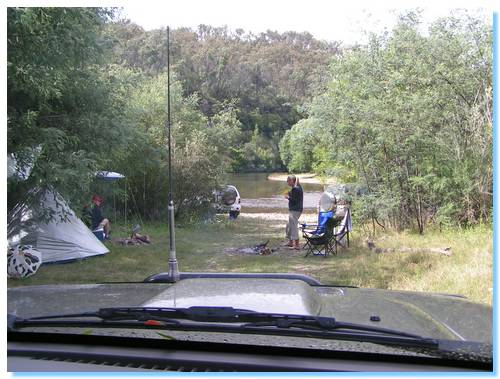 A promising spot by the riverside was already taken. In fact the people in this campsite had setup right on the track. It was a great spot near a ford of the Mitchell River, and we gingerly drove through the campsite, just missing their fire as we went on to explore the other side of the river. Over the river there weren't any really suitable spots, so we returned and continued on up to Angusvale.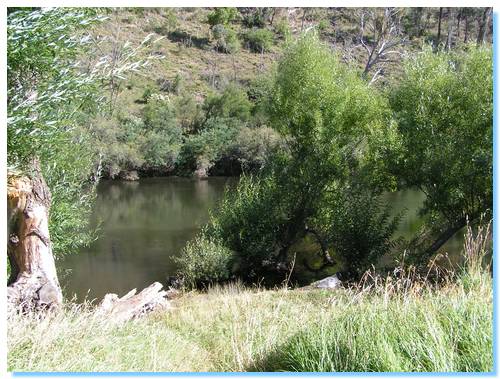 Angusvale is a very large grassy flat on a wide sweeping bend of the Mitchell River. The area can accomodate hundreds of campers, but only a few choice spots exist along the river. We were fortunate to find one empty, except for a small car parked to the side. We decided to setup, and the kids were soon in the water.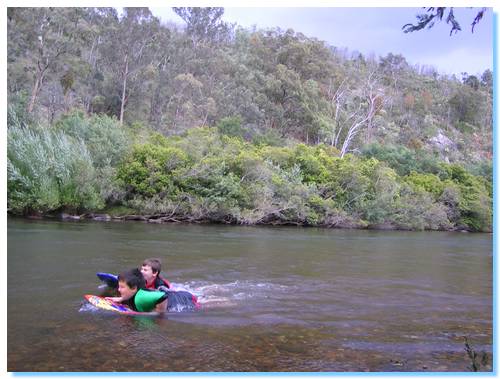 It wasn't exactly a hot day, and some light showers continued to fall, but there was no way these kids weren't going to be in the water!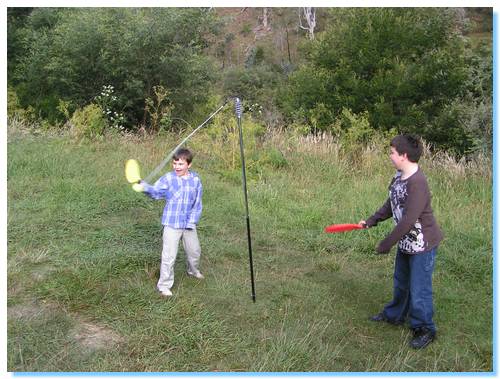 We relaxed around the campsite the rest of the afternoon, playing some totem tennis and taking it easy. There was a little more rain, but we had the tarp set-up and were well prepared for a wet weather camp.