Marysville: 25th November 2006
Participants: Henric and Mark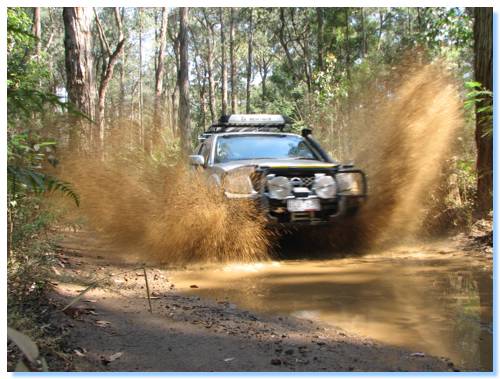 A little day trip out exploring some of the 4WD tracks around the Marysville area turned a tad nasty on the cars.
We turned off at Dom Dom Saddle, following Dom Dom Creek Road (really a 4WD track). Along Dom Dom Road, we came across a mud puddle which was too good to pass up. A picked what I thought was a good spot to catch a photo of Henric coming through, believing I could step back fast enough to avoid getting wet. This of course was not the case, and I copped the full brunt of the tidal wave. Luckily it wasn't one of those bog holes of putricent eternal stench...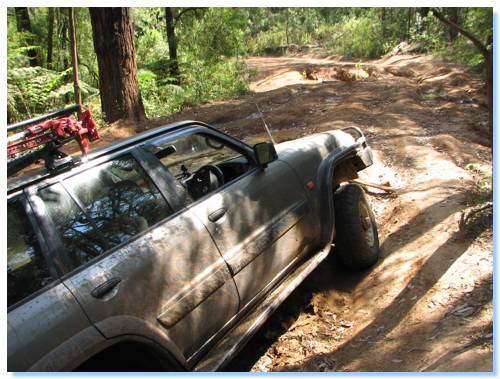 Further on, one of the bog holes I'd come across on previous trips here had grown considerably, but was not so full of water.
Given Henric was here, I decided to give it a go since I could be easily winched out. Needless to say I got stuck, needed winching, and took on some water since my left hand side was so low due to the angle I was on.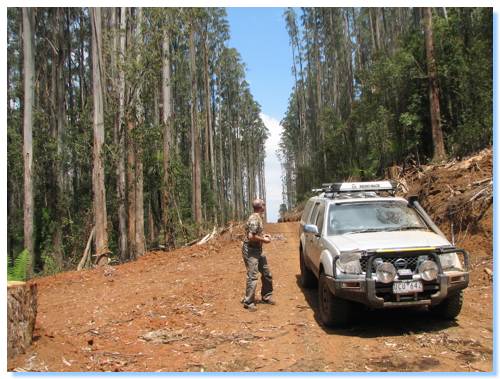 We drove up White Hill, which was a nice steep track to the summit, and an overgrown nasty goat track down the other side. Henric and I picked up some serious scratches on this track.
Down the bottom we came across a logging coup. I don't know why, but a large number of the trees are cut down just to build ramps and platforms and loading bays, I presume to load the logs onto the trucks with. A sad end for the mighty Eucalyptus regnans.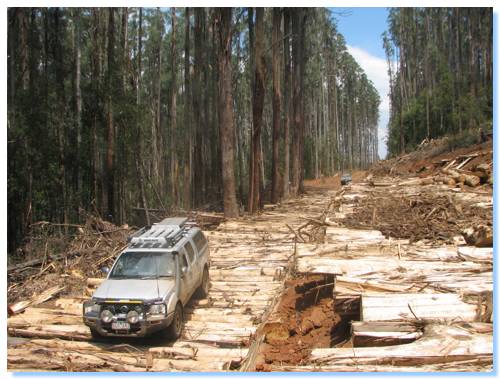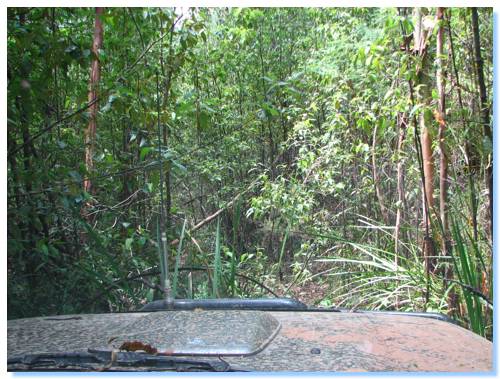 A short stop beside the Archeron River was too early for lunch, so up Strickland Spur we climbed then down the other side on Strickland Spur Track. A little side track that looked like a shortcut across to Wilkes Track proved to be tighter than White Hill! More damn scratches...
Starting to get a bit closer to lunchtime now we stopped in at the horse camp, but it was already occupied so we headed towards Keppel Lookout.
It was about this time that Henric noticed that my tail light was no longer in or about the bumper. Given the damn price of these things I spent a good deal of time back tracking, including the nasty scratchy side track, but couldn't find it anywhere.
Giving up we cooked up lunch at Keppel Lookout, which had a new viewing platform built (not sure why) since the last time I visited.
Heading home, there was a nasty accident past Marysville; I believe a fatal one so the road back was closed. We had to detour home along the Buxton Marysville Rd, but made it home without incident.