Pyrenees 19th & 20th August 2006
Participants:
Mum, Geoff and their two dogs Benji and Abbey
Henric
Mark, Michelle, James and Liam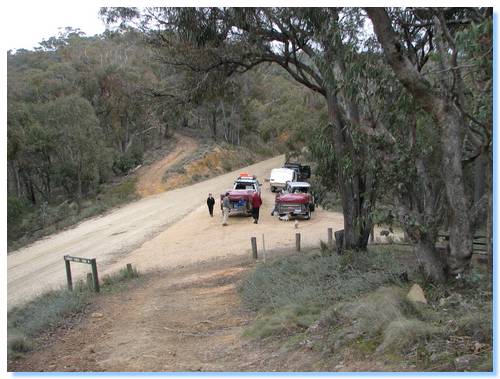 Geoff had just got his trailer, we had a free weekend and the Pyrenees beckoned. Henric was also at a bit of a loose end this weekend so it was a perfect opportunity to explore an area that we hadn't visited before.
After picking up Mum and Geoff in Ballarat we made our way towards Avoca for some last minute supplies (but forgot the marshmallows) and started our climb up into the Pyrenees.
The road wound gracefully up the side of the hills and we were soon at a picnic ground where we stopped to let the dogs stretch their legs. They'd already emptied their stomachs and bowels whilst still in the car, luckily not ours...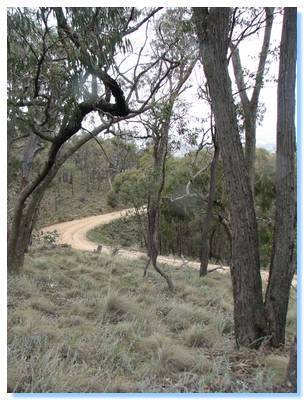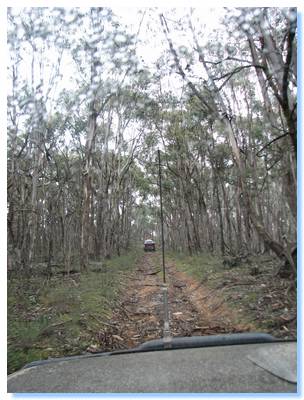 We had morning tea on the roadside as a light shower passed over, then turned up a 4WD trail. Henric volunteered to go first and make sure it was passable for the trailers. Very kind of him, as it saved us clearing all of the logs off the track.
After driving a while through the forest along a mix of roads and trails, we came to Cameron's Hut which we luckily found uninhabited. We set up camp and prepared lunch.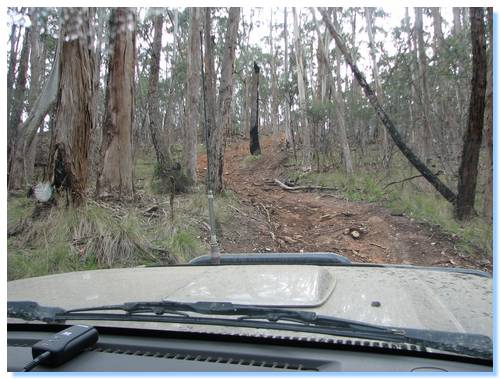 After lunch the boys all headed off to play whilst the girls stayed at camp and minded the dogs. We decided it best not to drive around too much with the dogs, though their tummies were pretty empty at this stage.
We found a nice steep track nearby called Old Kingtree Track which kept us entertained for a quite a while.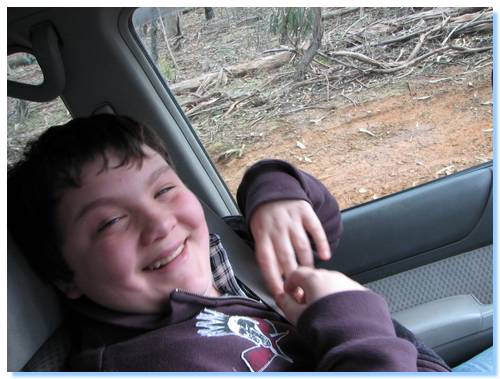 I gave it a go first, getting about halfway up before reversing back down to give Henric a turn. James was on the apprehensive side at first, but eventually warmed to the challenge of it all.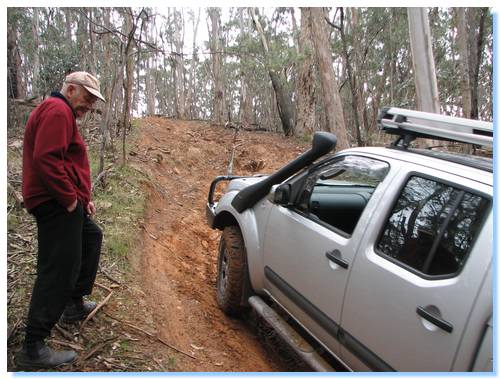 Henric gave it a really good go, trying many times to make it up.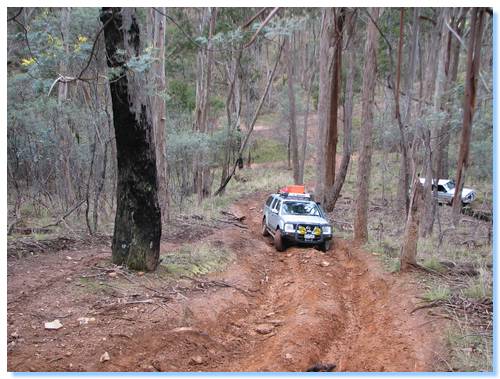 He didn't give up easily, but in the end had to admit defeat to the hill and reversed back down.
I gave it another go, and this time chose a better path than my initial attempt and made it up with out too much drama. Though my front hubs were making some very nasty sounds. They were supposed to have been fixed at my last service....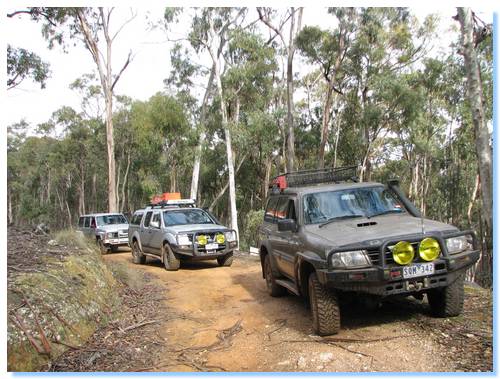 We spent some time driving along various roads and tracks throughout the entire Pyrenees, and we found some very scenic ridge top drives, especially the Landsborough Ridge track.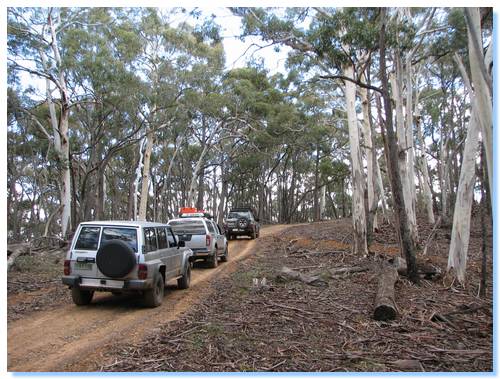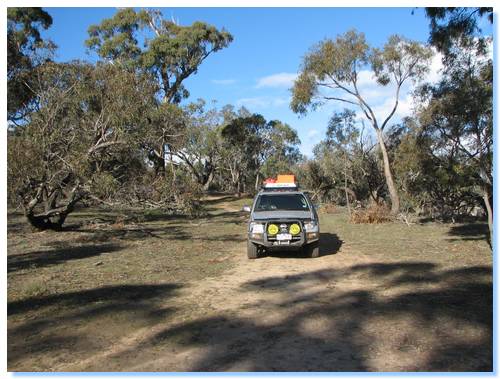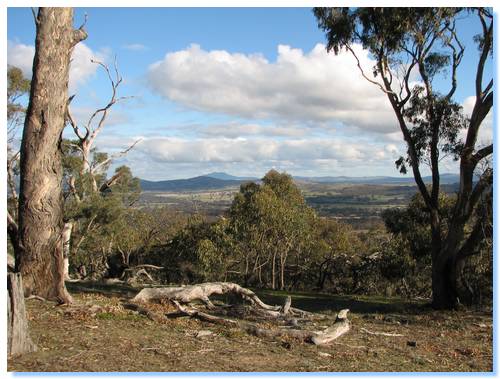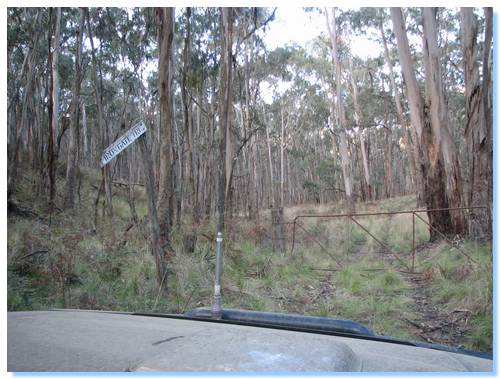 We re-entered the Pyrenees via a little cross country driving before finding Morton Track and then climbing a spur along Hill Track and Malakoff Track. Malakoff Track required a little tree clearing to get through.
We then followed a spur down via Mountain Track which brought us into a valley along an aptly named Iron Gate Track. Yes, there was a rusty iron gate, which promptly collapsed when James attempted to open it.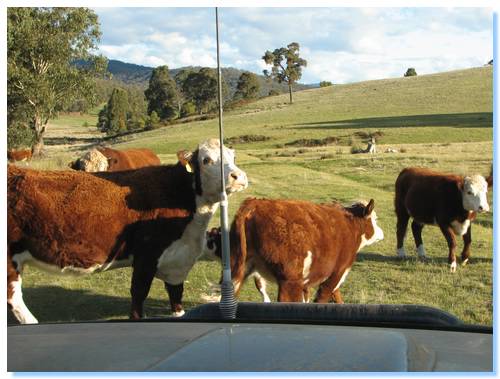 Iron Gate Track brought us out into paddocks where some Hereford Cattle were very excited to see us. They ran towards us, mingled around us and followed us all the way to the gate on the other side of the paddock.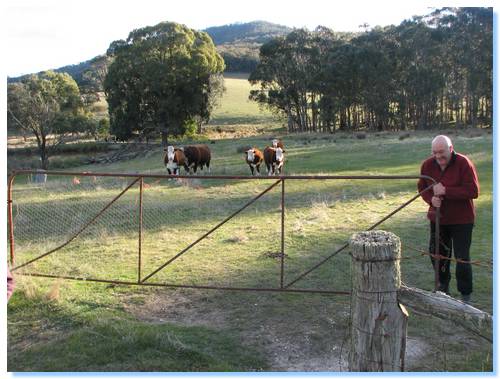 Geoff had to be careful that there were no escapees!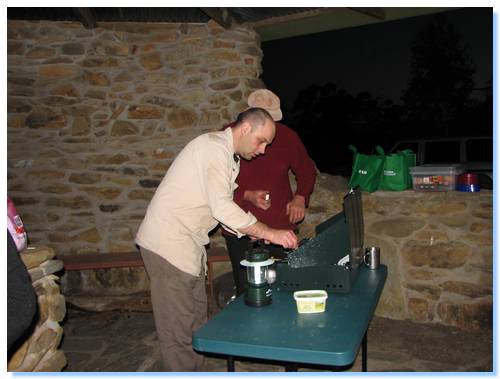 We collected an ample supply of wood on our return, and back at camp settled in for the afternoon. Some walkers had pitched their tents nearby and so we had a chat with them. The rest of the afternoon was spent fiddling with setting the rest of camp up, building up a lovely warm fire, and some demonstrations on various aspects of Geoff's new camper and equipment.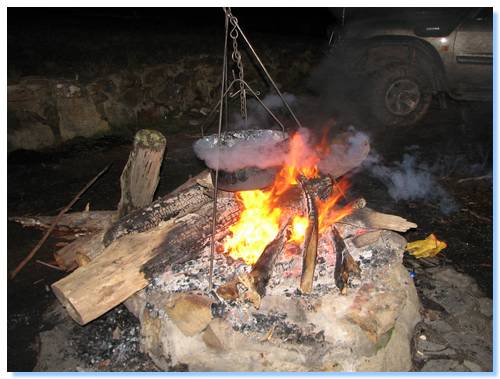 We as usual had a very delicious meal, this time a Teriyakki marinated roast beef. This one took a few goes before it was properly cooked, but was delicious in the end.
My attempts to heat up the Apple and Rhubarb pie though weren't quite so successful; the oven being too hot and burning it on the edges.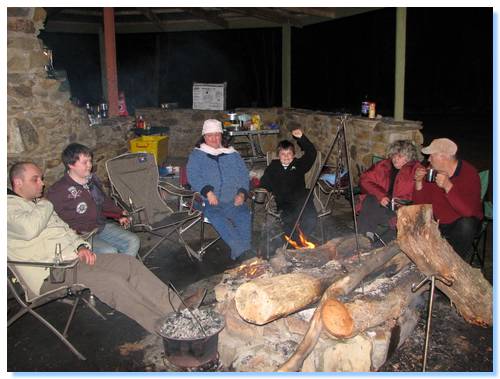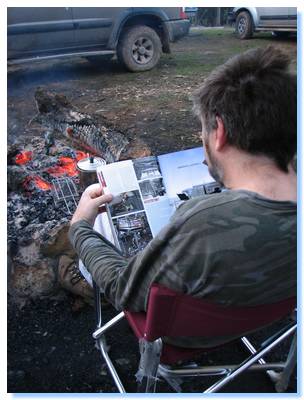 Next day we had a lazy morning start, with the usual bacon and egg breakfast. We explored a little around the southern end of the Pyrenees, driving along Spring Creek Road and Nowhere Creek Road. We found a nice camping spot and picnic area near Glenpatrick, and planned to continue back up over the eastern edges of the Pyrenees into Avoca. However North Glenpatrick Track looked far too steep for us with Camper Trailers in tow. In fact, it would be quite a challenge without them, so we must return another day to tackle this track.
We stopped in Talbot to visit the market, but got there a little late this time, with most stalls starting to pack up. We lunched at the Red Geranium then made our way back home.