Cathedral Range Camping Trip - Queens Birthday Long Weekend
Mark & Liam
Oiyee
Mark
Shirley & Marty
Julia & Andrew
Saturday
We arrived late on Saturday afternoon to a surprisingly packed campground. I arrived first and setup the tarp between the trees and waited for Mark & Oiyee to arrive. We setup our tents, and started preparing dinner, which as usual was a culinary feast. Tonight consisting of Chinese Dumplings as an entree. followed by Lamb Curry with roti. We had little luck getting any significant fire going, having only redgum timber and an extremely wet fireplace. We enjoyed various cheeses and chocolate around our small fire before we retired to beneath the tarp to play cards into the evening. A light drizzle continued through the night, resulting in Mark waking up wet in the morning due to a hole in his tent. Oiyee and myself also woke up through the night to the sound of running water close to our tents. We were both much relieved to find it was water overflowing from the tarp, and not what we first believed!
Sunday
Warm porridge for breakfast and a relaxing morning whilst we waited for Julia and Andrew to arrive. We all headed off for a walk upstream along Little River, which took us through a fern filled gorge. The track was quite difficult to follow at some points, being unmarked with a slippery scramble down.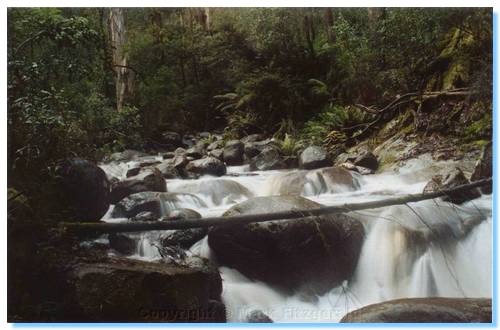 The area was very wet and green, with a vast assortment of fungi, toadstools and mushrooms growing along the track and on fallen logs and trunks. We continued along the river for a kilometre, climbing over granite rocks and fallen trees, but it was evident we could not reach Little Falls and walk back out again in time for us to do our other planned activities for the day so we gave up going any further and headed back to camp.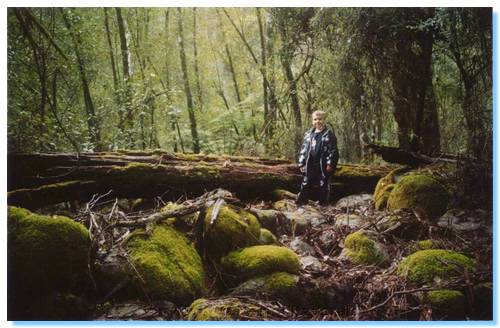 The trip back out found Mark, Oiyee and myself all attacked by leeches. A rather vicious one had attached itself to my neck, which Andrew most bravely pulled off. The sound of a Lyrebird added a more peaceful and relaxing tone to the rest of the walk back to camp.
Lunch was left over dumplings and soup. Shirley and Marty arrived in the afternoon and setup camp. We left them to enjoy the campsite as we headed off to the Buxton Trout Farm to catch our dinner. We caught 3 good sized Atlantic Salmon, 2 full of roe. Liam caught the biggest fish of the day; so big that the line snapped and the fish got away!
We said our farewells to Julia and Andrew, collected some decent firewood and returned to camp to start the cookup. We cooked the salmon in foil over the fire with ginger, garlic and lemon which I thought quite tasty. We sat around the fire and chatted till late, gorging ourselves on cheese and chocolate again and then returned under the tarp to play cards till very late.
Monday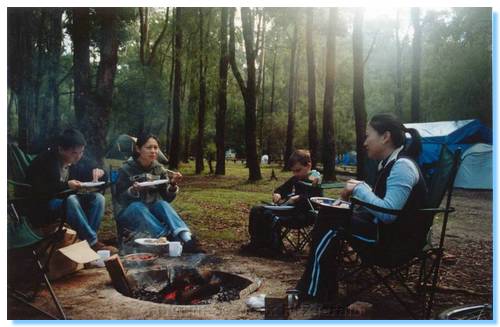 No rain overnight, so we awoke to a reasonably dry campground. Oiyee and Mark headed off for an early morning run, whilst I got the campfire going. We had a huge bacon & egg breakfast, including Italian sausages, hash browns and baked beans. Shirley and Marty had corned beef. After breakfast, we relaxed around the campfire watching the kookaburras, currawongs and choughs before setting off for a walk downstream along Little River towards Ned's Gully. There were some magnificent red toadstools with white spots among the pine trees, as well as the sounds of lyrebirds.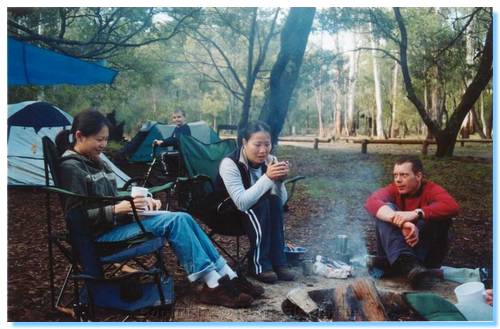 We returned to the campsite for a relaxed lunch, before heading on home late afternoon.