Wolfram Mine & Mt. Strickland - 19th July 2003
Mark & James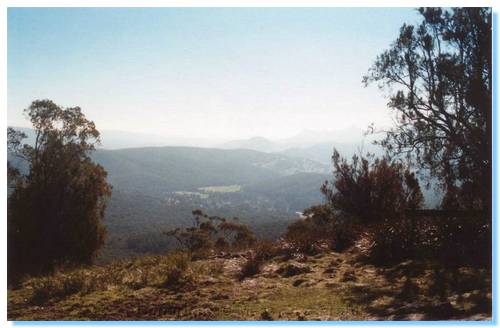 James and I set off early on Saturday morning in search of the Wolfram Mine, near Marysville. Wolfram is more commonly known as Tungsten, and is used in light filaments. I had seen the mine marked on one of my maps, and it had appeared easily accessible, with a 4WD track leading directly to the mine site.
After gathering some supplies, we made our way towards Marysville, turning onto Anderson Mill Road which ran along the ridge top before descending to an old mill site. There were no signs of an old mill site remaining, however there was still a lot of active tree milling occurring in this area. We were not able to find any remains of the timber tramway or other ruins that were marked on the map, so we investigated the Bicentennial National Trail camp site prior to driving up past Three Towers Lookout and onto Keppel Lookout were made a rest stop.
Keppel Lookout gave us views over the valley to Marysville, and on to the Cathedral Ranges in the distance. As we were enjoying the views, a pair of Wedge-tailed Eagles circled low overhead.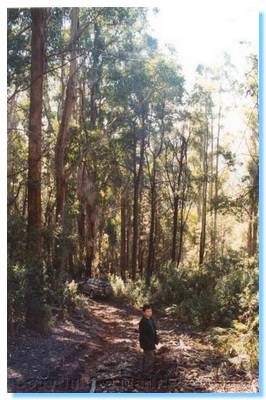 From Keppel Lookout we drove across the top of the range along Paradise Road past cleared areas around Mount Kitchener before descending to Wilkes Creek Road. The track here became quite steep and there was no sign of the side track to the mine. We drove up and down the track a number of times unable to find any indication that there was ever a track here, there being a quite steep drop-off from the side of the track which was quite thickly overgrown. We couldn't even see any signs of the building ruins that were marked on the map opposite to where the track should be. I decided to leave finding the Wolfram Mine to another day; perhaps approaching the mine along the creek bed, either upstream or maybe better heading downstream from Boundary Road where the approach seemed less steep and overgrown.
We continued down Wilkes Creek Road to the creek, but as the track onwards was quite wet and boggy and not suited to travelling without a companion vehicle, we backtracked and then continued on up to Mt Strickland.
Coming out of the Woollybutts on the top of Mt Strickland was a cleared area covered in frost, and further on we came to a roadside puddle that was frozen over with tadpoles happily swimming beneath the ice.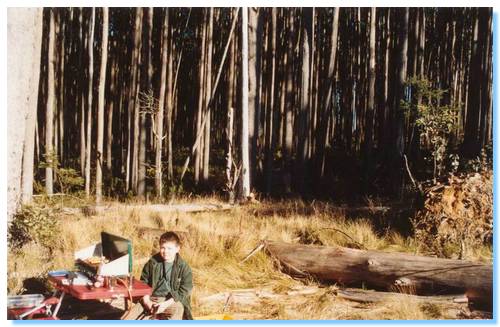 We passed Lowering Gear Track, which appeared permanently closed and soon came to a locked gate which marked the boundary of the water catchment area. We backtracked to the edge of a clear felled area, and set-up our lunch spot on a small sidetrack.
With Lowering Gear Track closed, we made our way down to the Acheron Way along a well constructed logging road which brought us out at the lower end of Lowering Gear. From here we explored up White Hill Track, which continued west as opposed to it's northward deviation as marked on the map. No sign of the north path remained, and our westward travel was eventually halted by a locked gate. The map also indicated a walking trail, which went on to Cleft Rock, but this was also elusive.
We backtracked to Acheron Way and caught up with White Hill Track where it was part of the National Bicentennial Horse Trail. The track climbed steeply to the top of the ridge where we travelled it for about a kilometre before deciding that the track was too wet and boggy. It would be an enjoyable drive with friends, but without a winch or another vehicle I decided to ere on the side of caution and leave this track for another day.