Michaeldene Track - Marysville 6th June 2004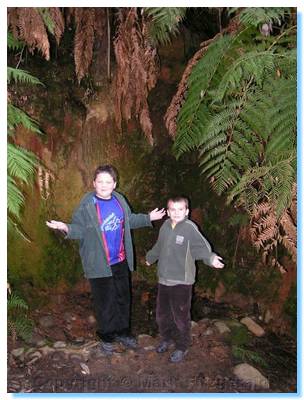 Marysville; nice and close to home, some lovely walking tracks and views; and a little bit of history hidden here and there. Myself and the boys packed up and headed off to explore some points along Michaeldene Track. First port of call was the Wishing Well, reported to be a natural spring. We followed the walking track down only to find a dried up crook amongst the ferns. No water here so we knew what we had to wish for.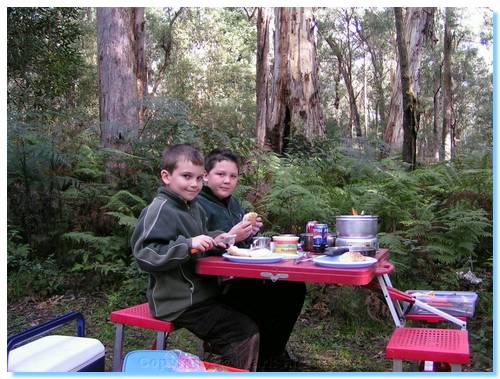 We set up for lunch in a clearing by the Taggerty River, there were trout here; we saw one scoot off as we approached the stream, but no chance of catching any today. Lunch was hot dogs followed off with Lolly Gobble Bliss Bombs; the perfect bush escape snack.
After lunch and another go at fishing we headed off down the walking track. The Island Hop is a recommended walk, an easy walk across a number of timber bridges between 'islands' on the Taggerty River.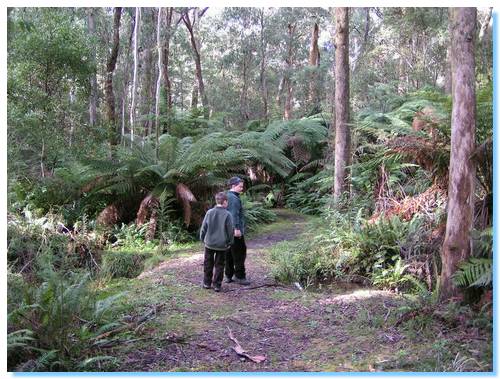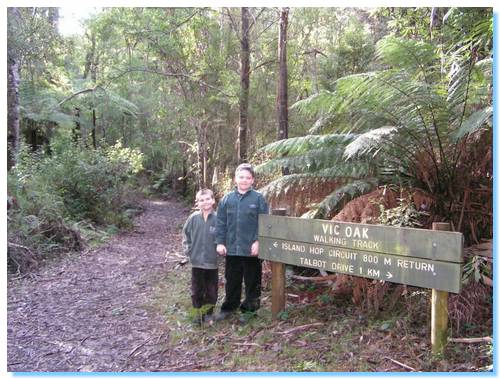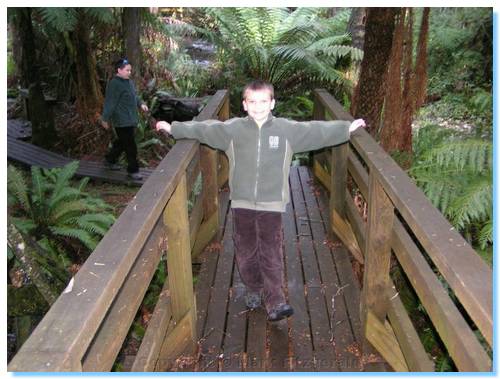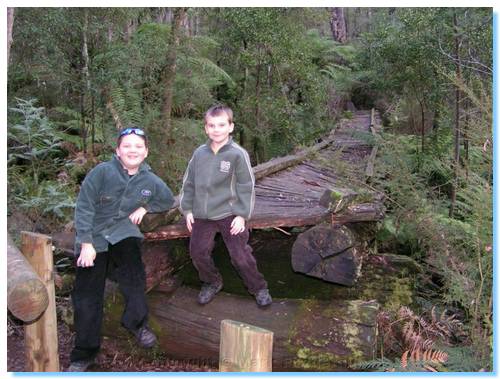 We returned along Trestle Track and walked along to an old timber trestle bridge, slowly (or not so slowly judging from photos in the walking books) rotting away in the forest. James wanted to go walking across it, even accepting the risk of it collapsing. He piked though when advised if he managed to survive the fall, he would be covered in leeches and there was no way I was scrambling down the ravine to collect him!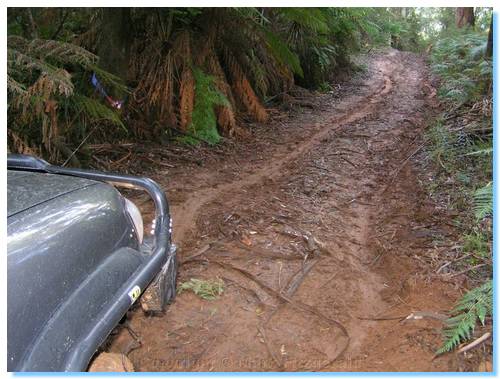 Back in the car we decided to have another go at finding the Wolfram Mine that I'd searched for before unsuccessfully. I took a shortcut from Marysville along Water Race Track, but the slippery mud proved too much, with us sliding back down the track. Very scary stuff. Lower tyre pressures would have made all of the difference. Rather than air down and give it another go, I decided to winch back to the bottom of the track and try another safer route.
We followed Anderson Mill Road to Strickland Link Track, which climbed in some places quite steeply over broken rocky ground. From here we went on to Wilkes Creek Track, and spent some time exploring around, again unsuccessfully for the mine. I'm going to have to come back here again with a machette!
We also met a husband and wife who were also exploring around looking for mine site, unsuccessfully too, of course.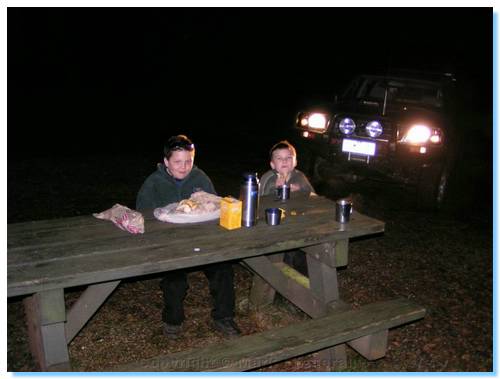 With darkness approaching rapidly we continued along Wilkes Creek Track, quite overgrown in some places and stopped off at the Bicentennial National Trail Camping Area for a evening snack. The sounds of the owls and other night creatures freaking out the kids.