Craigs Hut November 2004
Participants: Nidhi, Sampath, Pavan, Bhaskar, Suresh, Praveen & Mark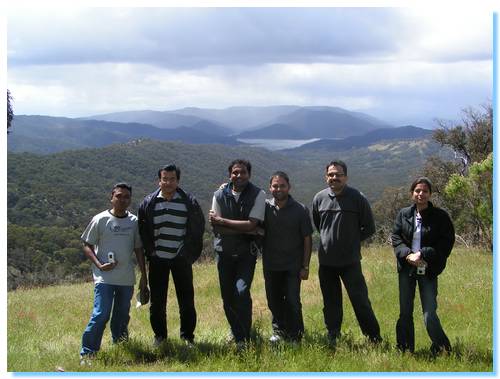 We departed from the city pretty much on plan; everybody being picked up and on our way about 8:00am with beautiful clear blue skies. We took the more scenic route as opposed to the fastest route, driving out via Healesville where we stopped for some last minute supplies and then winding our way across the Black Spur. The plan was to stop in Fernshaw for morning tea, but for some reason the place was locked up so went to Plan B and stopped at Dom Dom Saddle.
The instant we were out of the car we were greeted by a Magpie with his young chick, both very keen for food, and both also very adept at catching any food thrown at them.
We drove out through Eildon and climbed up and along Skyline Road, which offered some scenic views back into the Goulburn Valley as well as across over Lake Eildon which was much higher than my previous recent trips. We spotted a couple of Wedgetailed Eagles soaring over the ridge top and pulled over at a lookout to get some photos of the views across the lake.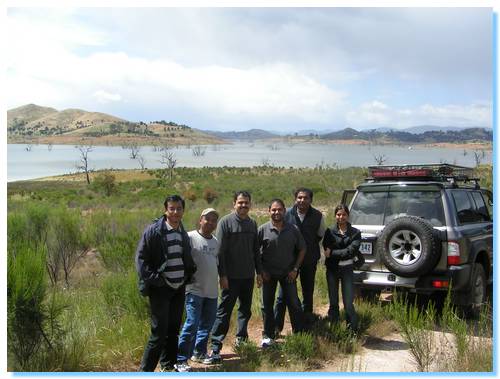 The road then took us down to the lakeside where we got caught up behind some cyclists. We pulled over to take some more photos as the views were very scenic with the water so high and the clouds rolling across the valley; so far the rain forecasted had held off.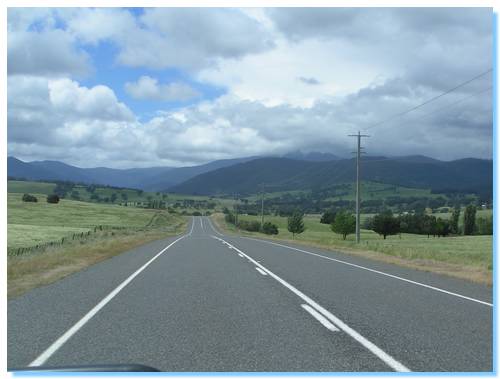 We stopped in at Mansfield and the bad weather chasing us from Melbourne finally caught up. It briefly hailed and then cleared up again as we drove out of Mansfield towards Mt. Buller.
We headed up towards Mt Stirling, passing a cyclist who had an extremely long and arduous climb ahead of him! Off to the right we had some views of Mt Buller, which still had some snow cover. Pavan had not previously seen snow so we were hopeful of coming across some today.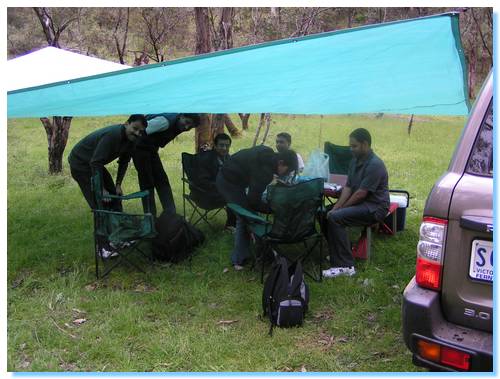 We drove down to Pineapple Flat on the King River, and the river was noticably higher and faster flowing than it had been on my previous visits. A quick chat with some people parked on the bank indicated that some other cars had recently crossed so we drove in and through the river, with water coming up over the bonnet we made it to the otherside where we setup for lunch.
The rain held off long enough for us to setup the tarp and picnic, and came down quite heavily as we sat under the tarp enjoying our lunches.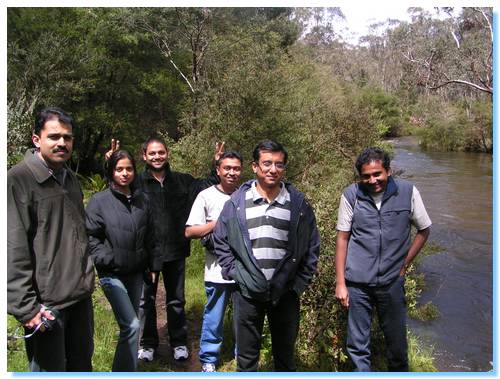 Soon after lunch the clouds cleared away again and we went for a short walk along the King River, with numerous wild flowers in bloom and the sun shining again.
The original plan for this trip was to drive along King Basin Track and up the Staircase to Mt Speculation and Lake Cobbler, but since the river was higher than normal and the rain had been falling heavily I decided against the 10 or so river crossings and the likely slippery Staircase climb that path would take us on. Additionally, Pavan hadn't seen snow before so I expected that going up to Craig's Hut would give us the highest probability of seeing some snow falling.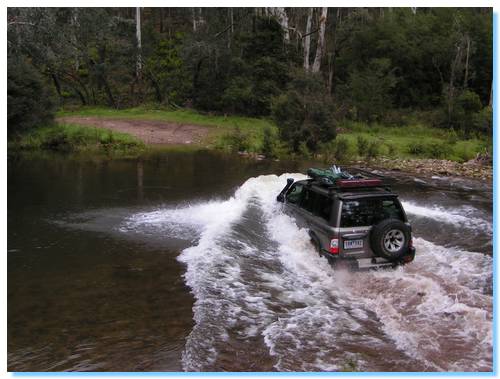 We drove out across King River again, and a few more times as well to get some good photos and then headed up to Mt Clear to visit Craigs Hut.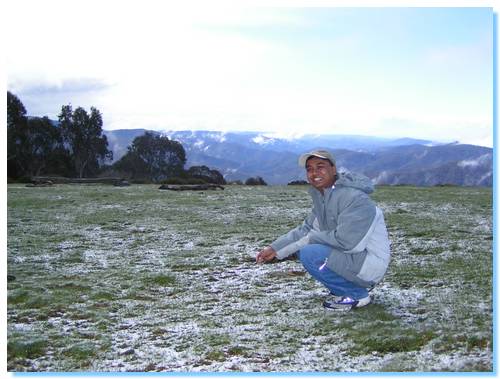 We arrived at Craig's Hut with the most beautiful views across the mountains with large fluffy white clouds rolling across the sky. There was a light dusting of snow as well, so Pavan received his wish!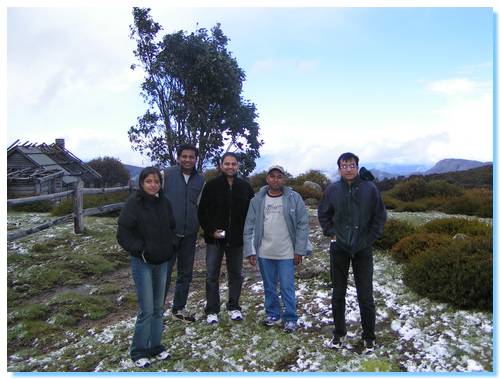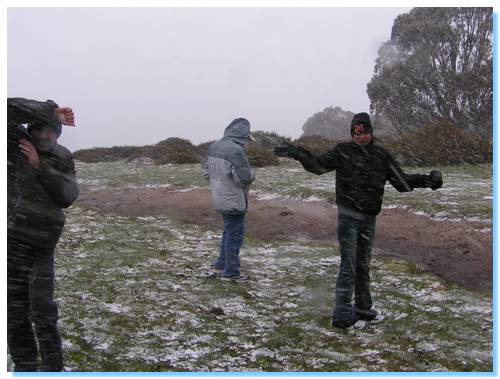 We spent about 10 minutes enjoying the views and taking photos when almost instantly the views vanished as the mountain clouded over. An icy wind picked up and a light snow began falling. We sheltered in Craig's Hut from the wind and snow, enjoying the warm fire that was a new edition from our last visit.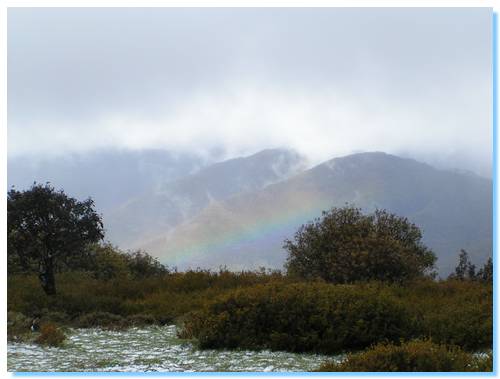 The snow soon stopped falling and a lovely rainbow appeared near Mt Speculation.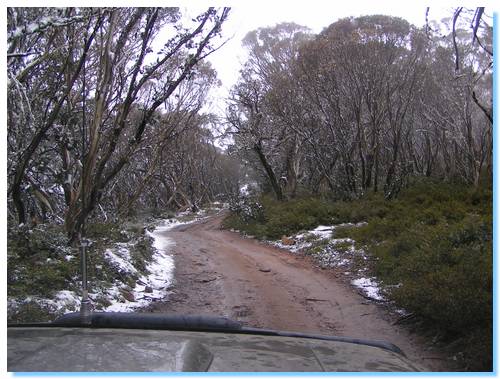 A large group of trailbike riders arrived at the hut just as we were leaving and followed us as we continued on towards The Monument. We drove down Monument Track, which was very rocky in some places, and much rougher than my previous visit.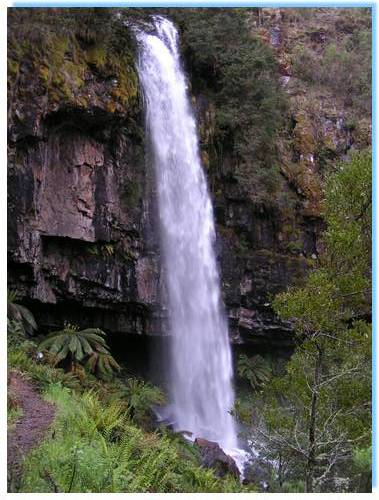 We stopped off at Bindaree Falls which was in good flow and then drove down to Bindaree Hut for afternoon tea.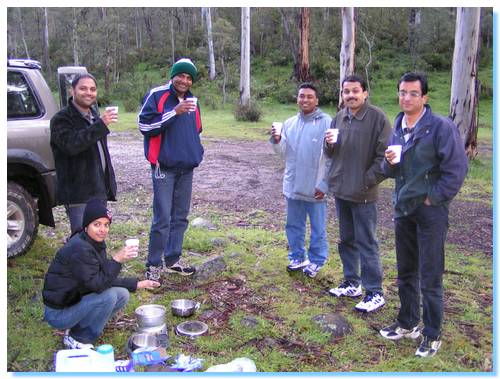 We had a nice hot chocolate which was very welcome and warming before our long (very long) trip back home.
We drove along Upper Howqua Track then climbed out of the Howqua Valley along 16 Mile Jeep Track. This was reasonably steep and wet, though we made it out without any problems. We even spotted a few wallabies along the way.
Corn Hill Logging Road which climbs up to Mt Buller looks like a quicker exit from here but I'd like to check it out under drier conditions. It is marked as Management Only on the CFA maps though looking now on the Parks Website it is a seasonal closure track, and requires a crossing of the Howqua River as well as a steep climb with a number of switchbacks. Still, it's one to keep in mind for future trips.
So we continued up Bluff Link Road and out of the Valley at Refrigerator Gap where the mobiles were all working again. A few calls back to those waiting for us in Melbourne before heading out of the bush along Bluff Link Road, Brocks Road and then through Sheepyard Flat. On through Mansfield and Yea, we caught sight of the city lights past Whittlesea and had everybody dropped off home before 10:30PM.
---
Click here to see a satellite image of our travels. Note, large image(563KB).
Track Summary & Travel Times

| | | | | | | |
| --- | --- | --- | --- | --- | --- | --- |
| Track Name | Surface | Travel Time | Total Distance | Avg Speed | Min Alt | Max Alt |
| Healesville to Eildon | Highway | 1 hour 15 minutes | 80km | 64km/hr | 97 metres | 524 metres |
| Eildon to Bonnie Doon (Taylors Road) | 2WD Gravel, beautiful views over Lake Eildon | 1 hour 2 minutes | 39km | 38km/hr | 234 metres | 651 metres |
| Mansfield to Pineapple Flat | Highway/4WD Easy - Deep river crossing of King River | 1 hour 38 minutes | 58km | 36km/hr | 331 metres | 1351 metres |
| Pineapple Flat to Craig's Hut | 4WD Easy | 51 minutes | 33.9km | 40km/hr | 668 metres | 1462 metres |
| Craig's Hut to Monument Track | 4WD Easy | 8 minutes | 1km | 7km/hr | 1458 metres | 1472 metres |
| Monument Track | 4WD Medium/Hard(Wet) Moderate descents, loose rocks and rock ledges | 16 minutes | 3.6km | 13km/hr | 1341 metres | 1534 metres |
| Bindaree Hut to Bluff Link Rd (Upper Howqua Rd/16 Mile Jeep Track) | 4WD Medium - some steep sections | 35 minutes | 16.3km | 28km/hr | 786 metres | 1288 metres |
| Bluff Link Rd to Sheepyard Flat | 2WD Gravel | 44 minutes | 32.2km | 44km/hr | 557 metres | 1297 metres |
| Howqua Track (from Sheepyard Flat) | 2WD Gravel | 20 minutes | 16.8km | 50km/hr | 513 metres | 576 metres |