Dom Dom & Black Range 22nd May 2004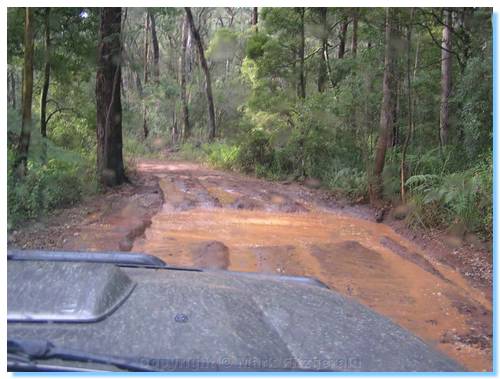 This was an exploratory trip to see if I could find the walking track to Cleft Rock, to later take the kids along on.
Heading off the Black Spur at Dom Dom Saddle, I drove down Dom Dom Road and passed the remains of the old Scout Hut. The mud in this region is very slippery, and the track had a long descent that was very rutted. I expected to have some troubles getting back out of here.
The track ended in an area that had been logged in the not too distant past, and there was what looked like a walking track, or at lest an overgrown 4WD track heading up the hill at the location expected for Cleft Rock Track. Mission accomplished.
I was correct in expecting trouble getting back out, and required two pulls on the winch to get back up the track.
Back onto Dom Dom Road around the Eastern side of Dom Dom I came across a small but very deep bog hole. Luckily being able to back out I gingerly made my way around and made my way to Mt Strickland Spur Track. I turned around half way up as there where some pretty nasty squealing sounds coming from the engine, presumably I had got some water into a bearing somewhere along the drivebelt, but this stopped when I got back down the bottom.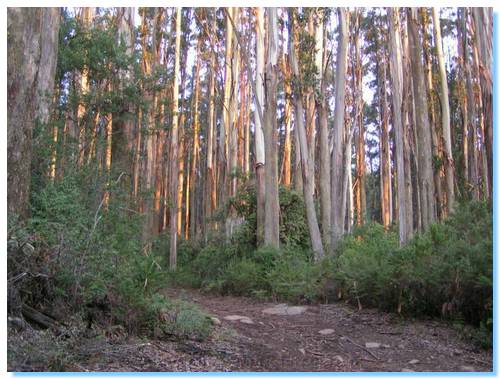 Continuing the exploration theme, I drove around Maroondah Reservoir Park; a nice place for an afternoon family picnic, and also dropped into Donnelley's Weir. Up along Myer's Creek track and past Mt St Leonard, I thought I would have another go at finding a lookout which according to the map had the best views of the Archeron Valley.
I did find Archer Lookout; well the whole area was thickly treed and I could see no vantage point to observe any views, but the warm pink dusk light on the trees was certainly scenic.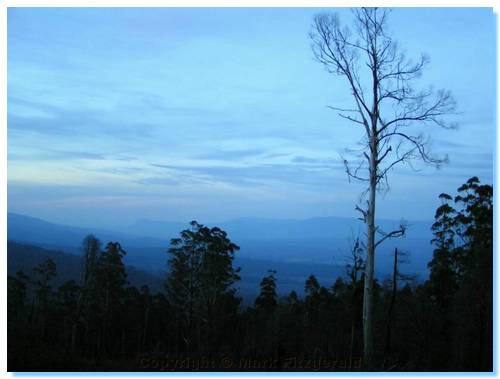 The location with the best views was now forest regrowth, but logging further down the road certainly opened up some magnificent views north towards the Cathedrals.
I made my home via various tracks in the Narbethong Plantation and Siberia Junction and back past Mt Tanglefoot.