Fishing/Exploring around Eildon/Big River 8th May 2004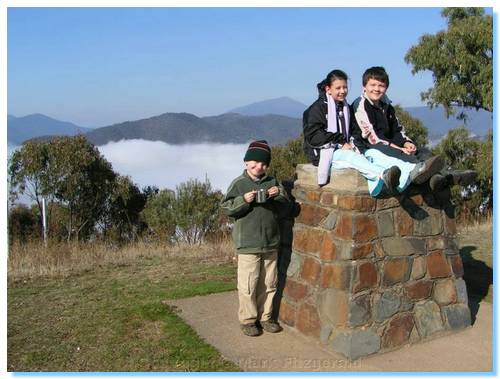 A fun day fishing with the kids. After trying unsuccessfully in the pondage below Eildon Dam, and with the water level rising very quickly we left the foggy lake and made our way up to Mt. Pinninger to enjoy a hot chocolate above the clouds at the aptly named Foggs Lookout.

I had planned to fish in the Big River Arm, but the Taylors Creek Track down to the campsite and fishing areas was for some reason gated and locked. We made our way down to Burnt Bridge camp area; many of the tracks on my map don't exist anymore in this area and some new ones not on the map are there. I need a newer map!
I quite quickly caught a very nice Rainbow on a bladed spinner, which I released. The kids weren't so lucky. Possibly due to their running down and around the river bank before trying to fish!
We had spag bols for lunch on the banks of the Big River and tried fishing further up Big River, but no more wild trout were to be caught by us today. We dropped in to the Trout Farm at Buxton so that the kids could all catch themselves a trout, where they had an absolute ball.