Mansfield to Bright Range Rover Club Trip 12th June 2004 to 14th June 2004
Trip Leaders:
| | |
| --- | --- |
| John & Prue Hassler | Landcruiser 60 Series |
| Jim Parker | Landcruiser Tray |
Trip Participants:
| | |
| --- | --- |
| Mark, James & Liam Fitzgerald | Nissan GU LWB |
| Gerald Wolmer | Landcruiser MWB |
| David Jenkinson | Discovery |
| Ian Kelly and John Hawley | Discovery |
| Sujee Panagoda | Discovery |
| Richard, Trish and Kristen Groom | Disco II |
| Mark Kingsley & Gavin O'Conner | Disco II |
| David, Kate Cassie & Matthew Jackson | Nissan GU LWB |
| Bruce, Brandon, Amanda & William Triptree | Explorer |
| Steve Williams | Disco II |
| Matthew, Bibiana, Thomas & Benjamin Mason | Landcruiser 100 Series |
Tail End Charlie
| | |
| --- | --- |
| Rob & Noelle Butterworth | Disco II |
Trip Report: Mark Fitzgerald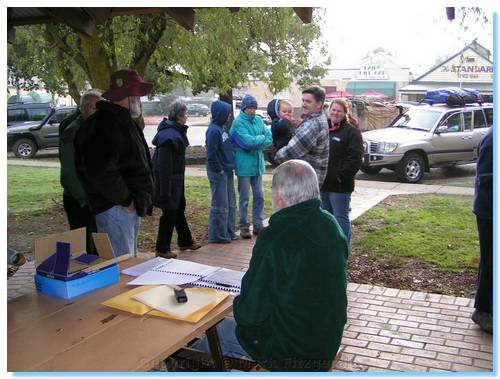 Everybody arrived at the meeting point in Alexandra on time, though we did leave a little late due to some last minute completing of the new trip participant information sheets. I'll make sure I've got mine typed up and photocopied next time, as handwriting 3 copies of the form is no fun at all. We made our way out through Eildon and up to the lookout over the dam wall to get sight of the new works.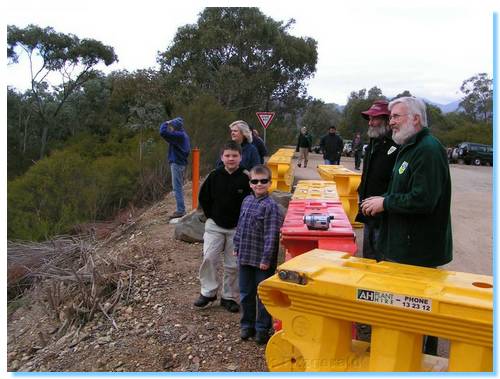 Eildon no longer conforms to modern dam building criteria, so additional work is taking place to improve the structure of the dam wall to cope with extreme earthquakes and the spillway is also being upgraded to cope with greater flood events. Not much was happening on the dam wall, apart from a mob of kangaroos lazily grazing. There was some work going on at the quarry on Mt Sugarloaf (How many Mt Sugarloaf's are there in Victoria?), with a large bulldozer pushing crushed rock down the cliff-side. We returned back down through Eildon which was built to house the construction workers of the original dam wall and headed off in convoy along Taylor's Road, which normally would offer spectacular views over Lake Eildon, however the low lying cloud and fog blanketed the valley.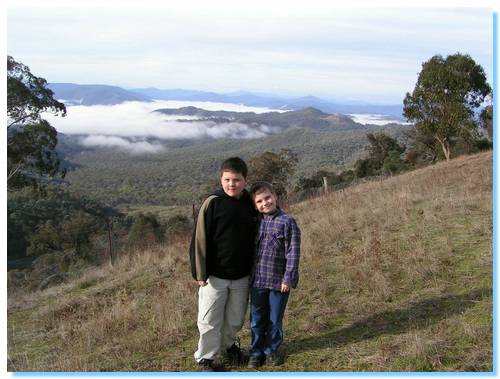 We stopped at a lookout near Station Creek for a morning tea, as well as to enjoy the views across the invisible lake and out across the High Country.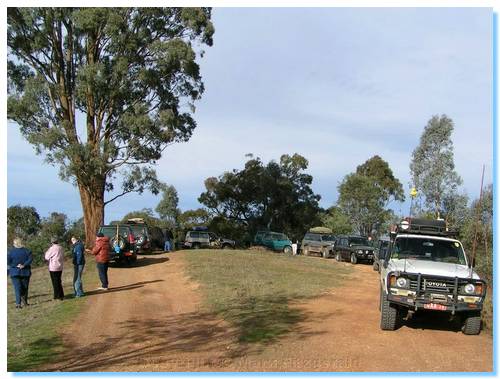 A quick chat, coffee and look around and then the convoy continued down Maintongoon Road and into Bonnie Doon, where we picked up another convoy member, chips, drinks and an opportunity to use a real toilet. Large convoys are like old dinosaurs. The Diplodocus kind; very slow to get moving.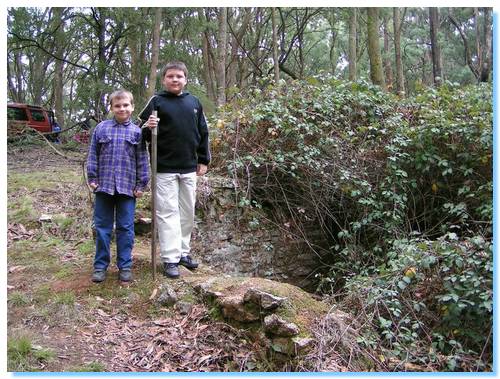 Snaking back the way we came, we crossed the Brankeet Inlet bridge and turned left down Dry Creek Rd. We picked up our last convoy member and set out to explore the Dry Creek Historical Area. There were a number of large excavations and other clues to the mining that had taken place in the past, as well as the foundations and remnants of old houses and other buildings, battling with time and the blackberries.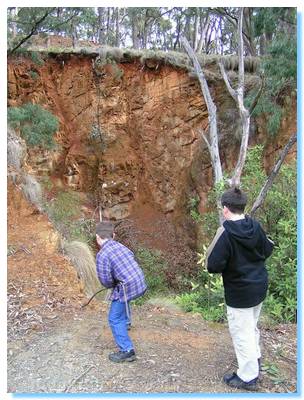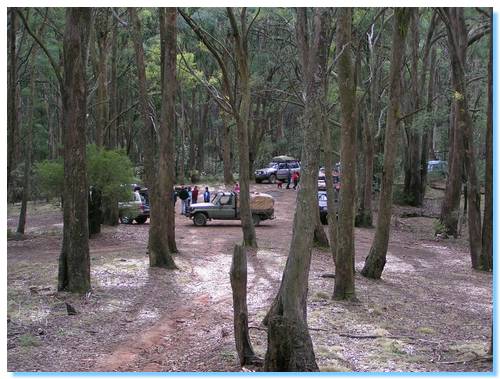 We stopped here for our morning tea break, though at quarter to 12 it was getting closer to lunch time. This beast of a convoy was proving difficult to tame.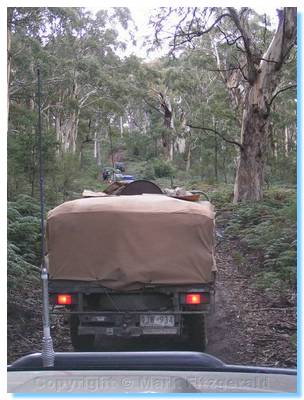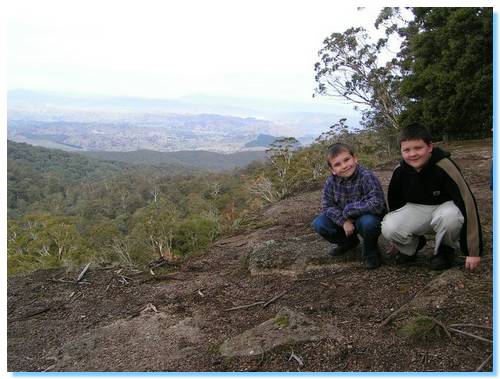 After a good explore of the area, though it would be easy to spend a day here exploring the ruins and old mine diggings, we wound our way along various tracks across the Strathbogie Ranges to a magnificent granite outcrop opposite Mt Strathbogie which gave us spectacular views back across the plains and onto Mt. Torbreck.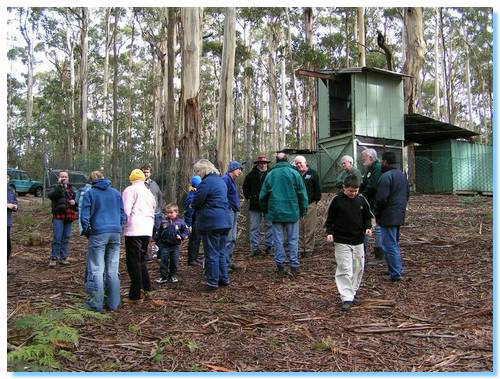 Next stop was the Crystal Mine, a currently working mine extracting quartz from deep within the mountain. As the mine was still in operation, a fence around the buildings prevented any close inspection, though it was a good opportunity to mill around, stretch the legs and have a chat.
We stopped for lunch about 1:30 at a small picnic area on Moonee Creek; somehow managing to squeeze all of the cars onto the tiny grass flats. The kids all played by the creek edge, amazingly staying dry whilst the parents cooked and chatted. As time was escaping us, we ditched the plans to drive up Mt Samaria, instead taking a more direct route to Stringy Bark Creek.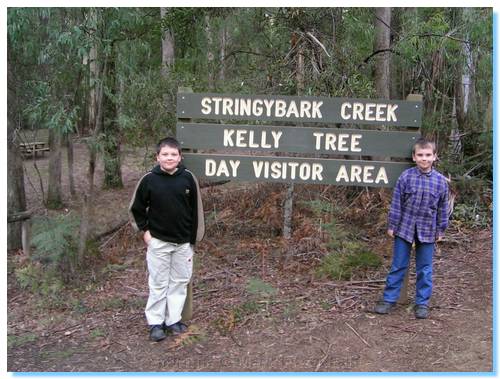 Stringy Bark Creek is the site of a gun battle with Ned Kelly and Sgt Michael Kennedy with Constables Lonigan, Scanlon and McIntyre, who intended to capture the Kelly Gang.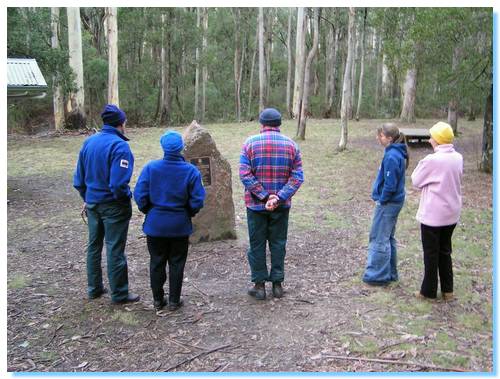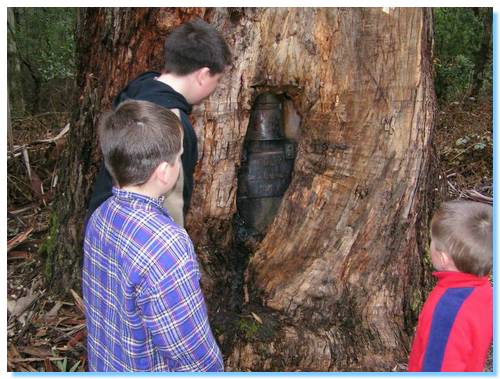 Kennedy, Lonigan and Scanlon were shot dead, and the Kelly Tree has an iron sculpture of Kelly's armour engraved to remember the shooting of Lonigan.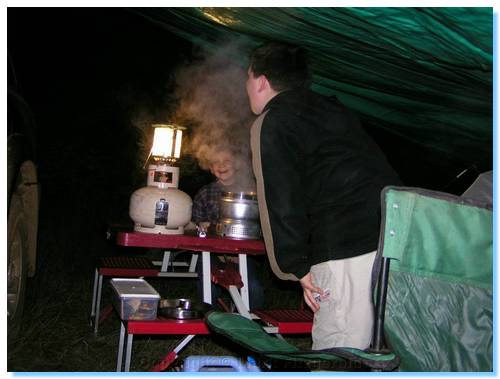 A short walk from the picnic area was a large open camping area, and it was decided to setup camp here as it was already about 4PM, it was a long way to the original planned campsites along Buttercup Road and this was a great campsite with plenty of room for us all to spread out. We staked out our sites, and started putting up our tents. Much to my shock, I found my tent fly was not in the bag with the tent, and after considering sleeping in the car (been there, done that, and not very comfortable at all), I setup the tent with a tarp over the top to keep out any rain or moisture.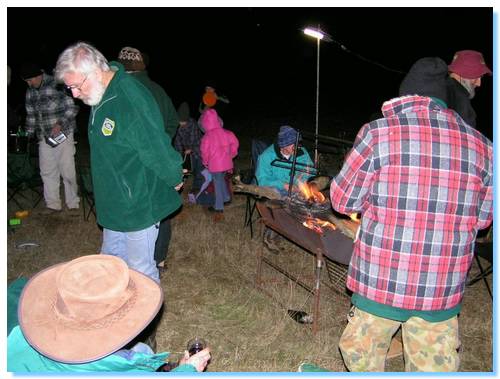 After dinner we all sat around the campfire sharing stories of previous trips, adventures, searches for lost tents and delicious chocolate cake.
The wind picked up through the night which played havoc with the tarp over our tent. Suffice to say I got little sleep that night, as probably did anybody camped nearby to me. My humble apologies.
Sunday 13th June 2004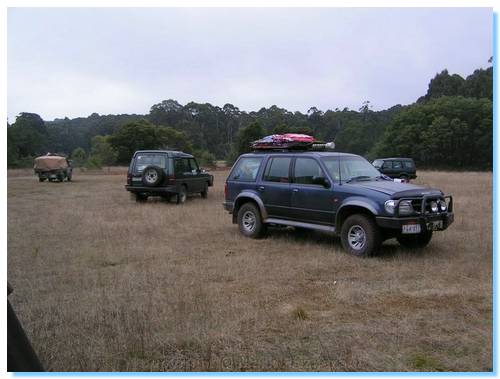 Breaking camp shortly after 9AM we just managed to beat a light drizzle. We headed over to a grave site which was marked on the map and also by road signs.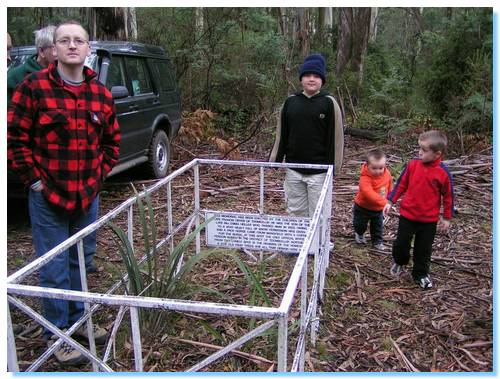 The grave of Emma Heller was significant as she is the only white person buried in the district. Special approval was granted due to heavy snow falls at the time.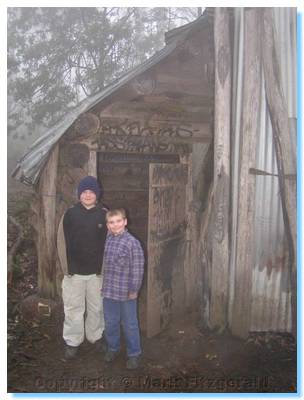 We drove into Mansfield where a number of people refuelled and then made our way out along Buttercup Road, passing many campsites along the creek before our stop off at Tomahawk Hut. The weather was turning quite cold, and very foggy so after a quick explore around the hut we jumped back into the cars and made our way down Evans Creek Track.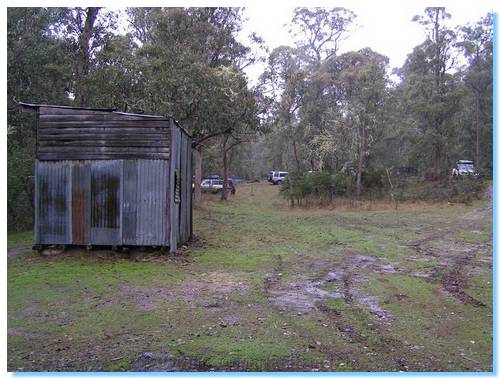 We stopped for lunch at Evans Creek Hut, an old tin shed on the flats near Evans Creek. Lunch was had under tarps as the rain started to fall. The rain didn't bother the kids any, who continued exploring around the hut and the creek oblivious to the cold and wet.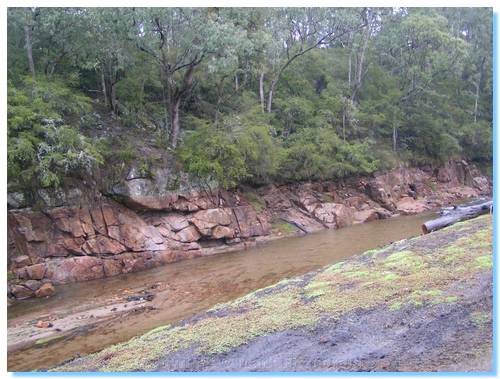 Continuing along Evans Creek Track brought us to the upper reaches of Lake William Hovell. The lake was quite low, and we explored some river flats along the King River, which normally would be under the lake. The muddy flats had been cut up quite badly by previous 4WDrivers and were a sorry sight to see.
As we drove into Cheshunt, the convoy split into two, with John leading half of the convoy back to the campsite in preparation for another day, and myself leading the remaining half of the convoy to Paradise Falls and then back home.
I was able to prove how ineffective it is to lead a convoy from behind with one car (names withheld to protect the innocent) taking a wrong turn and becoming lost, but we all managed to make it to Paradise Falls in the end. Given all of the rain we had had today, it was quite a surprise to find no water to speak of flowing over the falls, which were barely visible through the fog, mist and light drizzling rain.
We headed back home through ever thickening fog, at times able to see no more than a few metres in front on the Mansfield-Whitfield Road. Apart from having to clear a fallen branch from the road, the trip back was without drama.
Thanks John, Prue, Jim and all for a fantastic weekend away in the bush exploring new areas in our magnificent High Country.
---
John and Prue have provided the below trip report for the other half of the convoy
Our group headed to Cheshunt and began our climb up the range, past Powers Lookout and towards Tolmie. By the time we had reached the turnoff to Stringybark Creek and the Kelly Tree - our intended campsites - enthusiasm for a night camping in the rain had waned and we drove into Mansfield where we arranged some accommodation. Most stayed in the bunkhouse at the caravan park. Prue and John chose the motel (after all it was the Queen's birthday this week). We met at the Delatite hotel for our meal. David left us as he was heading back to Bonnie Doon.
Mark had sent us the SMS saying there was no water at Paradise Falls so we planned an alternative route for our last day.
Monday 14th June 2004
Trip Leaders:
| | |
| --- | --- |
| John & Prue Hassler | Landcruiser 60 Series |
| Jim Parker | Landcruiser Tray |
Trip Participants:
| | |
| --- | --- |
| Gerald Wolmer | Landcruiser MWB |
| Ian Kelly and John Hawley | Discovery |
Tail End Charlie
| | |
| --- | --- |
| Rob & Noelle Butterworth | Disco II |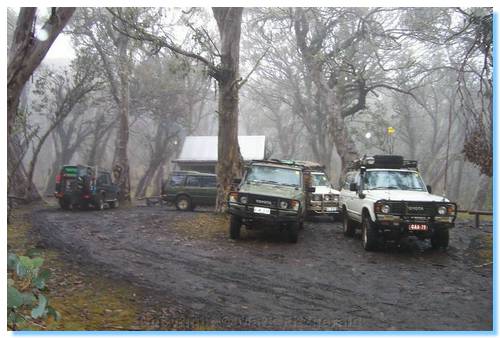 After refuelling, we headed up the Buller Road and turned onto Carters Road, pausing briefly to look at the camping area before passing Buttercup Road and Tomahawk Hut. We took the track up Mount No 3, climbing above the logged area and through the Alpine Ash forest. By the time we reached the snow gums we were travelling through mist. We passed Westons Track on the left and turned off to the Refuge Hut, a welcome shelter from the mist and rain and a good time for morning tea.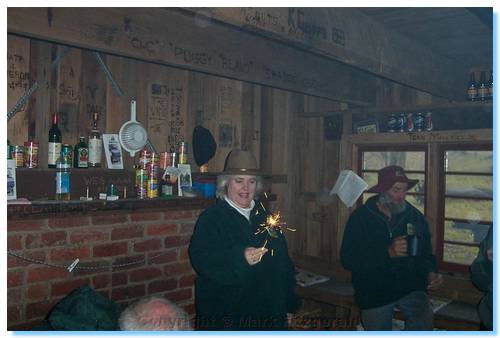 Prue was surprised when cake and sparklers were produced to help celebrate her birthday.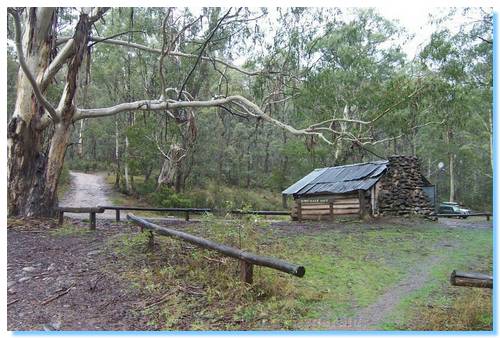 Back in the cars, we passed Bus Hut before turning into Stirling Circuit Road. Because mist obscured any views, we bypassed the turnoffs to Pineapple Flat, Craigs Hut and King Hut and took the Bindaree Road. We noted the new crossing near the carpark for Bindaree Falls. Discouraged from the walk by the continuing rain, we speculated on a good display brought on by the recent rain When we reached the Howqua River, we turned off to Bindaree Hut. The rain continued so we erected a tarp between a couple of vehicles to provide shelter for lunch.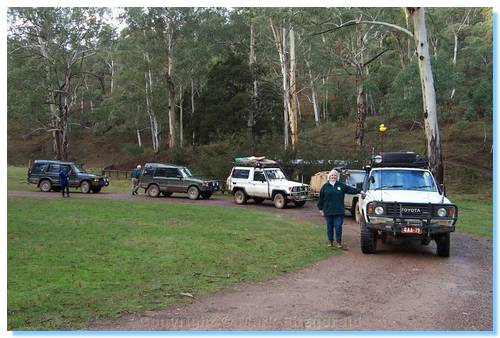 We climbed the Bluff Link Track and, by the time we reached The Bluff Track turnoff, were experiencing light snowfalls. We continued to 8 Mile Gap and descended to Sheepyard Flat. After a cuppa and farewells we headed to Mansfield and home.
Wet weather and timing conspired to make us change our plans. So "Over the Mountains" will be rescheduled next year at a drier time of the year. Thanks to Robert and Noel for acting as Tail End Charlies and taking on many tasks to ensure that the convoy operated effectively. Thank you, Mark for taking the group to Paradise Falls and safely back to Mansfield.
John Hasler