Upper Yarra Reservoir Park - 7th, 8th & 9th February, 2003
Participants:
Mark, Russell & Stephanie
Fot, Marisol & Jacqui
Wendy & Rachael
Henric & Annaleigh
Mark, Michelle, James, Liam & Shannon
Friday, 7th February 2003
We arrived at the campground to find Mark, Russell and Stephanie finishing off their BBQ dinner. We set up our tent before it got dark, and joined them in a game of cards. We went for a night walk around the Fern Gully Walking Trail. We heard the odd bit of wildlife in the dark, which was quite spooky but didn't spot anything with our torches except for an eel in the river beneath the bridge, with blue pectoral fins. Back to camp and a not too late night. Steph put some of the other campers straight about their fire (The High Country was still well alight) and we all went off to sleep. Those without ear plugs were woken through the early morning by some very loud bird sounds, almost like a siren. No idea what bird it was, perhaps a White-Bellied Sea Eagle?????
Saturday, 8th February 2003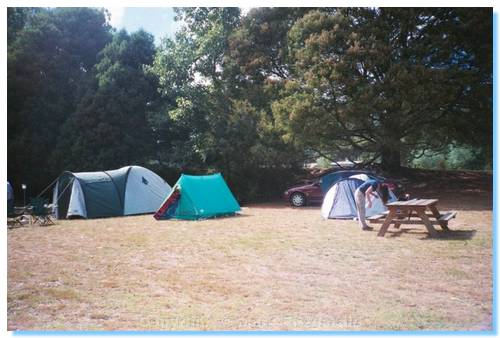 Mark, Russ, Steph, myself, James, Liam and Shannon decided to walk up the Doctors Creek Walking Track to check out the lookout after our huge bacon and egg breakfast. Michelle waited at the campsite in case the others arrived. We passed the McVeigh's Waterwheel, which has a history of providing power for an old mine now under the waters of the Upper Yarra Reservoir, as well as power for an old hotel, also I believe under the waters. We passed along the Yarra River for a short while before beginning our ascent. Liam soon found it a bit of a struggle, but eventually we all made it to the top.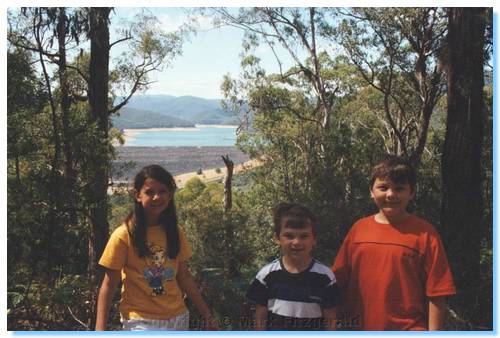 We soaked up the view, reported back to Michelle over the UHF, and made out way back to camp to await the rest of our camping party to arrive. Mark, Russell and Steph found the heat was getting too much so decided to head down the valley into Warburton.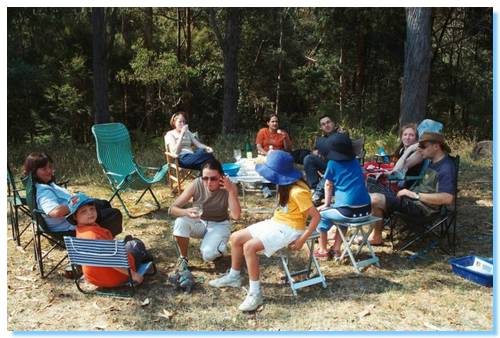 About 1:00, everybody else arrived. First time campers Fot and Marisol managed to get their Taj Mahal tent up like they were old pros. Henric & Annaleigh brought their new family additions along; two beautiful Russian Blue kittens, which kept the kids very well entertained.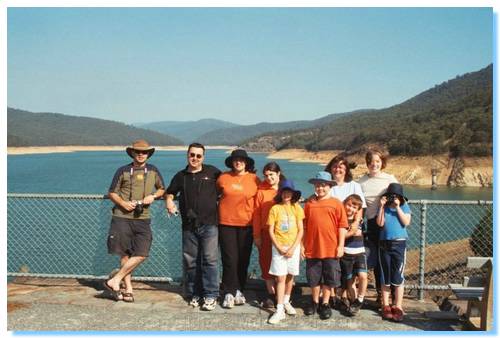 The day was hotting up and we chased the shade through the afternoon, enjoyed a game of cricket, had a goanna attempt to get into our tent and explored the dam lookout and spillway. All the while Yellow-Tail Black Cockatoos and King Parrots kept us company.
We started on the pre dinner nibblies such as Double Brie, Yabby Pate and anti pasto and enjoyed some very good company before beginning our almighty smorgasbord feast of chicken fajitas, lamb casserole, spanakopitas, and quiche. We went for a night drive through the park to see what we could spot, and found a number of deer as well as a wombat. We returned to camp for dessert, having fruit salad as well as pancakes, berries and ice cream. Oh, and Steph had to go and sort those other campers out again who had no idea about fire safety...
Sunday, 9th February 2003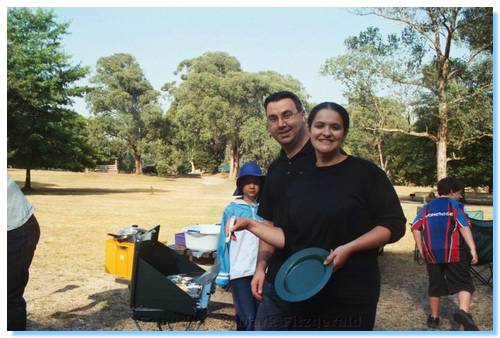 We all cooked up another magnificent Bacon & Egg Breakfast and ate ourselves stupid before packing up the tents and preparing to head off. Stephanie had arranged a massage in Warburton, so Mark & Russel took her in and dropped her off before meeting us all as we drove up into the forest to visit the Ada Tree. We all managed to see a snake basking on the road before it moved off into the bush; we were not able to identify what type of snake it was, possibly an Eastern Brown.
At the Ada Tree carpark, Henric and Annaleigh said their farewells as they had to get back home early.
We all took the beautiful walk along Island Creek which brought us along a cool trail that closely followed the crystal clear creek through a ferny subtropical valley, and past the remnants of some huge mountain ash trees. Some evidence of the timber industry of a century ago remained, such as some rotting sleepers along the trail, and some notched tree stumps. We soon wound our way up and out of the valley and arrived at the Ada Tree, a huge Mountain Ash. This tree is probably the largest hardwood tree in the world. It is approximately 76 metres tall. Not as tall as the California Redwoods, or even in fact the Big Tree near Marysville at 84 metres, but with a girth of over 15 metres at 2 metres above the ground it is estimated to weigh more than 1100 tonnes. Before it lost its crown in a storm it may have been 120 metres tall, making it the tallest tree in the world. A similar Mountain Ash living in Gippsland was cut down to measure its length (yeah, go figure) and was measured at 114.3 metres long. Yes, Australia has the worlds longest log.
After walking back to the cars, we drove into Warburton via Starlings Gap and Big pats Creek. We sat down by the side of the Yarra and finished off the rest of the quiche, whilst the kids managed to all fall into the river. We all said our goodbyes before making our separate ways back home. Thanks all for a great weekend!