Cairns Holiday Day 3 - 22nd May 2005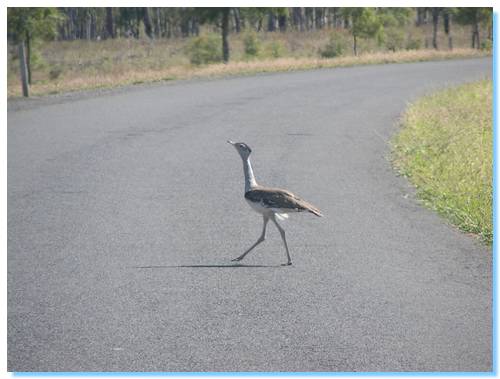 Morning showed that I had camped in a beautiful campsite under the trees beside the river. I got out and walked around a little then after breakfast I packed up and headed back to the highway.
The drive through the Central Highlands was very scenic. I saw Wedgetailed Eagle soaring over the roadside ,and nearly came to grief with a huge peice of mining equipment or something driving down the highway taking up the whole road.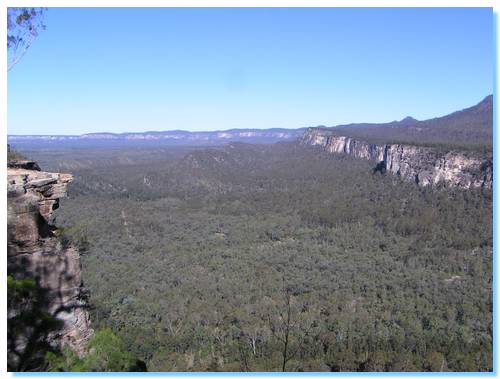 I arrived at Takarakka around lunch time and setup camp and had lunch. Since I was here so early, I walked up to Bimboola Spur, 7K return. The climb up the gully was very steep, but the views from the lookout were beautiful.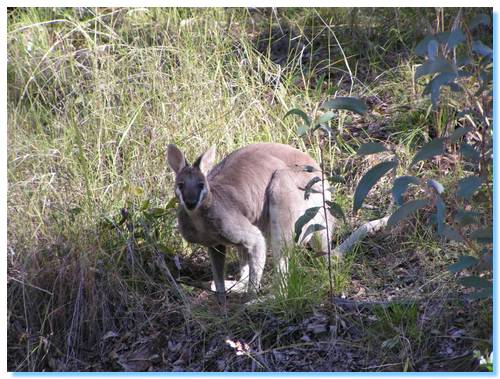 Along the walk I came across some pretty faced white cheeked wallabies; the gorge area and views are very beautiful.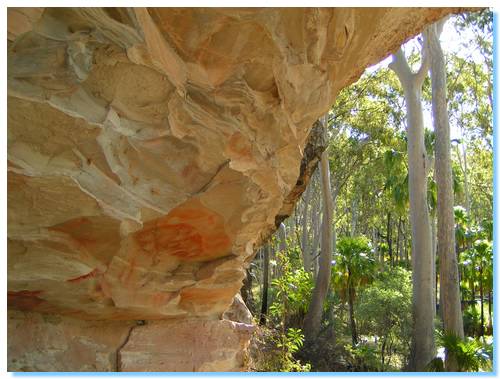 On the way back to camp I stopped off and walked to Baloon Cave, which is an Aboriginal Cultural walk which has signposts along the way explaining various faces of aboriginal life. The walk ended at the cave which had hand stencil aboriginal rock art.

I returned to camp for a much needed wash. The washroom facilities are very clean and sorely needed. I then headed off to the rock pool, spotting an echidna along the way. It was very relaxing sitting here for a while watching the turtles gracefully swim up and down. I waited to see a platypus, but had no luck tonight. I did see a type of honeyeater which dive bombed me, as well as an Azure Kingfisher. I remained watching the bats fly overhead till 5:30, when I gave up on the platypus and headed back to camp for dinner.

[an error occurred while processing this directive]