Cairns Holiday Day 5 - 25th May 2005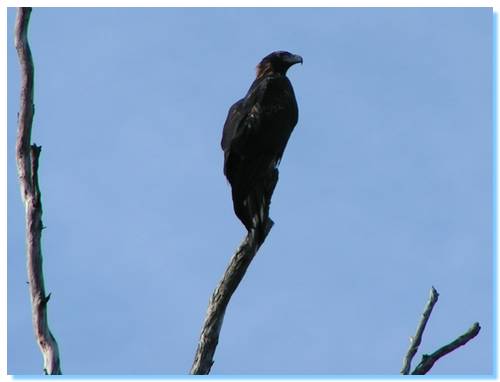 Got up early to try and spot a platypus, but no luck. Eurasian Coots where still there, but that's all. Had a nice hot shower, had breakkie and said goodbye to the two guys I met the night before. Left the campground at 7:45.
Passed a war memorial on the way out, consisting of the remains of an American plan which crashed in bad weather in the area. Back on the highway I saw many Wedgetailed Eagles, a lot of them quite close up perched on a roo carcass at the roadside. They always flew away when I got too close, so no good photos.
I even spotted a dingo crossing the road!
I missed the turnoff to the geocache at Springsure, but saw the virgin rock from the roadside. It could almost have been carved!
Emerald was quite a big town, and I listened to John Laws stir up the masses with his emotive arguments on the radio as I continued North. Filled up here after waiting for a Winnebago to refuel. This was only my second Winnebago, but I had seen countless caravans, undoubtedlly baby-boomers doing their around Australia Trip. I'm determined to do mine long before I hit 50! My entire walk of Carnarvon Gorge I passed only one person below 40, and only another 2 below 50.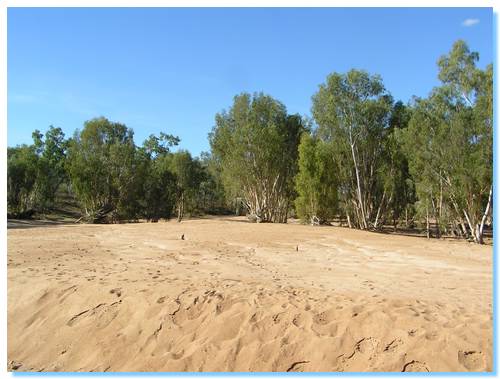 Emerald, as well as nearby Rubyvale and Sapphire are named as this is gemstone country, so I must come back here one day with James and do some fossicking.
I had good mobile coverage all the way pretty much from Emerald to Clearmont, where I stopped in town and bought a King Burger. What a hamburger. I ate it beside the Hoods Lagoon, relaxing as the ducks glided past. I was going to stop at Belyando Crossing, but a number of people where already stopped there, and there didn't seem much water by the river so I continued on, leaving the family there to enjoy the company of the Apostlebirds in peace.
A few hundred kilometres of often very straight, and also at times quite narrow road later and I was in Charters Towers. The red and white microwave tower on the south side of town, my only memory from a visit 20 years prior.
I got to the QP&W Office just as they had locked up right on 4:30, but they opened up again for me so I could pick up a camping permit for Dalrymple NP.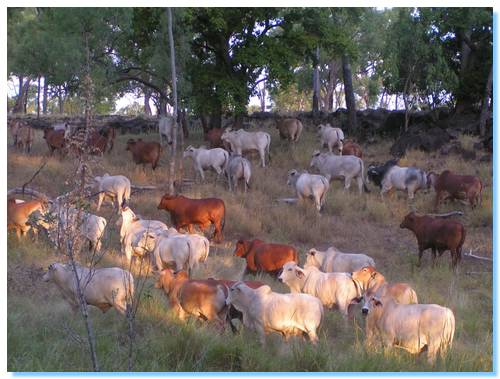 30 minutes further along the road, after filling up I came to Fletchers Creek Camping reserve, which was quite busy, full of those BBs in the caravans behind Landcruisers.
I continued down the sandy track to the Burdekin, a nice spot already taken by the river but I found a nice secluded spot at the end of the track where the Fletchers Creek flows slowly into the very low Burdekin. Much of the sandy riverbed is exposed, with the river slowly snaking its way from one side of the bed to the other.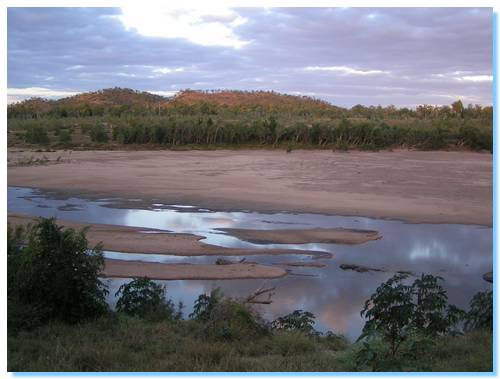 Some swamp wallabies were enjoying my chosen campsite when I arrived, but quickly moved on as I parked the car and set-up the tent. I have weak mobile reception here too, which is good. It's quite warm tonight. It's amazing the difference a 1/2 to 1 day's drive can make. My first night was sub zero in the Warrambungles. In Carnarvon Gorge it was about 9 degrees over night. Here at Dalrymple it's very warm; even a little muggy. Looking forward to catching up with my family tomorrow afternoon in Cairns.

[an error occurred while processing this directive]