French Island Walk - 6th March 2005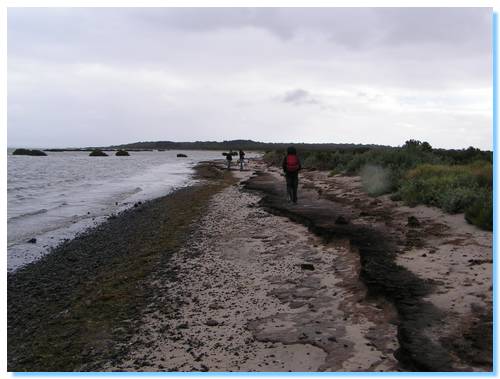 It was time for an easy walk after some of the more recent walks that I had arranged. Travelling to French Island also seemed to offer a bit of excitement, as it required a ferry ride to get there.
An early start was in order due to the ferry leaving at 8:30, so James and I bundled into the car and left home about 6:30. My day had begun a lot earlier though, as I had incorrectly set my alarm, and had woken up at about 4:00!
We stopped in at Frankston looking for a Baker's Delight to pick up some scones, but I couldn't find one anywhere. I took the chance of finding a store in hastings, which thankfully paid off. I did have to wait another 20 minutes for the scones to finish cooking though
We arrived at Stony Point with 30 minutes to spare, and awaited the rest of our walking party to arrive. Patty 7 David cut it really fine, arriving right on the nose as the ferry was about to leave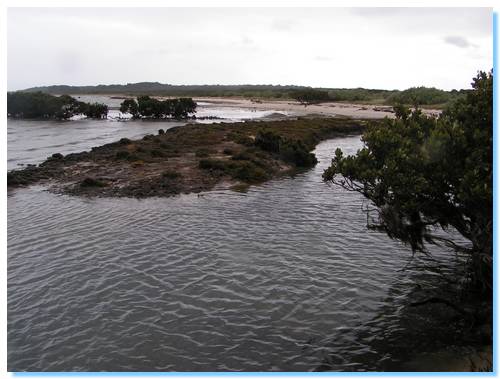 Less than half an hour later and we were on French Island. We followed the Day Walks Victoria walk notes, and headed north along the beach, but our progress was thwarted by the high tide and Tankerton Creek. A proper reading of the walk notes says to do the walk in reverse at high tide...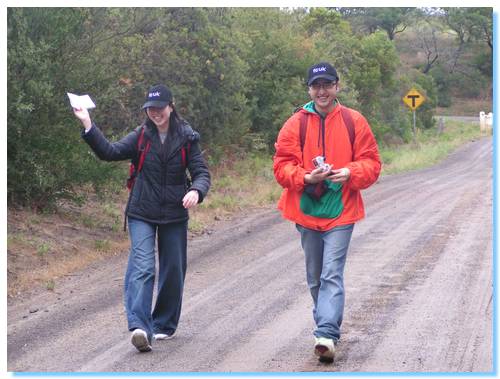 A short backtrack, and we continued along Coast Road. The weather wasn't looking good, but spirits remained high despite a light drizzle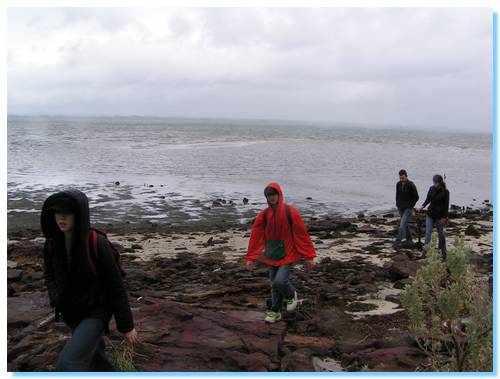 We continued on to Chilcott Rocks, which were not much more than a low rocky outcrop on a slight point. There were a number of sea birds around, as well as some swans which seemed a little unusual. Don't they normally hang around lakes and not the beach?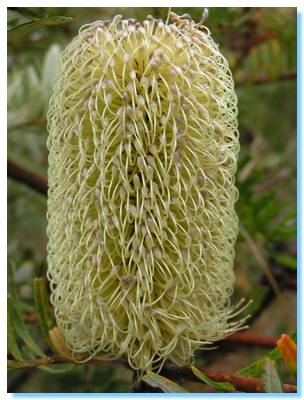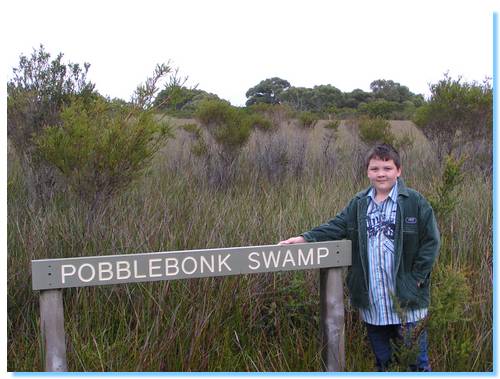 The walk entered the National Park area, and we were hopeful of spotting some wildlife, but it was not to be today. We couldn't even hear any Pobblebonks at Pobblebonk Swamp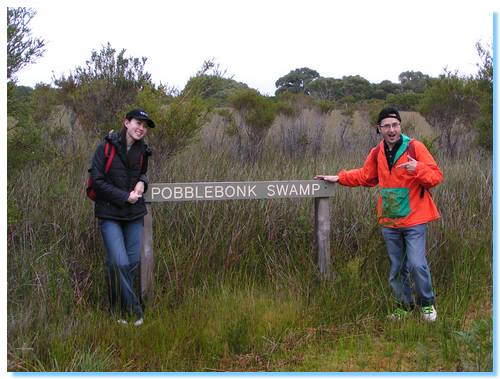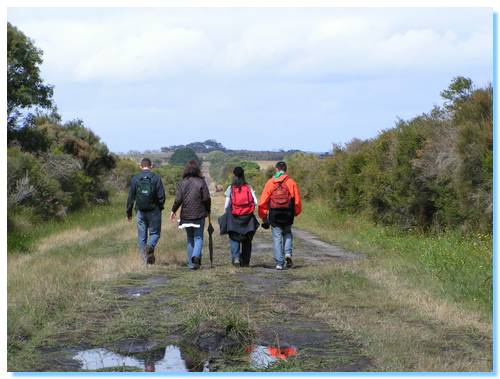 We climbed to the Pinnacle, which is a low sand dune offering views over the island. The weather had cleared, but the mosquitos were swarming. I'd never seen so many in all my life! The picnic shelter had fallen into disrepair and was becoming lost in the bracken.
The path wound back on itself then joined up with a firebreak whcih we followed back to Clump Road.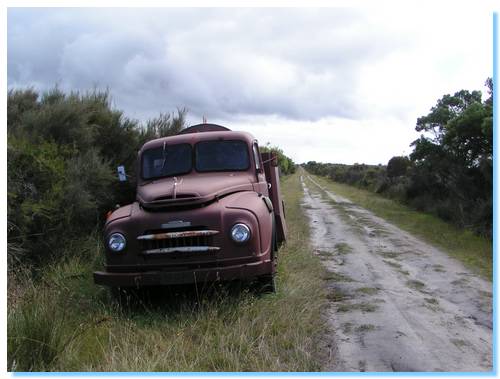 James was getting quite tired at this point, and had put in a fantastic effort given this was his longest walk to date. We'd covered about 10km before his feet were starting to hurt him, which was pretty good considering he was wearing new shoes.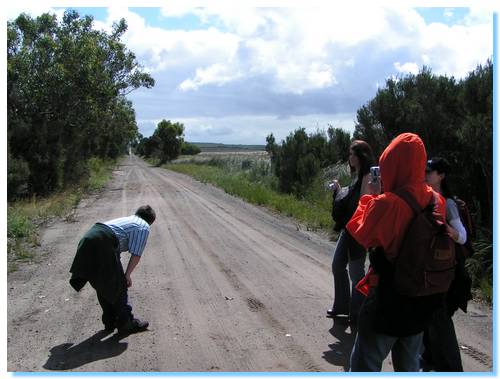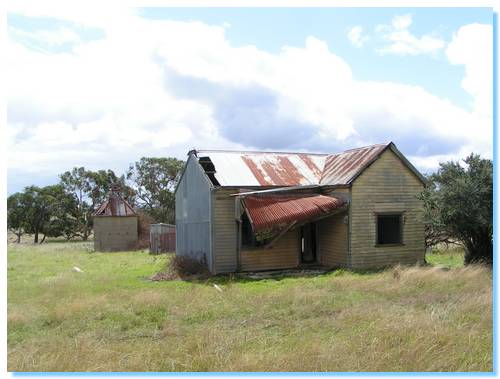 We stopped in to the store for icecreams, but eventually ended up abandoning our brought lunches and hoeing into som pretty good organic burgers. A good hour plus later and we continued past some old houses rusting away, and kept a watchful eye out for koalas at the footy ovals, again without any luck.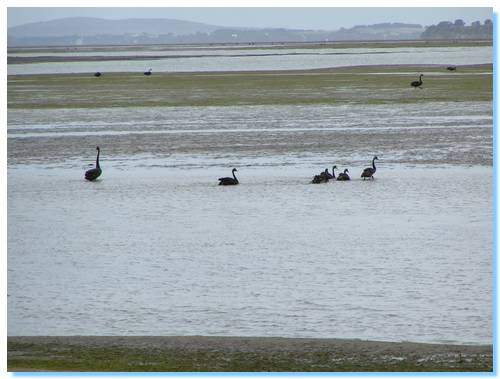 We had plenty of time to kill before the ferry was due back, so we turned left aftger the ovals to the beach, and walked across the mud flats, spotting a few various birds along the way.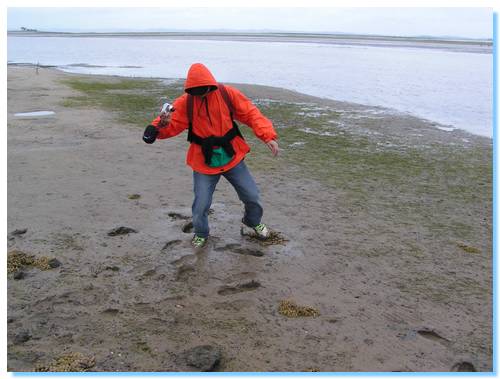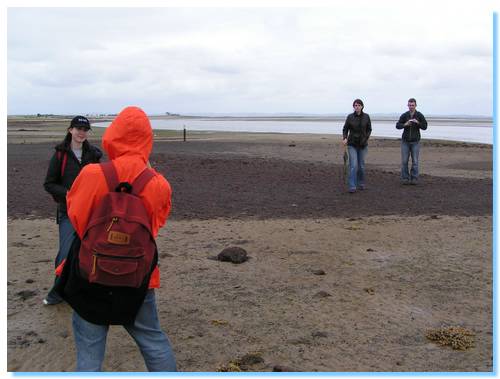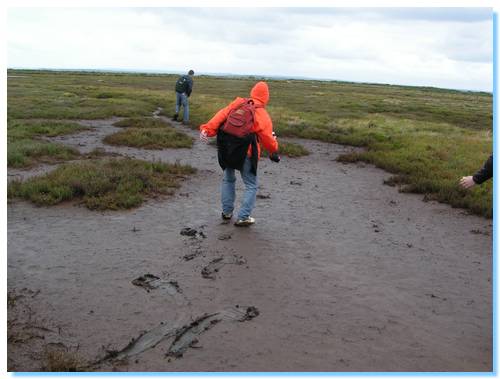 David was quite adept at his mud skating!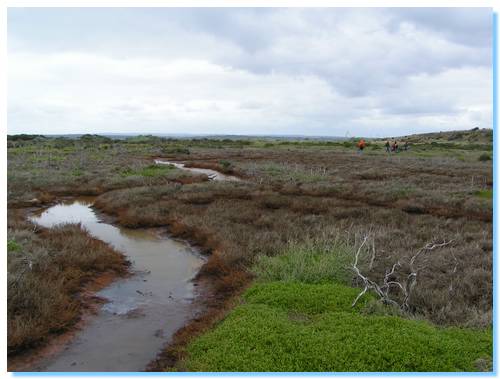 We took the chance on whether we could make it along the the beach back to the ferry, which was good as it turned out to be an interstieng walk, making our way through the swamps and marches.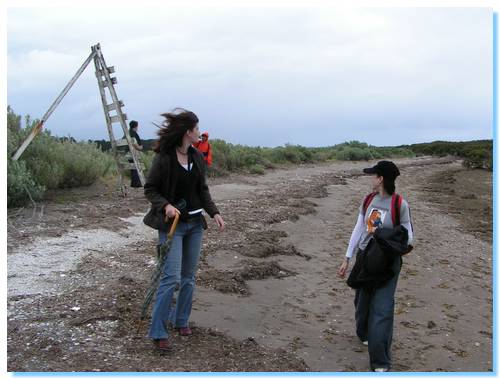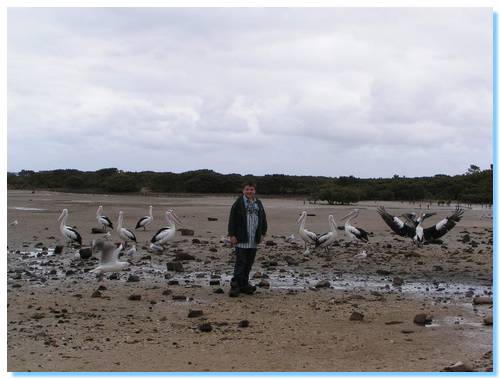 Back on the mainland we watched the pelicans get a feed of fish from a successful catch before heading on home

[an error occurred while processing this directive]