Big River - 20th January 2001 to 21st January 2001
Mark
Nissan Patrol
Henric:
Nissan Pathfinder
Nathan/Dana:
Toyota Landcruiser
Saturday 20th January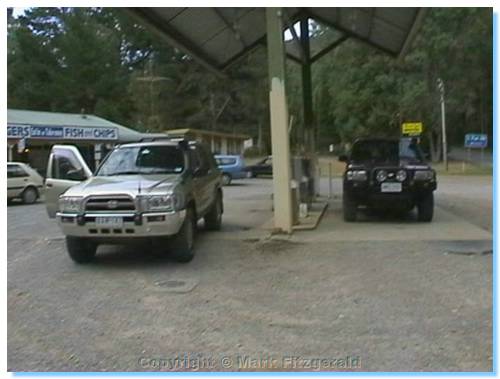 Henric and I departed from my place in Eltham approx 7:30am, and headed East through Yarra Glen Healesville, through the magnificent Mountain Ash forest of the Black Spur to our fuel stop at Narbethong Shell.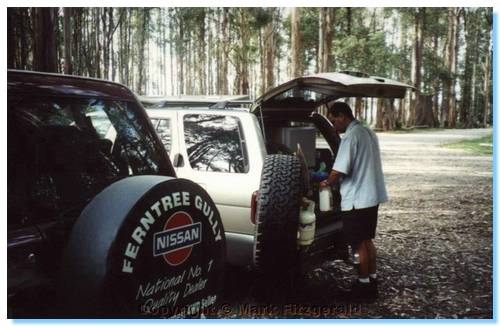 From there it was a short drive through Marysville to our breakfast stop at Cambarville. Some houses of Cambarville still remain, and some are even still in use. Most of the town was destroyed by fire in 1970. Close by is the tallest living tree in Victoria, and the second tallest in the world.
From Cambarville, we headed East past Cumberland Junction and turned left onto Eildon Warburton Road. We then turned right into Big River Road, which we followed to Stockman's Reward. Along the way we explored some bush camping sites along the Big River. One site had our first 'water obstacle', a large puddle close to some campers by the river. After checking for depth, and considering whether our driving through might upset the nearby campers, Henric went through followed closely by myself. The kids watching thought it was great.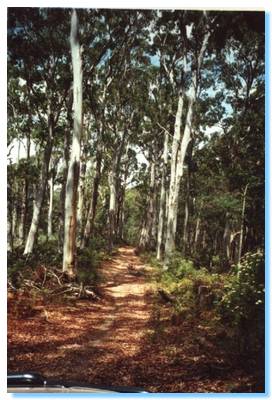 Miners Flat Camping Ground wasn't very picturesque, and was missing the single most important feature of a good bush camping site: river access. It did however have an interesting shortcut out being a steep climb, which again gave both Henric and I a chance to try some 4WDing.
Of the bush camping sites investigated along the Big River heading towards Frenchmans Creek, only 3 stood out as anything special: Dairy Flat Camping Area (considered the best, and I also managed to catch a small brown trout here), Gang Gang Gully Camping Area, and McClelland Camping Area. In between scoping for future bush camping sites, and since we had some time to kill before our scheduled rendezvous with Nathan and Dana, we decided to do some 4WDing and headed up Snowy Track. The Snowy Road Camping area was another possible camping location, but not up to the standards of the spots along Big River we were to discover. I also managed to catch a small Rainbow trout in the river here.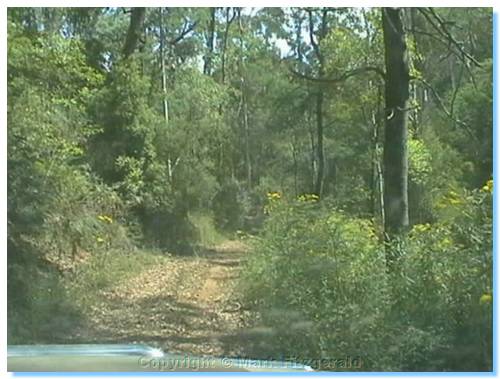 Turning left out of the camping area onto Ely track we headed for some off-road driving. A short pause to air down the tyres and we were off. The track was slightly rutted, but nothing too taxing. We followed this track to it's end, then turned right onto an un-named track running parallel to Frenchmans Spur Track. Proceeding along this track gave some enjoyable views to the valleys on either side, and our first bog hole. I was in lead, and pulled up to check the solidity. It appeared nothing more than a slight dampness of the track, looking perfectly solid. I was about to find a stick and confirm that this was the case, but as we had two vehicles and could snatch each other out if there was trouble we just drove through. The crust quickly gave way to the weight of the truck and the Patrol dropped into the thick mud. Nothing that slowed us down though and the Pathfinder followed through easily as well. That would be the worst of the mud we would see on this trip.
We continued along this track until it came to the Frenchman's Spur Track at Short Cut Number 2. We turned left onto Frenchman's Spur, and doubled back on ourselves to Big River Road. Frenchman's Spur Track was a good quality road, easily suitable for 2WD, at least on the portion we drove upon.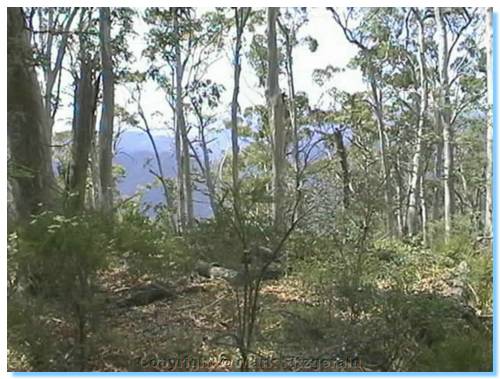 We had just investigated Specimen Creek camping area, and were onto our meeting point when we got the call on the UHF from Nathan, who was at the rendezvous point, and most surprisingly on time! (Am I a little too cynical?) As a bonus he had received our SMS sent from Cambarville to bring roast chickens for dinner due to the declaration of a total fire ban.
We all had lunch at Frenchman's Creek Camping Area, and reviewed the plans for the rest of the days driving.
After lunch, we headed back out of the camping area and turned left onto Frenchman's Creek Track. The track soon became a bit scrubby but was easy driving. Our first water crossing, being over the creek was very shallow, however the exit point was steep and gave some interest. The track continued along the creek, and we diverted left onto Monument Creek Track. This brought us quickly out of the valley up a spur where the track followed the ridge, bringing us to an altitude of 1000 metres at the junction with Boundary Track. We passed numerous trees bearing delicious red berries, however nobody would believe me that they weren't poisonous and so the rest of the group missed out on this bush tucker delight. Following Boundary Track brought us back down again to Frenchman's Creek Track, a drop of approx 440 metres. We continued along Frenchman's Creek Track until Two Mile Track. This was our steepest ascent so far, a loose rocky track that brought us out of the valley at 600 metres to an altitude of 1127 metres, in probably 2 kilometres? The track joined Frenchman's Spur Track, which we followed onto Warburton Woods Point Road.
We continued along the road to Woods Point until we reached Pheasant's Creek Track, a sharp left turn. This was an easy track with good views. A smaller track veered off to the right, but keeping left kept us going in the right direction. We eventually came to an old mine, a vertical shaft at the side of the road. A dropped stick gave an estimated depth of 100m to 150m. Pretty deep. Wonder how accurate it was?
The map indicated another mine further along, but we didn't see the shaft. There were plenty of mullock heaps along the side of the track to indicate that the area was indeed heavily mined. The track descended as we came closer to Woods Point, and it was evident that there was a lot of mining activity still taking place; signs of Entry Prohibited, fences and tracks all over the hills, etc. We chose the right track on the lower side of the hill at every junction, saw a very large black wallaby, and eventually came out on the track between the two toilets at Woods Point Camping Reserve.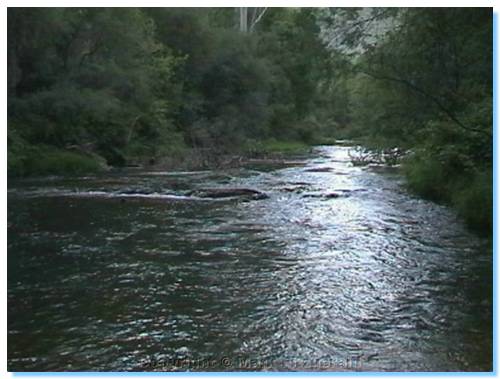 Time for the obvious and then Henric headed into Woods Point for a refuel, whilst Nathan and I got the fishing gear out. I caught a small brown trout in the river, my 3rd fish for the weekend. That Rooster Tail Lure is a sure winner – Thanks Michelle!
On Henric's return, we headed down the Mansfield Woods Point Road towards Jamieson, looking for a campsite for the evening.
We had heard that Tunnel Bend was a nice spot, however on passing it did not classify as Bush Camping. A good place to camp with the family and kids, but it can get a little crowded.
Henric, Nathan and Dàna continued down the road whilst I turned down an embankment at a promising spot to try a bit more fishing. Eventually the others returned and though no fish were caught, it was decided that this was an ideal spot to set up camp for the night.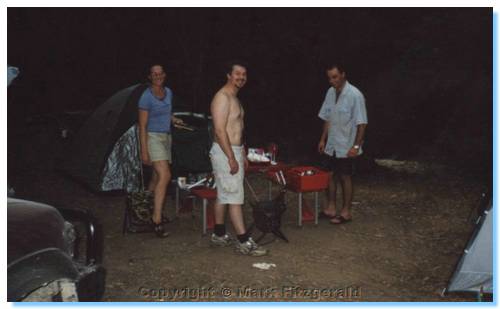 Tents were soon up, and after a swim in the warm Goulburn River, dinner was served. Thanks be for BBQ Chicken. Henric's car fridge also afforded us the luxury of ice cream and raspberries!
Henric's difficulty in finding some condiment that was on the centre of the table all along brought forward the classic line, "Are those eyes painted on?"
For some reason the watching of a DVD on the laptop never happened, and one by one we all made our way to our tents.
Sunday, 21st January 2001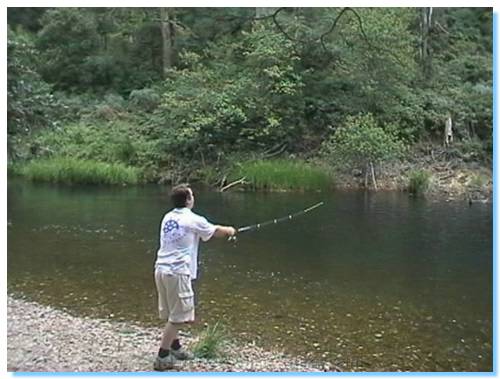 Morning brought bacon and eggs (the fire ban was off), a most refreshing river swim (which one member of the group did in secrecy of the others for reasons unknown), and an interesting tale of goings on through the night:
Nathan had gotten the call of nature in a big way through the pitch black of night. I guess he just new that this was not the sort of "steamin' demon" to plant within smelling range of camp, nor was this the sort of beast to leave above ground if given the choice. A pit toilet was called for, and recollection had one not too far down the road at an established campsite. That was the plan. Dana recalls Nathan leaving at about 01:00, and was woken by his return at 03:00. It was an overcast, star-less, moon-less, light-less night. Somehow Nathan found his way back up the path and embankment and onto the roadside. The walk to the pit toilet however was longer than the urge allowed, and the rest would be obvious. Why he didn't take a torch???? Anyway, somehow he made it back to camp to tell the tale.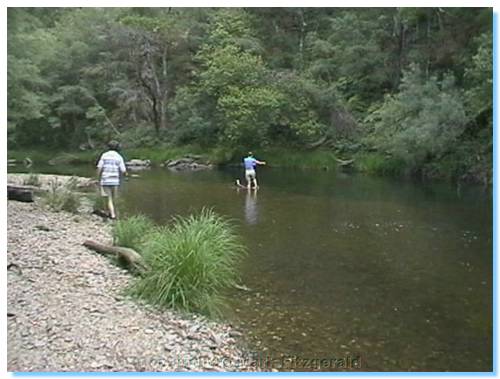 Packed up and on the road again, we drove into Jamieson. We stopped in the reserve by the Jamieson River for a civilised toilet stop. It was then observed that one of Dana's shoes was on Nathan's bull bar. These things normally travel in pairs. The other was somewhere between Jamieson and the campsite 30 kilometres back up the road.
A stop in at Granny's Flat was called for to check out how steep one of the access tracks was. It was steep. The Landcruiser with heaps of engine braking and an extremely low low first had no problems. The Patrol got down without too much drama, but the wide tyres contributed to some slide out of the back of the truck. The auto PathFinder also had no major issues. A quick look around Grannies Flat, which is a magnificent camping area, and then we drove through the Jamieson River and started making our way towards the Howqua.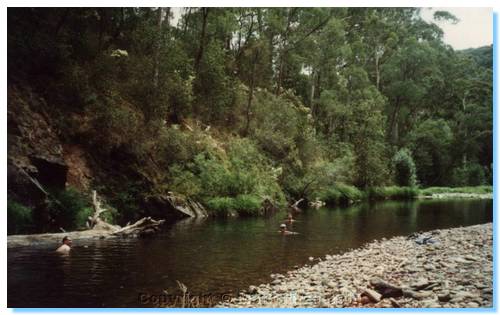 We headed up Master's Track, up the spur and came to Stony Creek Track/Mitchell's Track (depending which map you look at, which we followed a ways and headed down Symes Track. A flying log took out the rear wheel flare on the Patrol, there is a lot of plastic on these cars. But again this is beautiful country, as was the drought affected Howqua at Running Creek Camping Area, where a river crossing brought us to a picturesque lunch location. Apparently BBQ chicken and ham off the bone is an acceptable sandwich combination. A swim and a fish later, and we were back in the cars looking for some action. The river crossing at the other end of camp had a steep entrance, but posed no problems. Nor did the river, which was as shallow as all the other rivers we had crossed that weekend. The other side of the river held some tracks, which pretty much went nowhere. We drove down the river bank and came out on a stony river flat in the bend of the river. Henric believed the embankment exit too steep to afford a passage, and started heading back, however I decided to give it a go, and the Patrol went up no problems (Diff locks were used, just in case). Seeing this, Henric gave it a go, but the Pathfinder ended up spinning its front wheels and sitting on its tail. Good thing that driver's side window was closed! A quick snatch and it was up, our first recovery for the weekend. The Cruiser made it up a little further back down the bank at another exit without any drama. Back across the river, and that steep exit also proved just a little too much for the Pathfinder, requiring another quick snatch up. The Cruiser also had some troubles ("it was all wet, and river pebbles had been moved around"), but luckily the embarrassment of the Patrol snatching the Cruiser was avoided.
We left the camp area and headed up Steiner's Road towards the upper Howqua. Steiner's Rd was an easy drive, and if it wasn't for the crosscut drains, quite suitable for 2WD cars. We also saw a Blue Tongue Lizard, crossing the road. We turned down Howqua Hills track heading towards the river, which was much more of a 4WD track. There were some steep sections but again, nothing too hairy. The drive along the Howqua was great, with various flats we never new existed and some worthwhile shortcuts to explore when next we are up that way. We soon arrived on the road between Sheepyard Flats and Fry's Hut. We drove up to Tunnel Bend before calling it a day, and heading home via Mansfield.