Lerderderg Range Rover Club Trip 27th May 2001.
Trip Leader:
Paul, Helen, Tim, Megan & Billy Snee: Red Range Rover
Participants:
Lloyd, Sam & Ben Hettrick: Blue Land Cruiser
Mark, Michelle & James Fitzgerald. Oiyee & Aaron: Red GU Patrol
Glen, Merryl, Laura & Jessica Monahan: White Land Cruiser
Bob & Marie Wagg: Red GQ Patrol
Manole & Gabrielle Ioannou: Pewter GU Patrol
Tail End Charlie
Steve, Debbie, Melanie & Dylan Hansen: White Discovery
Written Report:
Michelle & Mark Fitzgerald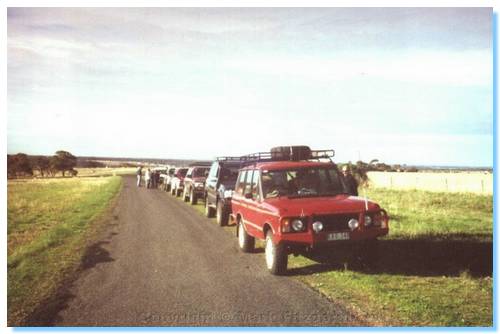 We departed from our rendezvous point at the Mobil Roadhouse on the corner of the Western Highway and Hopkins Road pretty much on time, and continued along the Western Highway until the second Bacchus Marsh exit, were we left the highway and made our way north along the Bacchus Marsh – Gisborne Road.
We turned left onto Russells Road, and aired down the tyres before heading off the bitumen proper. We turned right onto Seereys Road, drove through a small ford and listened to a brief history of the Lerderderg Gorge, from our Tail End Charlie, Steve.
The Wurundjeri Aboriginal tribe lived in the vicinity West of Melbourne, and would hunt the plains and hills of the Lerderderg Gorge, leaving signs such as scarred trees.
European occupation occurred in the 1830's with pastoral runs, followed by miners in the 1850's with the discovery of gold. Not much gold was found in the area, but there are many mine shafts, often covered with sleepers and dirt. Since the sleepers would have long rotted away, we were warned to be careful when seeking out lemon trees.
At the end of Seereys Road we turned right onto Blue Gum Track, and continued climbing upward. Coming around a corner, I could hear what sounded like a car horn and was wondering why somebody was repeatedly pressing their horn when we saw this huge Wedge Tailed Eagle perched in a dead tree at the side of the track. The Eagle left the tree and flew above Paul's car a short distance before veering right and soaring down into Nuggety Gully.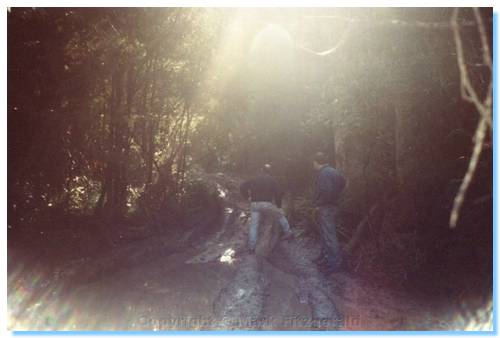 We turned right onto Ractcliffe Track and left onto No. 1 Fire Track (Marked still as Ractcliffe Track on our map). Some members of the group spotted Wally the Wombat, as well as a few wallabies along this section. The track was also lined with many Pink Heath; Victoria's National Floral Emblem. We continued along the track down to the ford at Middle Creek, climbed the steep exit out and continued along till Firth Road.
We turned left onto Firth Road, passing many trail bikes and turned right onto Saltwater Track were we picked up a 4WD wannabe Blue Gemini. We then turned left onto Lloyd Track, which gave us our first 4WD challenges for the day. The track was slightly overgrown, wet and rutted.
We drove down into a muddy rutted dip and climbed up through the other side. Somewhere amongst all the mud was a concrete pipe, which Bob and Marie's diff managed to find, hanging them up. They were snatched backwards and made it through the second time with a bit more momentum. Further along this track, we came to a bog hole with some steep, wet, muddy, rutted climbs leading further up the track.
Paul attempted the climb first, but the ruts were too deep, and his diff was grinding into the track. Paul and a few others turned off into a sidetrack. Lloyd gave it a try and was able to make it up with locking assistance. I followed, and was soon hung on my diffs. With front and rear lockers on, and after a number attempts on two separate parts I was also up and through. Glen followed next, and similarly with locking assistance and a few tries was also through and up. The rest of the group headed back down Lloyd track while we continued on up and through to Burnt Hill Road where we stopped for our morning tea while we waited for the others.
After morning tea, we made our way to Johnson's Corner, and headed right onto Firth Road, which we followed into Firth Park to meet up with the others.
After lunch, and some beautiful Choc Chip and Banana & Choc Chip muffins (Thanks Helen!), we headed off again, around 2:00pm. We turned right onto Firth Road, and then left down Mill Road and left again onto XL Track, which was starting to get wet again, and had quite a number of puddles. We turned left onto XL Link Track, which was slightly overgrown and had quite a few long bog holes, including the bog of eternal stench. The next bog hole was deceptively deeper at it's end which almost stuck one of the cars, and a few more bog holes later we turned left onto Chettle Track, which was well graded with only a few potholes; much to Steve's relief.
Oh, and a special thankyou to our bog hole and pothole monitor.
We turned right off Chettle Track onto Diggers Track, which wound it's way down to a muddy ford through Digger's Creek. We were going to climb up through Upper Chadwick Track, however another convoy of 4WDs coming down that way was blocking the path, so we continued on Diggers Track, past Possum Track which was closed and on up to O'Brien's Road.
We turned right onto O'Brien's Road and drove down to O'Brien's Crossing where we stopped for a while to let the kids run around and try to throw as many rocks into the river that they could find.
About 3:30pm the rain started to come down, so we turned around and headed back along O'Brien's Road, turning right into Blue Gum – O'Brien Link Track. We followed this track in light rain through some 4 bog holes, and then made our way through a narrow gate and left onto Blue Gum Track. Turning right onto O'Brien's Road, and right onto Firth Road saw us back onto the Bacchus Marsh – Gisborne Road, and heading back home around 4:00pm.
Paul and Lloyd went back to attempt the Nuggety Track, which had some challenging muddy rutted tracks. They made a few attempts to travel North along this track, but were unsuccessful. The track would be easier in the opposite direction.
Track Summary
Seereys Road
2WD dirt road
Blue Gum Track
2WD dirt road
Ractcliffe Track/No. 1 Fire Trail
Easy to medium, 4WD track with creek crossing and steep rocky ascent.
Firth Road
2WD dirt road
Saltwater Track
2WD dirt road
Lloyd Track
4WD hard. Wet and deeply rutted with bog holes. Bog holes had solid base. Recovery likely.
Burnt Hill Road
2WD dirt road
Mill Road
Easy 4WD
XL Track
Easy 4WD, wet with puddles but solid base.
XL Link Track
Easy to medium 4WD. Slightly overgrown, wet with a number of bog holes, all with solid bases.
Chettle Track
Easy.
Digger's Track
Easy.
O'Brien's Road
2WD dirt road
Blue Gum - O'Brien Link Track
Easy, wet with some bog holes with solid bases. Narrow gate at exit on a right angle to track.
Blue Gum Track
Easy.
Nuggetty Track
Hard. Was not completed successfully in northward direction. Would probably be medium to hard in southerly direction.