Bogong High Plains - Easter 2001
Henric/Heather
Nissan Pathfinder
Mark/Michelle/James/Liam
Nissan Patrol
Friday
Friday we arrived at Mongan's Bridge Caravan Park in the early afternoon, where we setup camp and settled down for a relaxing evening.
Saturday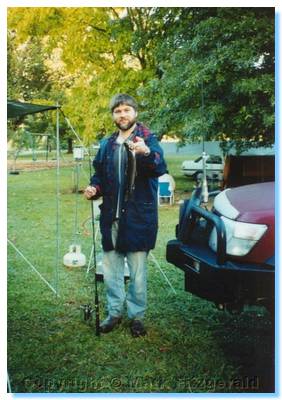 I got up early and walked down to the Kiewa River, where I caught a very good sized brown trout, which we stuffed with lemon and onion for dinner.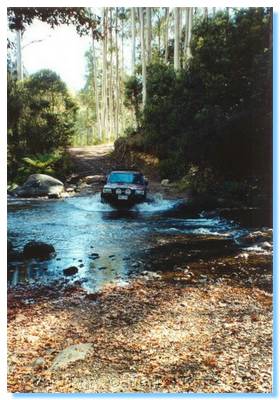 After breakfast, Henric and I went driving looking for some 4WD tracks. We drove up to Falls Creek, keeping a constant lookout for tracks, but all were closed off as being part of the water catchment. Not really a 4WD destination, this area. More walking. Oh well, we explored Falls Village and headed back to camp to enjoy that trout.
Sunday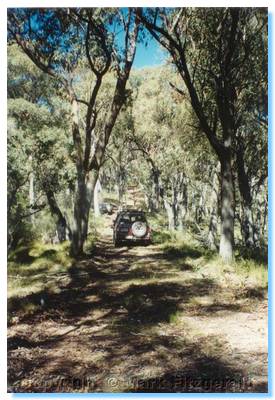 On Sunday we reviewed the maps and identified a 4WD track, so off we headed. The track however proved a little hard to locate, eventually finding it through a farmers property. With some guidance from the landowner, we were through some gates and making our way across the paddocks and up the hill. This was a real nice 4WD track across the top of a spur. Henric got to use his chainsaw and clear a tree off the track. We backtracked down through some pine plantation and came out in a lush green field where we stopped over a small creek and ate our picnic lunch under a tall gum. Continuing on after lunch we found ourselves back on the farm. Giving our farewells to the owner, and thanking him we headed back to camp
Monday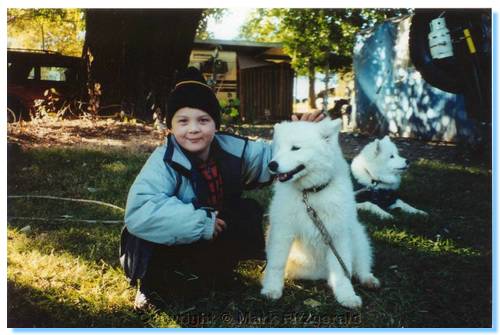 On Monday, Henric and I headed off looking for more tracks, and found another track out the back of a farmers property. Nobody was home, so we made our way through and drove up a very narrow windy road to another track running along the ridge top. Time was against us exploring further, so we headed back to camp to pack up and make our way back home.