Big River - 10th February 2001
Mark/Mark:
Nissan Patrol
Nathan:
Toyota Landcruiser
Saturday 10th February
This was an impromptu trip, arranged the night before due to the cancellation of another trip that Nathan had arranged.
I picked up Mark #2 from South Yarra, and after collecting some supplies we met up with Nathan at Ringwood before setting off. Nathan was feeling a little on the delicate side after eating something suspect the night before, and visions of our last Big River trip came to mind. We travelled via Warburton, where we had a short breakfast stop (the Meat Pie was reportedly delicious, however on two counts the sausage rolls were too salty). We then made a small stop at the Upper Yarra Reservoir to check out the camping sites for future trips. (the stop also provided a much needed toilet stop which fortunately seemed to set Nathan right for the rest of the day.)
After leaving Upper Yarra, we headed up Reefton Spur, which like the Black Spur is an excellent road for motor biking. Unlike most trips on the Black Spur, we didn't see a single bike along its entire length.
We arrived at the Big River State Forest and started scouting tracks. Following Big River Road, Mark #2, who has recently moved to Australia managed to fulfil a long held goal: to see a snake in the wild. Well, we managed to see the tail of a snake slide off the road into the grass on the verge.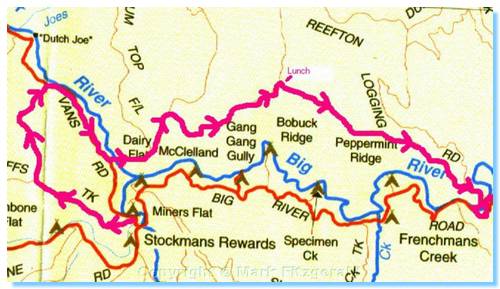 We turned off Big River Road at Stockman's Reward campground, and after airing down the tyres, we headed up Petroffs Track. This track was slightly rutted, and had no bog holes. It was very slightly overgrown in some parts so we decided not to follow it further and took a right turn, which brought us back to Vans Road. Vans Road was more interesting and had a number of wet patches that gave some challenges. Following Vans Road back towards Stockmans Reward Camp, we took a left hand turn across the Torbreck River onto a track that is not named on either of the maps I have. This track led to Gum Top Trail, and eventually to Reefton Logging Road. There were a number of small bog holes along here, one of which we had to bypass as the entry point was too narrow, and would have definitely resulted in some panel damage. Deciding not to go through this hole led to some futile steering trying to extract myself out of the slippery ruts. I eventually needed to reverse a considerable way before being able to get back out and follow an alternate route around.
The track soon became drier, and rockier, and steeper. We paused to check the track ahead, which was quite steep and covered in loose rocks. This track was not really much steeper then any track I had already been up (though close), it was more that half way up the track before it turned to the right there was a large tree right in the centre. The concern with this was that it would make reversing back down the track if required quite difficult.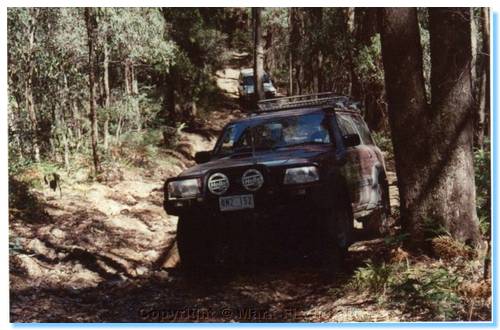 We decided to give it a go; Mark #2 walked halfway up the track to get some photos and I switched on the difflocks and headed up. The track wasn't too bad apart from one corner where I could feel the truck slide to the side as I went around. I passed the tree and headed onwards upwards. I could see the top of the track, which actually appeared as a large rocky outcrop. I was within about 50 metres of the top when I stalled the truck. Really not interested in reversing back down, I left the truck here and walked back down to get some advice from Nathan, and/or the Tirfor.
I got down to where Nathan and Mark #2 were to find that Nathan had had similar trouble on the bend where I felt the truck slide a little. Nathan apparently had got his truck at an angle beyond anything he had previously, and had felt certain that he was going to tip over. He had managed to get the truck onto a safer angle, though still looking precarious and was ready to winch. With the angle that the truck was still on, the only thing keeping the tyre on the rim was the fact that they were split rims. Mark #2 would have gotten a fantastic photo of Nathan's predicament, however he was too busy running out of the way.
Mark and Mark hooked up the tree protector and cable to a solid looking tree, where I managed to get bitten by a Jumping Jack, again. This is starting to become a regular occurrence on these trips. Nathan started winching, and the tree started creaking. We decided that this tree didn't seem quite as sturdy as first felt and so when the truck was secure we moved the cable to another tree. It wasn't so much the size of the tree, but more the health of it that we were concerned with, and when winching we all prefer not to take any chances. Nathan got past the rough spot, and with much tyre spinning and burnt rubber came up behind were I was stopped.
After some deliberation, and some minor track clearing we decide the best way to get me going again was to try a handbrake start and give it another go. I turned the ignition back on, and noticed that the compressor wasn't stopping. It should stop once pressure is reached. Some flicking of switches confirmed that it was the rear difflock, and Nathan could hear air escaping at the rear diff. There was no real option but forward, with or without diffs, so with handbrake on (the transmission handbrake on the Patrols is quite good), and foot extremely hard on the brake, I slowly pressed the clutch in. The truck moved back slightly as the transmission brake gave over to the foot brake. I started it up and gave it another go. Letting the clutch out slowly until I felt it grab, then letting the handbrake off and then clutch out completely I sat there with all wheels spinning. Turning the steering from left to right eventually found some traction and I got up and over onto the flatter part of the track. The compressor also stopped cycling, so it appears that the particular position that I was in did not allow the difflock to actually lock. It obviously did once I was moving though.
Nathan also had trouble getting past this point, with there being much spinning and the smell of rubber. Rocks can be slippery! Eventually though we were up the hill and driving along the ridge, which as usual affords magnificent views of the ranges and bush all around.
We came to a 'T' junction, which was the perfect lunch spot. Travelling through the slippery tracks earlier, and the time taken to ascend this hill had taken a lot longer than anticipated, and lunch ended up being at about 3:00 PM. Whilst unpacking and setting up for lunch, the true casualty of the steep ascent getting here was revealed: THE BREAD WAS SQUASHED!
It must have been jostled about on the track, and had made its way between the esky and the rear door. It was squashed. Mark #2 was having great difficulty accepting this, and the earlier achievement of seeing a snake in the wild was quickly forgotten. Fortunately there were some salvageable slices, and so we began lunch. Nathan explained to Mark #2 the rites of the sacrificial sausage, and it wasn't long before we were all sitting down eating and analysing our trip so far. Though we still couldn't get over that the BREAD WAS SQUASHED.
With lunch finished and packed away, we took the right turn at the 'T' which eventually brought us to Vennells Camp Ground. We crossed Big River, and turned left back onto Big River Road, and followed this to Cambarville Logging Road. We eventually wanted to end up on the Goulburn River for our dinner stop, and I chose Cambarville Logging Road, as it's name suggested that it was a road in which logging trucks travelled. This would seem to indicate that it was wide, clear, and reasonably graded. None of these turned out to be true. The track soon became a goat track, then a rabbit track. It would then seem to clear which would encourage us to continue, and then it would all turn bad again. Mark #2 spent a considerable amount of time walking ahead with the machete. This was scary, as he seemed to enjoy this far too much; the machete become an extension of his hand, and with a tomahawk in his other hand he cut a path for us.
Needless to say that this was extremely slow going, and this track is one that none of us will ever venture down again. Also, somewhere along this track I seemed to develop an attraction to logs. There was a log on the side of the track, which I gave little notice too. I got the front wheel over, however it ended up with me straddling it. The log had rolled as I passed over it resulting in an increase in its height, which then firmly wedged beneath the side step and the front diff. After some digging and analysis on Nathan's recommendation I difflocked up reversed back a little, which enabled Mark and Nathan to shift the log enough for me to drive forwards and over it. This however necessitated the pointing out of all future logs on the trail to avoid a similar occurrence. We finally got off this God Forsaken track onto Ryan Spur Track, which was of a much better quality and allowed a faster travelling speed. Ryan Spur Track eventually brought us to Knockwood Track which appeared to have seen a bush fire on the Northern slope in recent years. It was strange that the Southern side of the track had seemed to escape the fire, as the track itself did not appear wide enough to have acted as any form of firebreak. Perhaps it was a controlled burn? We really wanted to stop for dinner, it was getting later and later, and this track seemed to go on for ages.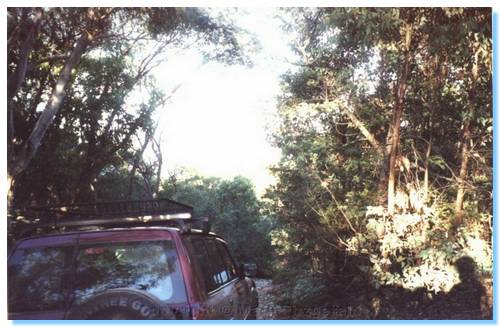 The map indicated that there were two mines along this track, however we did not see any signs of them from within the car. Perhaps a future trip we will have to explore around and see if we can site them. We did see a fairly solid hut however, but again we did not investigate, as we really wanted to get to the river and have dinner. The road continued on and on without any sign of descending. We could see how steep both sides of the ridge we were riding was and really needed to see the track start descending as we knew that our destination was 500 metres below us. Eventually the track started heading down, and then it would rise again. This continued for some time descending a little then ascending a little less, till eventually the track showed the most magnificent view ahead, more the rewarding as it was a significant descent and appeared to be the end of the ridge. After reaching the bottom, we took the right hand track, which brought us through a camping ground. We crossed Moonlight Creek and joined the Mansfield Woods Point Road at Knockwood. This was the junction with Army Track, which we had explored on a previous trip. We turned left and headed down towards Jamieson, wanting to stop anywhere along the Goulburn for dinner. It was getting late, approx 7:00PM, and it was a long way back out.
Dinner was at Picnic Point on the Goulburn, fishing was not fruitful, however Nathan cooked up a most delicious beef curry. After the dishes, Mark #1 and Mark #2 headed back home, whilst Nathan remained alone to camp the night and enjoy the serenity.
The trip back allowed the spotting of much wildlife. Below is a catalogue of the animals we saw:
A trout that followed the lure whilst fishing, though this was contested by some.

A number of bats, one of which we believe was unfortunately julienned by the roof rack (veggie basket), or at least given a nasty headache.

A number of foxes

A number of wallabies

A wallaby pretending to be a wombat

A real wombat, which was again contested. We stopped and drove back to gain indisputable proof, but it had wandered off into the bush. (It was suggested that it hopped off like the previous wombat).

An owl, which flew down onto the road wondering what we were doing looking for wombats.
I have included a picture of a wombat and a wallaby so that it can be understood how easily the two of these can be confused with each other.


Track Summary
Petroffs Track
Easy. Rutted and dry. Slightly overgrown at start becoming more overgrown.
Van's Road
Easy to Medium. Wet, rutted and some bog holes
Unnamed Track
Hard. Wet at start with bog holes. Becoming drier with steep, rocky ascent. Bad camber on bend of track.
Cambarville Logging Road
Medium. Overgrown, narrow and rutted. Logs and rocks across track.
Ryan Spur Track
Easy. Some puddles, well graded.
Knockwood Track
Easy. Some ascents and descents.