Toolangi Trip #2 28th April 2001.
Mark/Shane/Tony/Russell:
Nissan Patrol
Nathan:
Toyota Landcruiser
Shano/Sal:
Discovery
This was an excellent trip. There had been lots of rain in the lead up to this trip, which can only be a good thing for 4WDing in Toolangi. Shane, Tony and Russell met at my place, and we then proceeded to Yarra Glen were we joined Nathan, Shano and Sal. We weren't even out of Yarra Glen when a black ute pulled out suddenly in front of me causing me to brake heavily. I flashed my lights, which turned out to be gutsy move as it was an unmarked police car which booked Shano and Sal for allegedly doing 75 in a 60 zone. Tough call since Nathan and I both thought we were doing around 60, and Shano was between the two of us...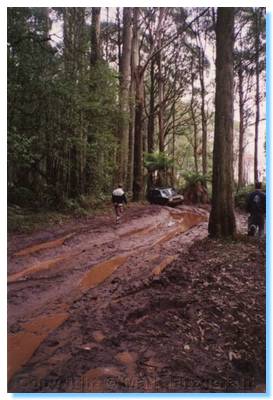 Anyway, back on the road and one Kookaburra later we reached Marginal Road, which finally got us off the bitumen. On our right was a link track up to Wee Creek Track which climbed steeply up the hill through the trees. This gave Russell and Tony, both on their first 4WD trip, an indication of the day to come: we were not going to be driving down many easy 2WD dirt tracks. Nathan was first up, using every trick in the book short of winching to get through some sections, then it was Shano's turn. The Disco couldn't make it, likely due to the lack of A/T tyres, and so Shano headed back down and it was my turn. We made it up without too much trouble, though I'm sure there were a few times when all wheels were spinning and I had to engage diff locks. Up the top we waited for Shano and Sal to catch up the long way, and we then continued along Wee Creek Track. The recent rain had turned the top of the road into slime, leading to some sideways driving until we passed the top of the range, and got into the more serious stuff.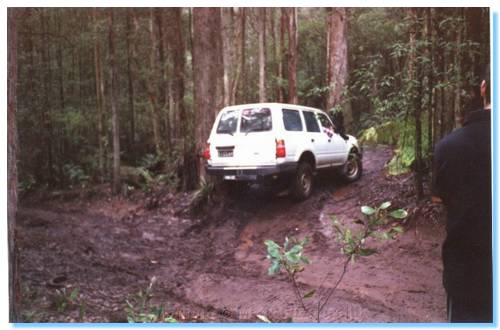 Victoria Range Track was great. We soon came to two bog holes side by side. The right bog hole was too deep to attempt. The left bog hole was probably passable, but the exit point was such that there was a reasonable probability of toppling the trucks into the right bog hole, so we had to take the bypass track. The bypass track left at a right angle, which was quite hard to negotiate on the slippery track. Nathan resorted to winching in to avoid a tree, which was getting too close. Shano got in without too much hassle. I found it a challenge to get in with the truck sliding down the track. I got past the first tree with centimetres to spare, and the crawl past the second tree was even closer. Eventually we were around and back onto the track. We stopped near the top of the range for lunch, fired up the hot plates and had the usual sausages and bread. It's not a bad lunch, and it's a bit hard to fit steak and hamburgers for 4 on a 2 burner stove, but there has to be something else we can do for lunch. Maybe chicken shasliks next time...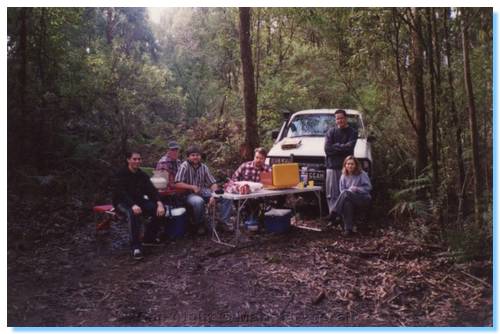 Back onto the track, which was getting more rutted and more slippery. Another bypass around an unnegotiable bog hole saw us slide down from one side of the track to the other to the far side of the bog hole. Following on down the track with a river of mud and water pushed ahead of us down the ruts we eventually came to Spraggs Road. We continued across and up Victoria Range Track, which was much wider with no ruts but still very slippery. The area at the top of this track was cleared through logging, but looked like a bush fire had passed through. Following the track down the other side saw us through a very wet boggy section, with a GQ Patrol stuck on the track ahead. They were by themselves, and were very relieved to see us come around the corner. The truck was straddling the ruts, and was pretty well going nowhere. We all got out and bounced the front of the truck over into the same ruts that the back of the truck was in, and had them going again. We welcomed them into our convoy, and they followed us around the rest of the day.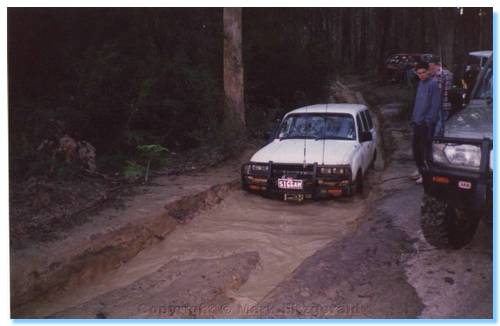 Victoria Range Track became Downies Spur Track, which we followed until Downies Road. Right onto Downies Road soon followed by a left onto Klondyke Road eventually brought us to a link track to Marginal Road. It was amazing how dry the link track was compared to the other tracks we had been on on the other side of the range. The link track followed the spur down to Marginal Road, which we then followed to the right to Kalatha Creek Track. Past the turn off to Campsite Track, we came across a group of 10 or more trucks on a beginner's 4WD course. They were one by one negotiating a rather deep and long bog hole. The first car we saw through required snatching out at the other end, as did a Landcruiser, which died in the middle with suspected water in the engine. It turned out to be a blown air inlet hose, much to everyone's relief. A Pathfinder wisely took the easy way around, and the last of the course members made it through without mishap. I made it through without trouble, our adopted friend Brad and his family in the GQ Patrol took the easy way as well under advice (petrol, with no blind or snorkel). Shano and Nathan also made it through. We soon caught up with the course group again, who were parked alongside the same bog hole I went through from the opposite side on my 4WD course. A quick check of the bog hole and we were through, with much cheering from the people on the course! Brad, Shano & Sal, and Nathan followed through without incident. We headed up out of Kalatha Creek valley via Martins Road, and after a few more bog holes on Pine Track, we were on Two Hills Road. After pumping up the tires, and exchanging contact numbers with Brad, we were back on our way home after a very enjoyable days driving.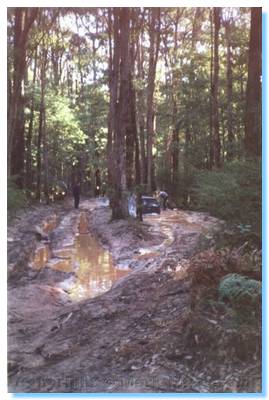 Track Summary:
Marginal Road - Wee Creek Link Track
Medium to hard. Rocky and slightly slippery. Medium gradient.
Wee Creek Track
Easy.
Victoria Range Track - East of Spraggs Road
Medium to hard. Slippery and rutted. A number of long bog holes. We travelled West to East. This track would be harder going East to West.
Victoria Range Track - West of Spraggs Road
Easy. Slippery, but no ruts and wide.
Downies Spur Track
Medium. Some bog holes and ruts. Slippery.
Klondyke Road
Easy. Dry, and tending to overgrown in some sections.
Klondyke Road - Marginal Road Link Track
Easy. Dry, with easy gradient down to Marginal Road.
Kalatha Creek Track
Medium. Wet, rutted and long bog holes.
Martins Road
Easy.
Pine Track
Easy to medium. Some bog holes.