Sheepyard Flats November Cup Weekend, 2001
Mark, Michelle, James & Liam
Henric & Annaleigh
Saturday
We setup camp at near Pickering's Hut in Sheepyard Flat by the Howqua River. Yet again there was a multitude of horses along with their riders camping here as well.

We drove up Brock's Road, and from memory drove along 16 Mile Jeep Track, passing some magnificent camp sites along the Upper Howqua. We crossed the upper reaches of the Howqua and continued on to Bindaree Hut, another magnificent hut and camping area. We crossed the shallow Howqua after enjoying lunch by the hut and made our way along Bindaree Road, Summit Road and made the steep rocky ascent up Summit Track to Mt Stirling.

There was reasonable patches of snow on Stirling, which the kids quite enjoyed playing in. The views were magnificent, except of course of Buller, which looks pretty sad with the ski runs cut through it. We continued down Summit Track, onto Clear Hills Track and soon arrived at Craig's Hut, being our first visit. If we thought the views from Mt Stirling were great, the views from Craig's Hut were magnificent.

We continued down Clear Hills Track onto Circuit Road and made our way back to our camp at Sheepyard Flat. Henric and I went off exploring looking for firewood, and managed to bring back a reasonable supply, only to find that the girls already had the campfire going. We had an enjoyable dinner followed by some pretty damn good damper with Golden Syrup.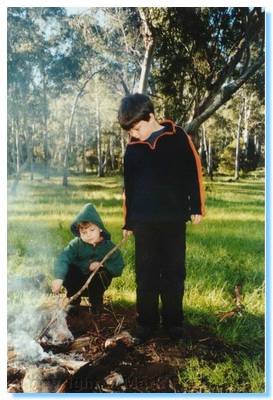 Sunday
After the obligatory bacon and eggs breakfast, we drove down to Tobacco Flat, which had some nice camp spots and wasn't as crowded as Sheepyard. The river crossing looked passable, and others had gone through but we weren't quite up to it today.
We continued up the steep narrow climb out of the valley, and drove along Mitchell's Track to the Slate Mine, and enjoyed the views for short stop. Mitchell's Track eventually made a sharp decent, though recently regarded to Mitchell's Homestead. We couldn't explore around here too much as there was a group camping there so we found a quite place beside the river and had our lunch. We made our way back to camp via Wrens Flat and the Jamieson-Licola Road.
Monday
Monday was a relaxing morning packing up the camp. We managed to spot a Koala in the campsite on the way out of Sheepyard Flats and we took it easy on the way back home.