Jordan River Valley - 27th January 2001 to 28th January 2001
Mark/Michelle/James/Liam:
Nissan Patrol
Saturday 27th January
This was a trip initially in the footsteps of last weeks trip, but an opportunity for Michelle and the kids to come along as they missed out last weekend. It was also a trip of exploration into the Jordan Valley to see Jericho and Red Jacket that I had wanted to do for many years, long before I had a 4WD to get me down there.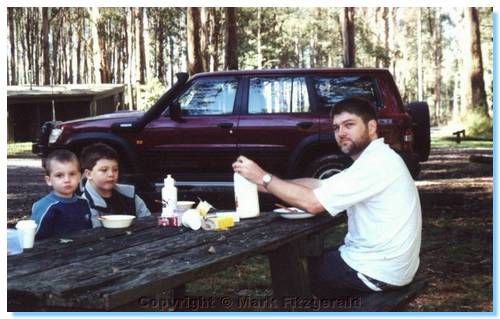 We stopped for breakfast at Cambarville. We spent a little longer there this weekend, looking at the old houses, some still being lived in whilst others in complete ruin. Prior to the time of the sawmill and the timber getting there must have been some huge trees in this area. Apart from the rare tree surviving from that time, the rotting stumps with the notches in the side the timber getters used are the only clues to how large these trees were. One day we will have to take a walk to the Big Tree. I wonder which is bigger, the Big Tree or the Ada Tree?
We drove from Cambarville to Matlock and shortly after Matlock headed down into the Jordan Valley. The turn off was unmarked, and there was some uncertainty that this was the right direction, however a little further down the track we came across an information board with some of the history and photos of the Gold mining towns of Jericho and Red Jacket.
The road down was not steep, and just bordered on requiring a 4WD vehicle. Eventually the valley floor came into view, and was a lovely verdant green. The nature of this green was soon to reveal itself, and it was anything but lovely.
The entire floor of the Jordan Valley was completely over run with Blackberries. There was a small cleared area in Jericho in which to camp, but river access was pretty well denied. Some access was available where the tunnel was, however the river main could barely be seen. It certainly wasn't possible to explore around looking for relics or signs of the town that once was. We headed further upstream, but the story was the same. Blackberries everywhere. This was extremely disappointing, as I had wanted to explore these old sites for many years. We had always believed this area to be idyllic; we headed down stream to find our lunch site.
We stopped on the river for lunch at what was presumably Red Jacket. I had heard that there was a cemetery here, as well as some ruins. All we could find were Blackberries. There was a small cleared area at the side of the track were we set up for lunch. After lunch we continued across the Jordan to see if there was any sign of what was once Red Jacket, but apart from a piece of rusting iron, we saw nothing but blackberries.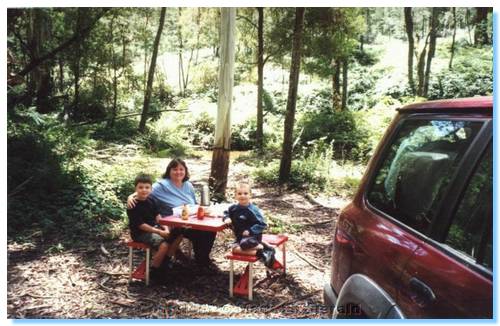 We continued further down the Jordan, and were finally rewarded with some indications of this area's past. There were many mullock heaps and excavations on the side of the road, stone walls and water traces as well as other signs of diggings. We continued down towards Violet Town, where again we saw no signs of it's existence before making the steep rocky scrabble out of the valley. On our ascent we passed a small convoy of 4WD vehicles coming down, fortunately we met at a portion of the track that enabled us to move to the side. We made our way back to the Walhalla Woods Point Road, and headed back towards Matlock. We passed a tin hut, in which Michelle left our names on the wall. Whilst scanning on the UHF, we picked up a young girl (Jessica?) singing. James talked with here along most of our trip back to Matlock. At Matlock, we headed down towards Jamieson looking for a suitable camping spot, the plan was to stay at the same location as last week. We might even find that missing shoe…
Unfortunately it was a long weekend, and that campsite as well as pretty much every other one was already taken. Tunnel Bend was completely crowded, and every small track off the side of the road led to somebodies tent. We eventually found a spot that looked half descent. We got out and checked the river access and it was all looking good until some guy rolled up, parked near our car and got out to do some fishing. Rather than wait and see if he was going to set up his tent right next to us, we continued our search. I found what appeared to be the perfect spot. Too small for anybody else to join us, and right near the river. We emptied everything out of the car, and I started to clear some brush from the tent site, as it was a fraction too small for our 6 man dome tent. Unfortunately one of those plants was the roof to a Jumping Jack ant's nest, and the ant on the leaf I grabbed was none too happy with me. Those things can bite! I've still got the sore 2 weeks later.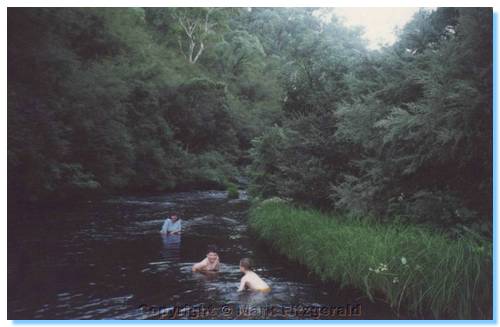 Everything was quickly thrown back into the car for one last look for a campsite, else we were going to drive back home tonight. Michelle saw a promising track, which we turned back to explore. This was the best campsite on the river. We set up camp for the night, had some dinner, had a swim and an unproductive fish, and then went to sleep with the sounds of the Goulburn.
Sunday, 28th January 2001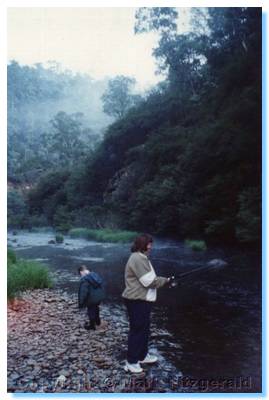 Michelle, James and Liam went for an early morning fish while I tried to catch up on some sleep. They didn't catch anything, but the bottom caught and kept our Rooster Tail lure. The search is now on to replace it, but we haven't yet found them anywhere.
After breakfast, we packed up and started towards Jamieson. We kept an eye out for the lost shoe, but never saw it anywhere along our journey. James and I fished a little in the Goulburn, but with no luck. I saw a reasonable size fish follow the lure once, but there wasn't any action to speak of. We also fished in a nice spot on the Goulburn Arm, north of Jamieson, but there were no fish there today. Through Mansfield and onto Bonnie Doon for a lunch stop (how's the serenity?) and we made our way back home through Yea.