Day 13 Hoi An and My Son 6th April 2004
---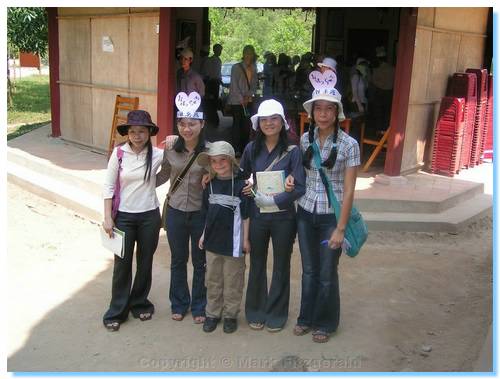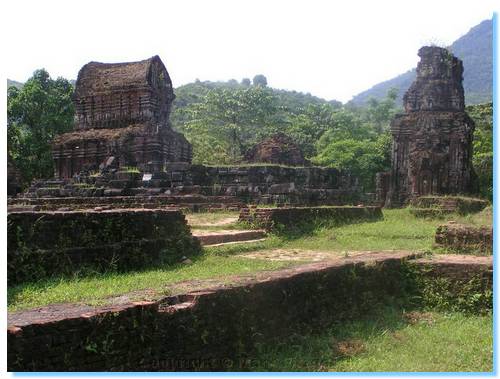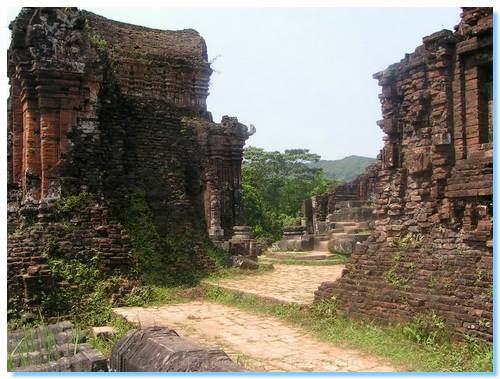 We started off at 8:30 with a trip to the My Son Cham site. The taxi ride took us about an hour travelling through the countryside beside the river and through a number of small villages. We passed a town were Cuong said it was famous for it's Thit Cho, or Dog Meat.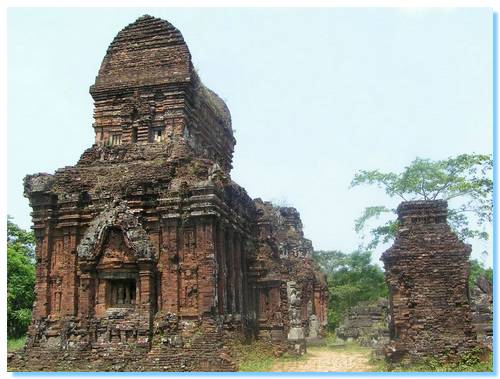 We arrived at the entrance to My Son, nestled in the valley and caught a minibus up to the ruins, missing out on the jeep ride. It was extremely hot and humid; it wasn't long before we were all sweating!
The first group of ruins were the most intact and we took lots of photos as usual. Liam was pursued by a group of school kids on a school trip; they all wanted to have their photo taken with him. After about 20 photos his mouth must have been hurting from smiling so much, but he was very accomodating.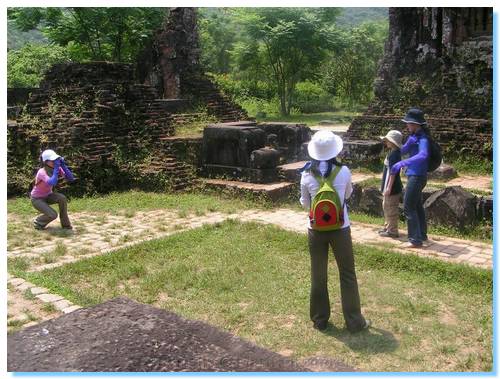 The ruins further in were pretty much decimated by American bombing during the war. The Viet Cong had a base at the site and the Americans bombed the hell out of it. There are still many large bomb craters to be seen. Excavations were being carried out on the site, and a number of the temples were being restored or strengthened to prevent them for further collapse. We spent about 2 hours exploring the site and then headed back to Hoi An and the hotel for a much needed swim.
After the pool we headed into town for the tailors to have some more tops made and I went off looking for the bank. I picked up a shuttlecock from a small shop as we had seen lots of children playing with them, standing in a circle keeping the shuttlecock in the air as long as possible.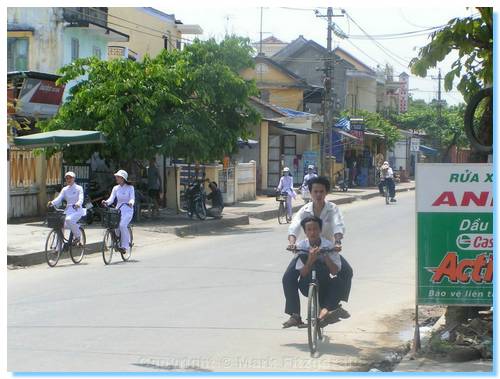 We had lunch at a riverside cafe which as usual had very nice food and a 10 year old boy there kept us entertained, playing with Liam and the shuttlecock, which ended up off the balcony and in the street, but was safely rescued. We got a lesson in shuttlecocks, as I had been ripped off paying way to much for the inferior chicken feather shuttlecock, when I should have gotten the duck feather one. Guess they saw me coming!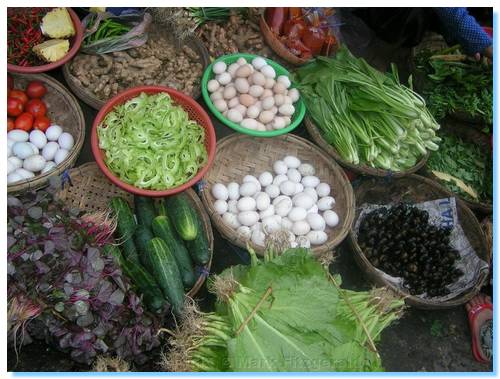 We walked around the town some more, and walked through the market, buying a hat and a bag to take back all of the clothes we had been buying. We had dinner across the road again in our favourite restaurant.