Day 5 Handcraft Villages and Water Puppets 29th March 2004
---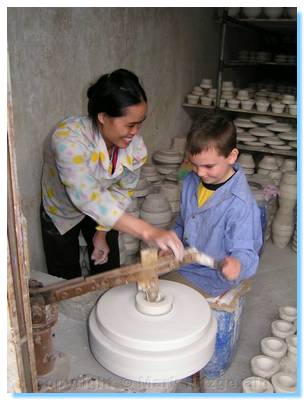 Today we were heading off to various handcraft villages around Ha Noi. Each village over time has specialised in a particular handcraft, and now catered very well to the tourist market. We were up early for breakfast, downstairs in the hotel restaurant where we bumped into Fred and Jean. They decided to change their plans for the day and join us on the handcraft village tour as well, which was great. The bus soon arrived and by 8:30 we were off and out of Ha Noi, heading down an unmade busy road though the pottery village.
We saw the potter making pots on an electric wheel using a mold, and she was able to pump out perfect little pots at an amazing rate. Liam was lucky and was offered a chance to try out making a pot. His first one went a bit wonky but his second one was pretty well spot on. We saw the glazing of the pots done as well, and we ended up buying two beautiful Tea Sets. Michelle was offered to sit down and share some tea with the shop owners, but our tour was moving on so we missed out.
We drove through some really nice small towns on the way to the next handcraft village, the Paper Village. Liam tried his hand at printing on rice paper, which was done with a stamp using different colours. His first couple of attempts were disastrous, but with some instruction on how to line the stamp up with the small marks on the paper he produced a perfect print, which now adourns our fridge at home.
We bought 4 beautiful scrolls which each depicted one of the 4 seasons. They were framed magnificently in the shop, but we had to buy the unframed versions, rather than carry these huge pictures around for the rest of our trip!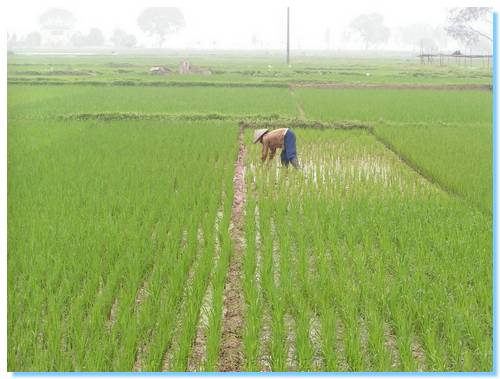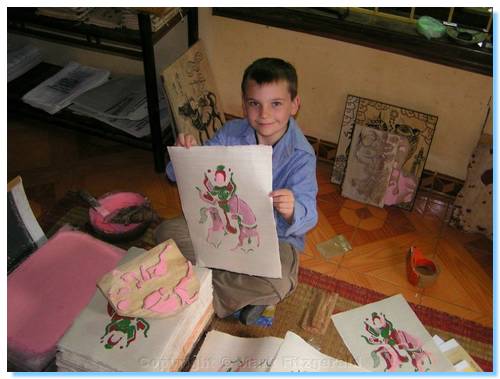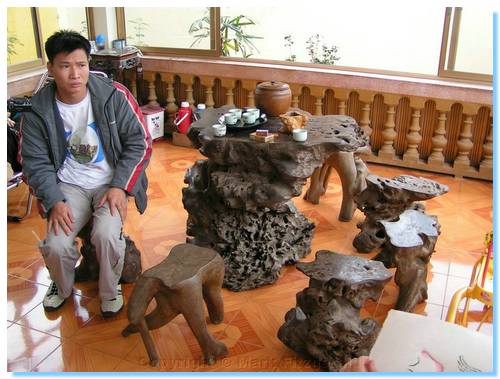 We then returned to Ha Noi as the remaining village on our tour was on the other side of town. We passed through many small villages, surrounded by emerald green rice paddies, and passed all sorts of wares being carted on the backs of motorbikes; one bike had 3 small pigs, another one a large pig, as well as bikes carrying chickens, hay a sewing machine, doors, in fact everything and anything you could imagine.
Back in Ha Noi we stopped at a Pho Restaurant for lunch where we had a very nice chicken noodle soup with all the extras. Michelle reckoned it was the best soup she had ever had!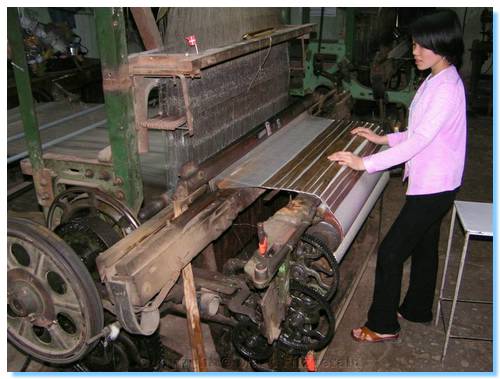 We then headed off to the silk village where we saw silk being made into material on a very old and extremely loud loom; a legacy of the French. The girls working here must suffer ear damage, working those machines all day.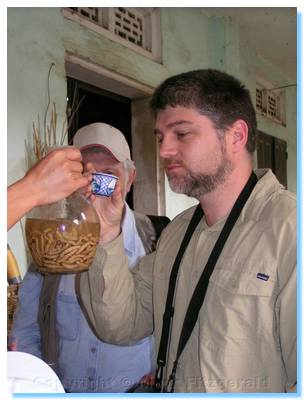 Outside away from the noise we were offered some silkworm wine. I'm sure the locals don't really drink this stuff, and have a good chuckle at us gullible tourists drinking fermented rotting silkworms, but it was actually quite nice! We were then into the shop which had a large assortment of all things silk. We bought a Kimono each for James, myself and Liam as well as pyjamas for some of the neices and nephews back home.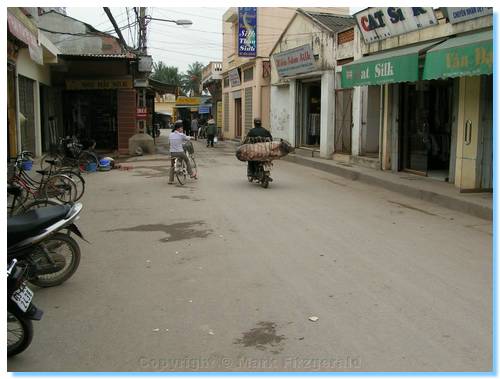 On the way back to the bus, walking the streets we visited an old buddhist temple, which like many of the temples in Vietnam had the most magnificent bonsais in pots. A young boy offered Liam a ride on the back of his bicycle, which we politely declined. Another motorbike with a pig on the back shot past; they were plentiful, but very hard to photograph! We bought some silk bags in another shop and then made our way back to Ha Noi.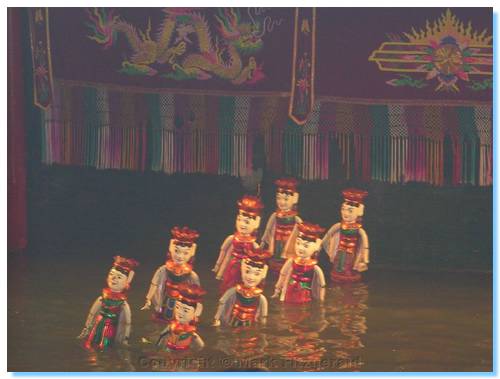 We stopped into the Kangaroo Café and met Tan. We did a little DVD shopping and made our way to the Water Puppets. Crossing the road near Hoan Kien Lake for the first time was an experience! We eventually just walked out into the traffic at a steady pace as the waves of motorbikes parted around us. The tricky bit, coming from Australia, was to remember to look the right way as we reached the middle of the road!
The water puppets were quite fun to watch, but Michelle thought they were a bit boring. We caught a taxi with Fred and Jean back to the hotel, which was another hair-raising ride through all of those cars and bikes weaving and beeping all over the place. We had dinner back at the hotel; pretty much the same as last night, which again was very nice.