Day 14 Hoi An to Saigon 7th April 2004
---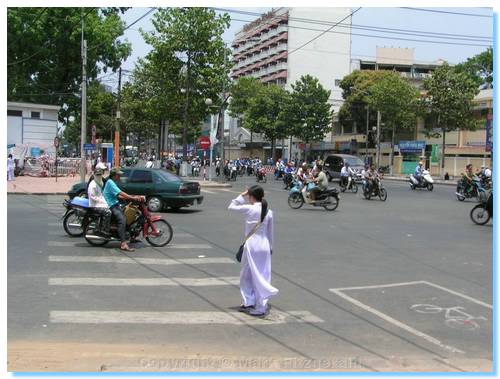 We had an early start this morning; the taxi picked us up from the hotel at 6:30 and we were off. Leaving beautiful Hoi An we returned back to Da Nang where we caught our flight to Saigon. Saigon is hot and very humid, just liek when we arrived briefly on our first day. It's a huge, bustling city, and much more westernized than the other places we had so far visited in Vietnam. There were lots of neon lights and huge advertising billboards.
We went to the Aloo Bar for lunch. A favourite of the tourists. Prices here are twice as much as elsewhere in Vietnam. We paid about $15 for lunch, and it wasn't really that nice! Saigon was meant to have the best restaurants in Vietnam, but this was the first time we had had an average meal.
We sent an e-mail at a little internet café next door to the hotel and then Michelle retired to the hotel to sleep while us boys went on a tour of the War Remnants Museum and the Binh Tai Markets.
The War Remnants Museum was similar to the War Museum in Ha Noi with a large collection of abandoned tanks, planes and unexploded ordinances. They had one of the earth shaker bombs which was of the type dropped on My Son which flattens all buildings within 100 metres, and shakes buildings up to 3.2 kms around. Inside was a collection of photos taken by journalists chronicling the war, many of them award winning photos. Also on a wall was a list of each country and the year in which they acknowledged the communist Vietnamese government. There was also a picture of the tanks crashing through the Imperial Palace gates, the Fall of Saigon. There were photos of the Tet Offensive in the Hue Citadel, as well as many accounts of people escaping the war. There was also a tribute to the many photographers, many of whom lost their lives.
Further rooms showed some of the war crimes committed by the American and South Vietnamese and other rooms showed the affects of napalm and agent orange on the jungle, mangrove and people on both sides of the war. There was also an exhibition of paintings by school kids with the theme of peace. The last exhibit was of the "tiger cages", small cells used to lock up political prisoners during their re-education, as well as a guillotine.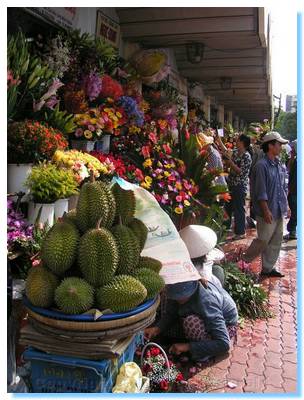 From the museum we caught a taxi to the Binh Tai Market. Liam was again the star, getting lots of attention from all the girls. There was a large variety of live sea life on display for sale. Soft shelled crabs, larger crabs with tied nippers. They were tied up not because they were dangerous, but because they are sold by weight and twine is cheaper than crab meat. There was a large assortment of fish in tubs, as well as shrimps and eels, which Liam got to hold.
After walking through the market we stopped at a café and tried some Lime Soda, Jelly Drink, Coconut Milk and some soft drinks. We then walked back to the hotel through the park where the older people were doing exercises and a school group practiced high jumping. Dinner at the hotel restaurant was quite average, so we will be on a mission to find some of these reported excellent restaurants during the rest of our stay.