Day 15 Saigon Mekong Delta 8th April 2004
---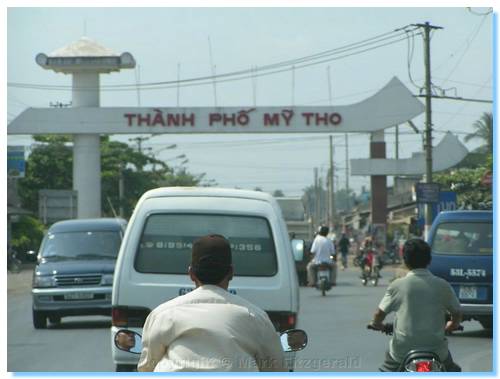 We had a great breakfast at our hotel. The Liberty 4. It was a fantastic spread. It was then a short walk from the hotel to the departure point for our Mekong Delta Day trip. There was quite a long wait for the bus, and some last minute traveller's were accomodated, which meant an even longer wait whilst a larger bus was arranged. We were eventually all 15 of us off and travelling through the hectic Saigon streets, teeming with motorbikes. We drove through the Chinese Quarter of Saigon (Colon) and out into the suburbs. About an hour and a half later we arrived at My Tho.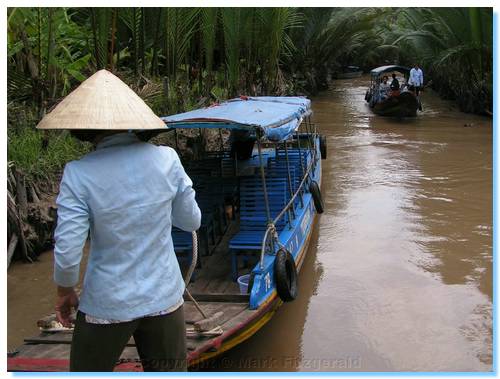 We boarded a boat and chugged down the Mekong to an island where we then all boarded separate smaller boats and travelled African Queen Style down narrow canals lined with water coconuts.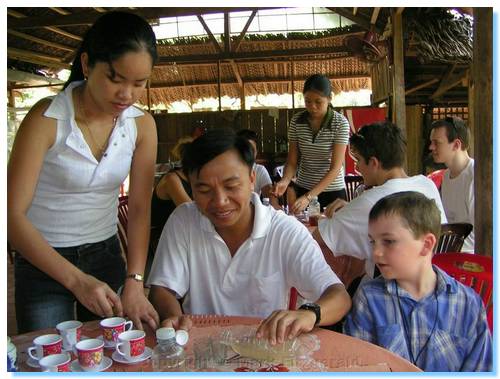 We disembarked at a fruit plantation and got to see the making of coconut candy, of course buying a couple of packets. We sat down and had honey and lime tea and Vietnamese shooters, which were rice wine and honey. Both were superb.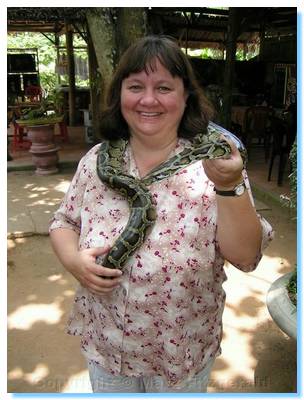 They had a bee hive, where the honey was sourced from, and every body got to stick their fingers into a comb full of bees to taste the fresh honey. Nobody got stung, though a few were quite apprehensive. Then the tour guide got a large python from its cage and let us all hold it.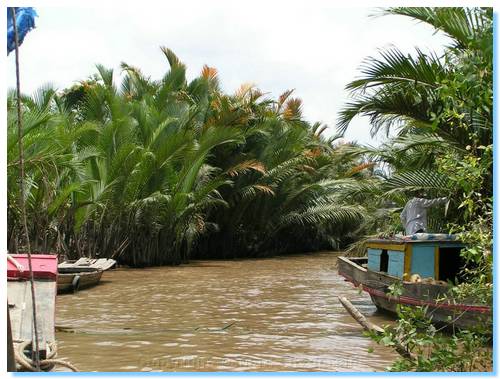 We then boarded small row boats and went down a narrow channel, with mud skippers and crabs basking on the muddy banks. Returning back through the fruit plantation, we tasted rose apples straight from the trees.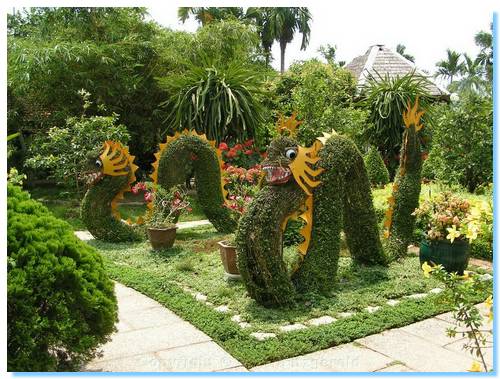 Back onto a larger boat we made our way to an island for lunch. The restaurant was surrounded by the most lovely gardens, with topiaries, ponds and flowers. To the side near the entrance there were various animals in cages: gibbons, huge pythons and even rabbits! We had a lovely lunch as susual and Cuong ordered us extra chicken as well which was very nice and fresh (no worries about chicken flu).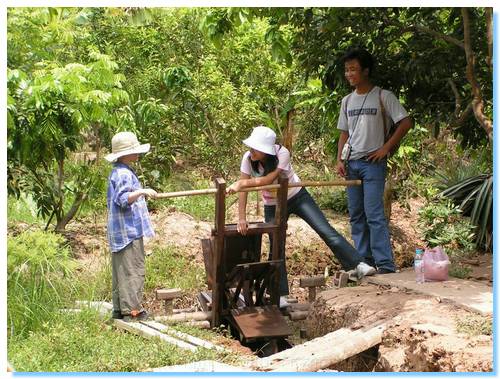 Near the restaurant there were some examples of irrigation used to fill the rice paddies, including a bucket on ropes which we had seen farmers using along the roadside, as well as a people powered paddle wheel, which required more balance then I could muster to keep it going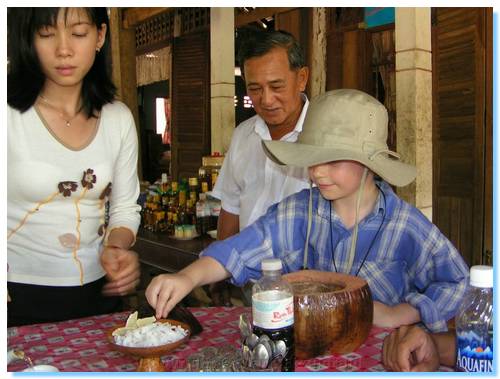 On the walk back to the boat we saw many products being made. Wooden nicknaks from coconut trees, rattan mats, rice paper, different rice wines and we also tasted the water coconuts fruit, which was very small and tasted like normal coconut but a little salty.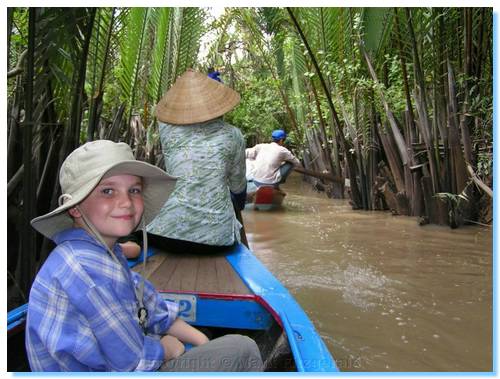 We continued in the smaller boats back to our larger boat that then took us back up the Mekong to the mainland dock. We had a short wait while the bus was retrieved, and watched the old men playing various board games on the waterside.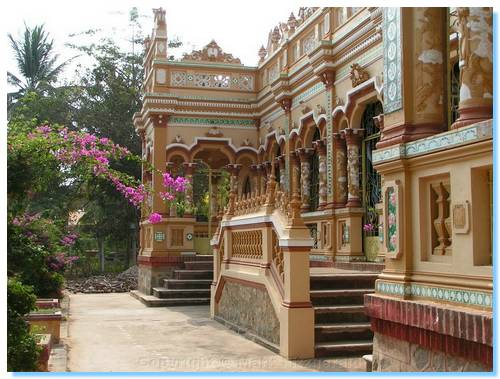 The bus took us on a short trip to a Buddhist Temple. Cuong was telling us about the temple and as we walked around a Buddhist monk came up to Cuong and spoke to him in Vietnamese. Cuong told us the monk could tell about people by looking into their eyes.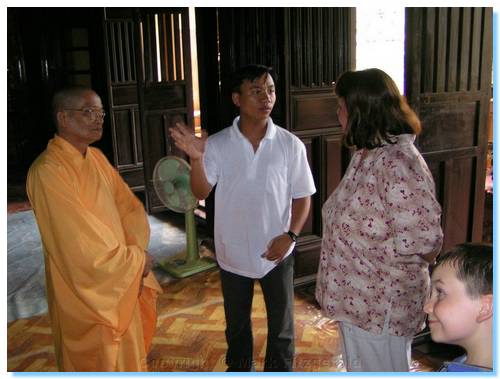 The monk said that I had just had a change of jobs which meant I was working much harder for the business, but not for myself. I had just in the two weeks before leaving for this holiday started working in a new daprtment at work! He then looked at Michelle and said that she could feel peoples' sorrow and had much compassion. He looked at Liam and said he was a very intelligent child.
<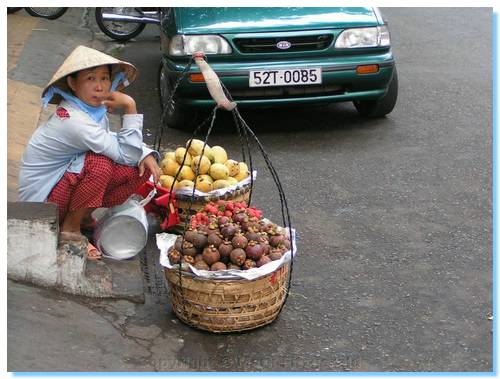 We all climbed back onto the bus for Saigon. It rained on the way home, and there were at least 4 accidents on the way back; one of which looked fatal between a bus and a bike. These roads are murderous. Back in Saigon, we finally found a nice restaurant which served Italian as well as local foods. Liam's pizza was amazing.